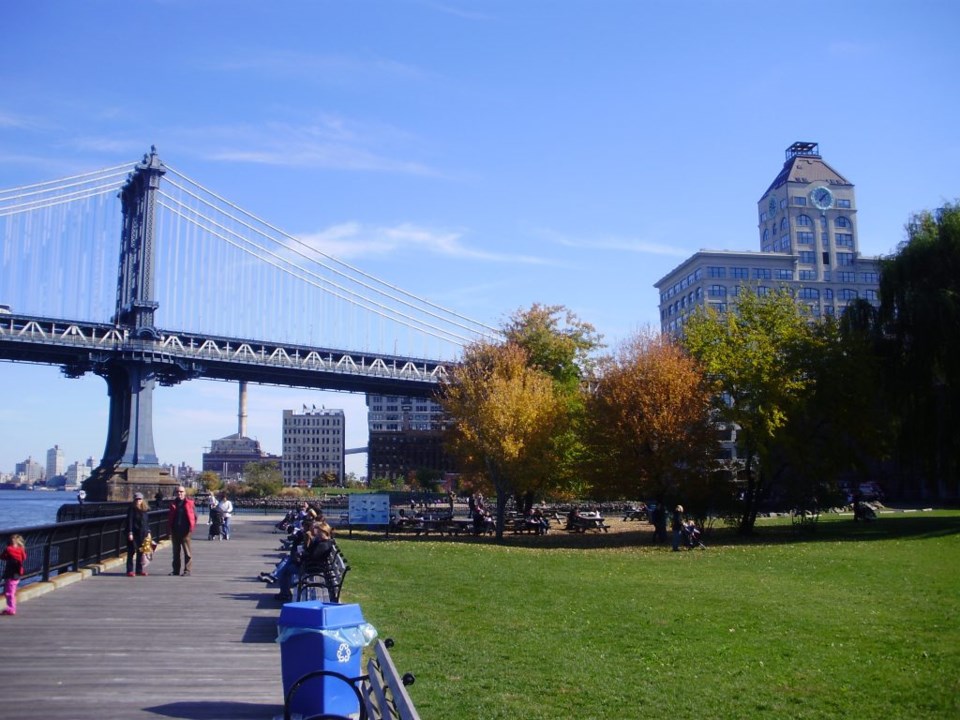 The simple pleasures and treasures in life are often overlooked, under-appreciated and shamefully relegated to the nostalgia bin in our self-declared, busy lives and it's no time like the present to stop and take them in. The fall brings a health bounty of simple pleasures and treasures, from crispy, tan, Chuck Taylors, knit sweaters and colorful foliage, to amazing apple juice and the desperate pairing to avoid the colder months all alone, clutching your comforter like it was an actual person.
The glee that comes from seeing a litany of drunken, naughty nurses or turnt up and turnt out Ninja turtles, the day after Halloween, sleeping one off in a doorway on Myrtle avenue, is incomparable. Kids have returned to school and are out of earshot, midday, on the subway, having audaciously loud conversations, about the most ratchett topics this side of Mona Scott.
There's street namings in Bed-Stuy for cultural icons like Birdel's Records and it's Atlantic Antic from The Barclay to the Promenade boardwalk. It's also weekend warriors in Fort Greene park, risking ligaments for the thrill of victory and going home with the agony of de feet.
NFL is in full swing and not just in the courthouse, while thoughts of wrastling abrasive, alcoholic uncles during Thanksgiving, brings a wry smile to a random, morning commute on the A train. With all of the brilliance and joy of fall, it's dawned on me that a major failure of our times is that no one has figured a way to put Autumn in a bottle.
We're launching remote attacks on small villages, on the opposite side of the world, wearing phone watches and splicing human genome, yet no one has bottled Autumn. It's the perfect item to purchase on Alibaba and I'm a bit disappointed in Jack Ma for not already bringing it to market, because the simple pleasures and treasures of fall is all we have, before the nasty and bitter encroachment of Winter.
As we jump into Fall's first weekend, thoughts turn to the reversion of NYC, back into an arts town, with squalls of exhibitions, openings, festivals, fairs and the frenzy of fanfare for art critics' darlings. And it's not only for adults, as organizations like Walk Of Art Kids presents street art workshops, to students from financially challenged neighborhoods, so that valuable, early life, art exposure, gets dutifully democratized.
Is that a Basquiat in your foyer or are you just happy to see me? If an artist has an exhibition reception, and there isn't any free wine, did it really happen? How many artists officially make a group show and what exactly is a curator? Existential questions no doubt, and one's that you can tangle with on your own or in a group, but it is the weekend, there is a Brooklyn and probably art in ye heart, so here are a few cool things you can do this weekend, in the county of Kings and Kimchee.
DUMBO ART FESTIVAL
ALL WEEKEND
The DUMBO Arts Festival is a FREE public event. Each year it seeks to highlight Brooklyn's commitment to and presence in the arts community by presenting the best in local, national, and international art amid the breathtaking backdrop of the Brooklyn Bridge and the Manhattan skyline.
The DUMBO Arts Festival attracts 200,000 visitors over 3 days with the participation of over 400 artists from a variety of disciplines, 100 studios, 50 galleries and stages and 100 programming partners. This year, the Festival will take place on Friday, September 26th, Saturday, September 27th and Sunday, September 28th. The official Festival hours are Friday 6pm to 9pm, Saturday noon to 9pm, Sunday noon to 6pm.
Art revelers can enjoy: outdoor and indoor visual art installations and exhibitions, digital art and projections, visiting artists in their studios or making murals on the street, dancers, poets as well as performers throughout the neighborhood, on street corners, and in the park.
YOU should totally check it out https://www.dumboartsfestival.com/
GUERRILLAS IN THE MIDST
FRIDAY SEPTEMVER 26TH, 6PM-9PM
In 1998, as a reaction to the marginalization of artists from Caribbean communities, Jamal Ince and Michael Lee-Poy organized the original Guerrillas in the Midst exhibition. The artists found that despite having been educated and trained in notable bastions of art and education, only a few galleries were interested in showing their work. Finding just cause for action, the original members drew up a manifesto and created "Guerrillas in the Midst," a series of "strikes" in the form of art exhibits in unconventional spaces that were produced to critical acclaim.
And so it is in that spirit and to reignite that rebel yell that Clover's Fine Art Gallery will present Guerrillas in the Midst Remix with six of the original artists - Terry Boddie, Constant, Francks Deceus, Jean Patrick Icart-Pierre, Jamal Ince, Laura James, and four new members Patrick Dougher, Lady K Fever, Tiffany Miller, and Sol Sax.
ELIGO ART (Laura James & Edna Suarez) and Jamal Ince are the Guest Curators for this exhibition. The opening reception is Friday, September 26th, from 6pm-9pm. Event link is below the image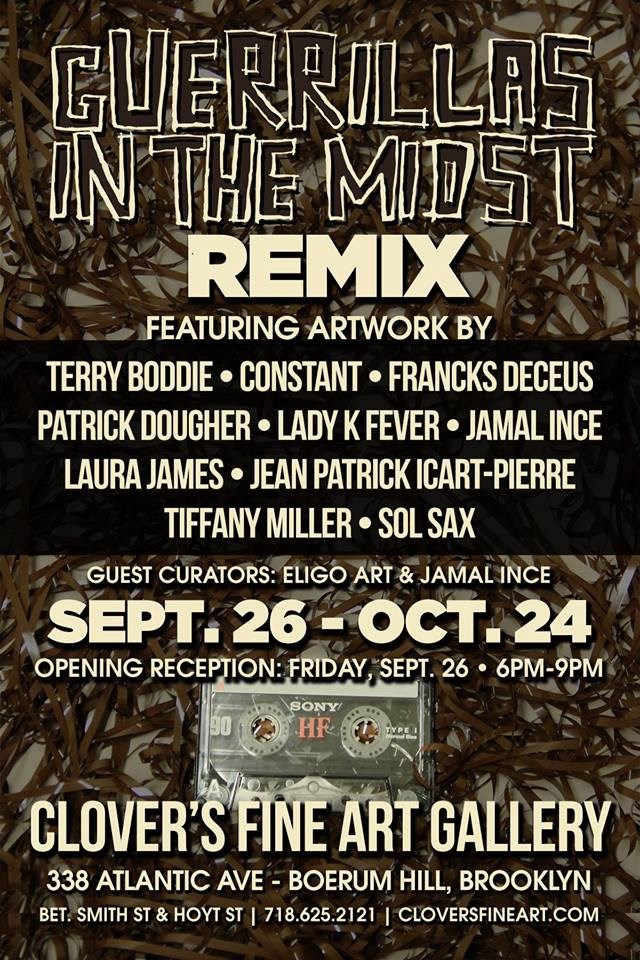 https://www.facebook.com/events/445019215638527/?ref=2&ref_dashboard_filter=calendar
REDBULL HARD YARD
SATURDAY, SEPTEMBER 27TH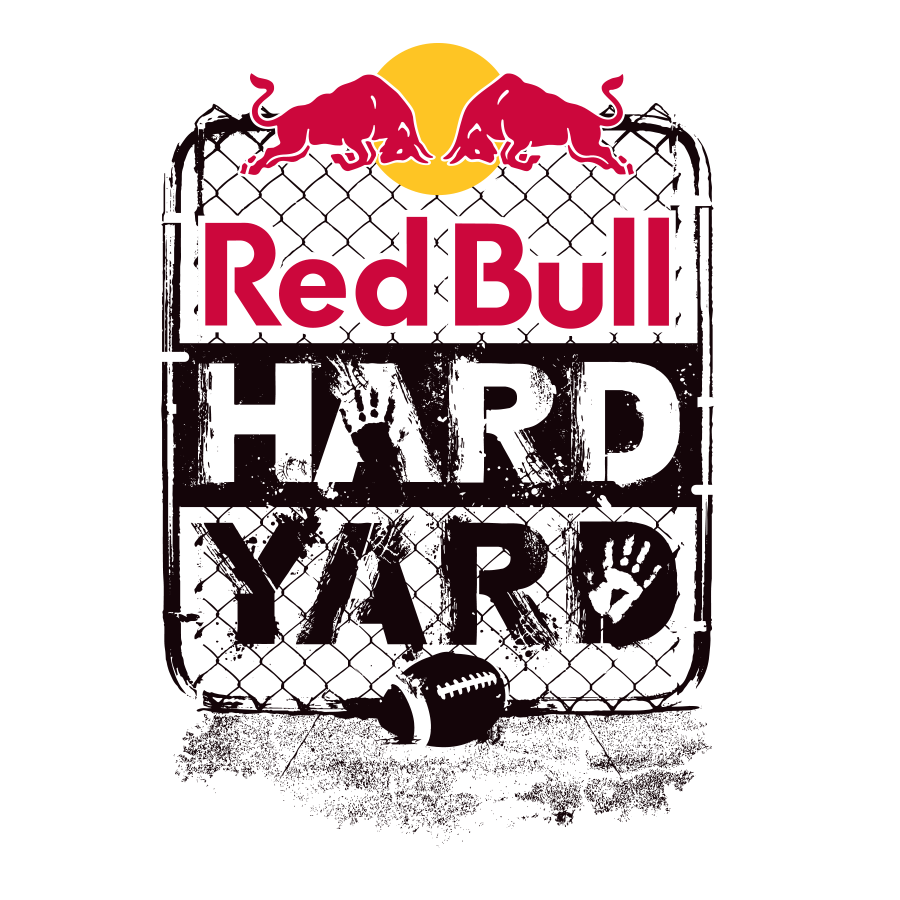 A modern reinvention of the classic schoolyard game of touch football, Red Bull Hard Yard will bring together the city's urban weekend warriors to compete for ultimate bragging rights in NYC. Taking place at the iconic Commodore Barry Park in Brooklyn, Hard Yard will consist of 16 teams of 4 competing in a head-to-head bracket style single elimination tournament. Come and check out asphalt action that never leaves the Red Zone.
This is the baddest game of touch football you will ever see in your entire lifeQ Hyperbole aside, it will be very cool. I'm not sure if you can sign up the day of the game, but you can always try and if not, get to spectating!
https://www.facebook.com/events/3759988744105417/?ref=2&ref_dashboard_filter=calendar
SUNDAY, SEPTEMBER 28TH
World-renowned artist, DJ, and visionary Paul D. Miller (aka DJ Spooky, That Subliminal Kid) and Svitlana Matviyenko celebrate the release of THE IMAGINARY APP, a provocative new anthology of writers, theorists, and artists exploring the cultural and technological shifts that have accompanied the emergence of the mobile app. It's at PowerHouse Arena, so expect to be surrounded by other books!