For anyone who's ever purchased a ticket to a movie, music performance, comedy show or play, what you expect in return is plain and simple: to be entertained for a few hours. And then, you leave.
The play, Wedding Band: A Love/Hate Story in Black and White, presented and produced by Theatre for a New Audience (TFANA) at the Polonsky Shakespeare Center, does entertain. But it does so much more: It connects; it transforms and then glues you to your seat.
Written by Alice Childress and directed by Awoye Timpo, Wedding Band is making its first appearance in Brooklyn since its New York premiere in 1972. The story takes place in Charleston, South Carolina, in 1918, at the end of World War I, during the rise of a flu pandemic and the revival of the Ku Klux Klan.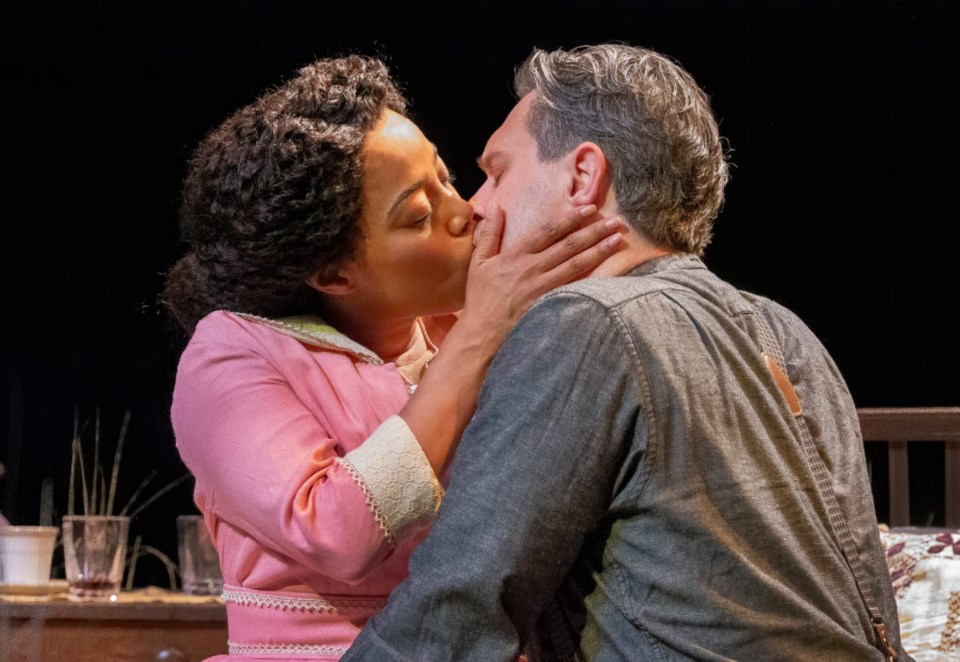 Wedding Band centers around Julia Augustine, played by Brittany Bradford, a black seamstress; and her lover, Herman, played by Thomas Sadoski, who is a poor white baker from a poor family. The two met at the bakery and fell in love. And their struggle now is trying to hide their interracial relationship in America's racist Deep South.
Interracial marriage was illegal. So for the couple's 10th anniversary, Herman surprises Julia with a wedding band to wear around her neck where it can stay hidden underneath her clothes. It's an offering of a little piece of dignity.
In fact, "dignity" becomes a recurring theme throughout the play, more often suggested than uttered. And this is how Childress brilliantly hands us this story: by peeling away layers, versus cutting to the core. You can see it in the way Childress orients us with Julia, through an unlayering. While the other cast members enter strong, we get to know Julia through her interplay with each of the other characters.
The play opens and we learn that Julia– a seamstress who seems to keep secrets– has recently moved into the backyard quarters of a woman named Fanny Johnson (played by Elizabeth Van Dyke), a relatively well-to-do and nosy proprietor who's deemed it her duty to "represent the race."
Every character is humanized through what's most important in their lives– that is, what's needed to give them a life of dignity.
Dignity for Fanny is her reputation as a high-class negra who will never rattle or upset white folks and perhaps, one day, be treated as an equal.
For Herman's bitter, racist and aging mother, who is played by Veanne Cox, dignity is the notion of her white supremacy, which has evaded her throughout her entire life and, to her frustration, also the lives of her children: "You've got a brother that makes pies and loves a nigger," she snarled to Herman's sister, Annabelle, played by Rebecca Haden.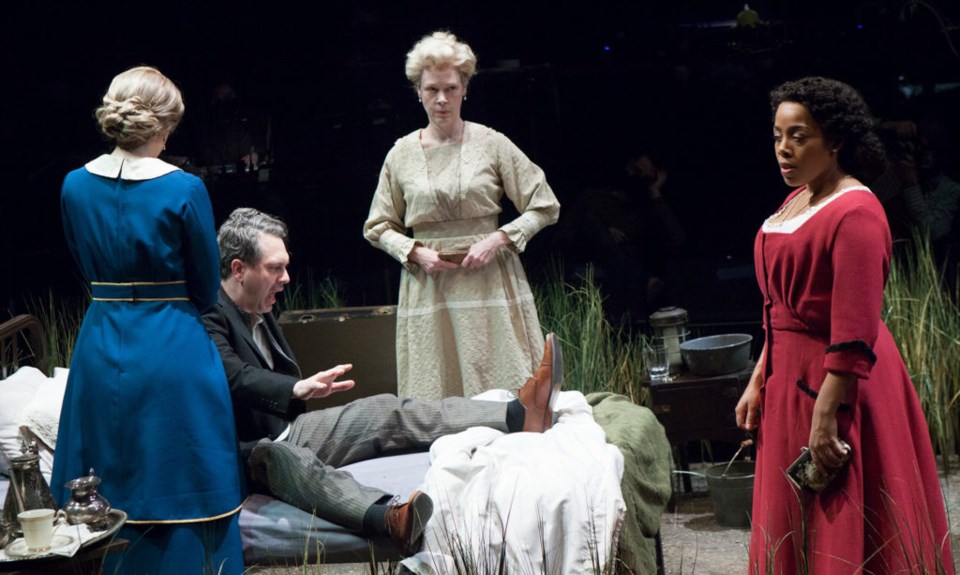 For the young, Black soldier, Nelson Green, played by Renrick Palmer, dignity is fighting for his budding manhood and potential while trying to avoid trouble … but not entirely, because, "That's what a fight is: trouble," he said.
The supporting cast was pitch-perfect, including Brittany-Laurelle who plays Mattie, the mother of daughter Teeta, played by Phoenix Noelle and the caretaker of Princess, played by Sofie Nesanelis; Rosalyn Coleman plays Lula Green, who is the mother of Nelson Green; and Max Woertendyke plays the Bell Man.
The irony is that everyone in the story is looking for love and approval. Herman and Julia, the only ones that truly have it, are the very ones who have to hide it.
This was the story's pain point– not racism necessarily, but– the hiding of one's true self and the desire to be seen and, furthermore, seen as valuable. Dignity.
Herman's hiding was a matter of his mother's disapproval of his chosen love interest and occupation. Dignity for him was business and financial success.
For Julia, the stakes were much higher: Hiding was a matter of her life or death, and so her dignity– which was the freedom to just "be"– would never materialize as long as she chose forbidden love. "You chained me to your mother for ten years," she pleaded to Herman to see the gravity of what that meant for her all those years.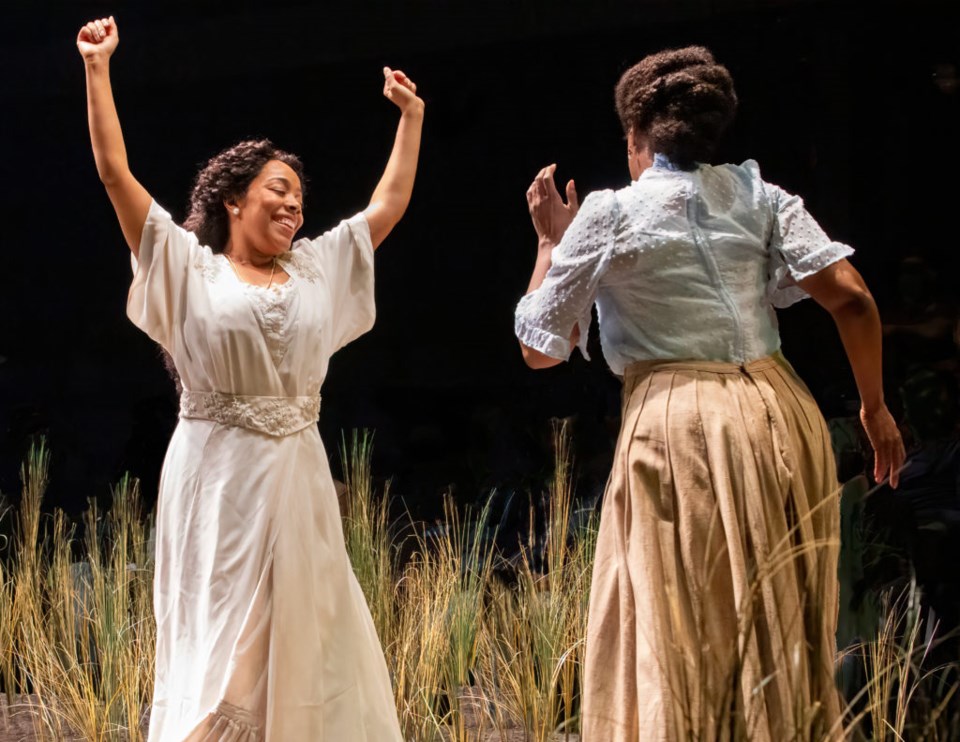 The greatest moment of freedom came for Julia only after she chose to fully express her disgust for Herman's white racist family, and then join her own Black family of neighbors in singing, dancing, conjuring and co-signing, a fulsome, soulful embracing of her true Black identity.
Childress's Wedding Band is not a cautionary tale. It's a human story that peels away the painful layers of racism to reveal that at our core, we all want the same simple things, which are to be seen and to be valued and to be loved.
Timpo's nuanced and expert direction allowed the characters to become the people, versus the people to become the characters, truly creating a human connection with the audience. And you feel grateful for the experience.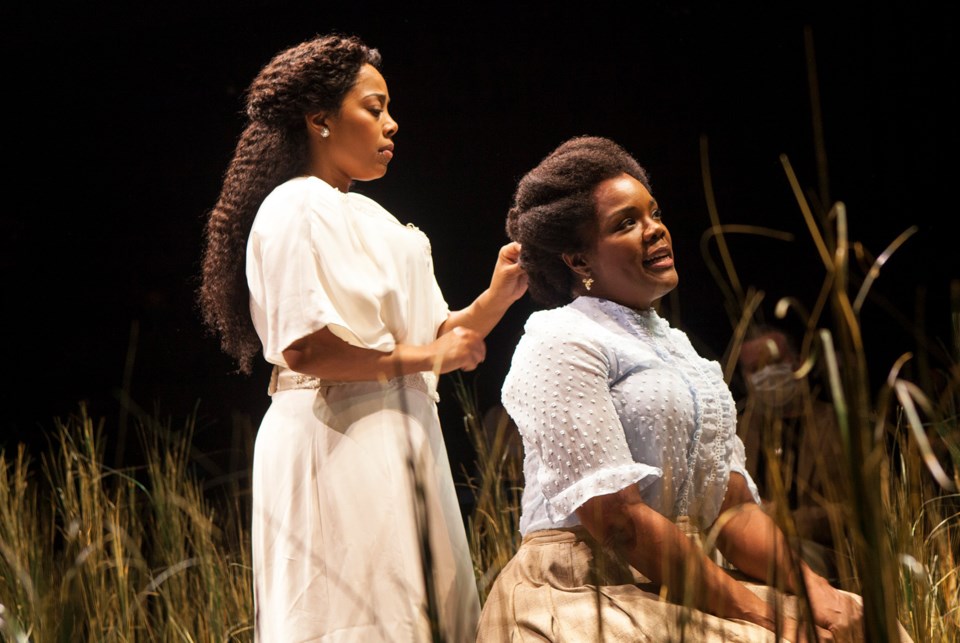 Timpo captured the same subtlety, softness and plain-spoken nature of a black-and-white picture that encourages you to lean into the details and connect.
It's a rare thing to want to stay in the room after a show is over.
But this was that kind of play.
Wedding Band: A Love/Hate Story in Black and White is playing at the Shakespeare Polonsky Center in downtown Brooklyn through May 22. To purchase tickets, go here.