An exhibition tracing the prolific career of artist and designer Virgil Abloh, one that Abloh himself worked on before his death, is set to open at Brooklyn Museum in July.
Virgil Abloh: "Figures of Speech," will feature brand-new elements and never-before-seen objects from Abloh's archive built up over his decades-long, multifaceted career.
It includes his collaborations with artist Takashi Murakami, musician Kanye West and architect Rem Koolhaas; material from his fashion label Off-White; and designs from Louis Vuitton, where he served as the first Black menswear artistic director until his death in 2021. Abloh died in Chicago in November, 2021, after after a two-year battle with cardiac angiosarcoma, a rare cancer. He was 41.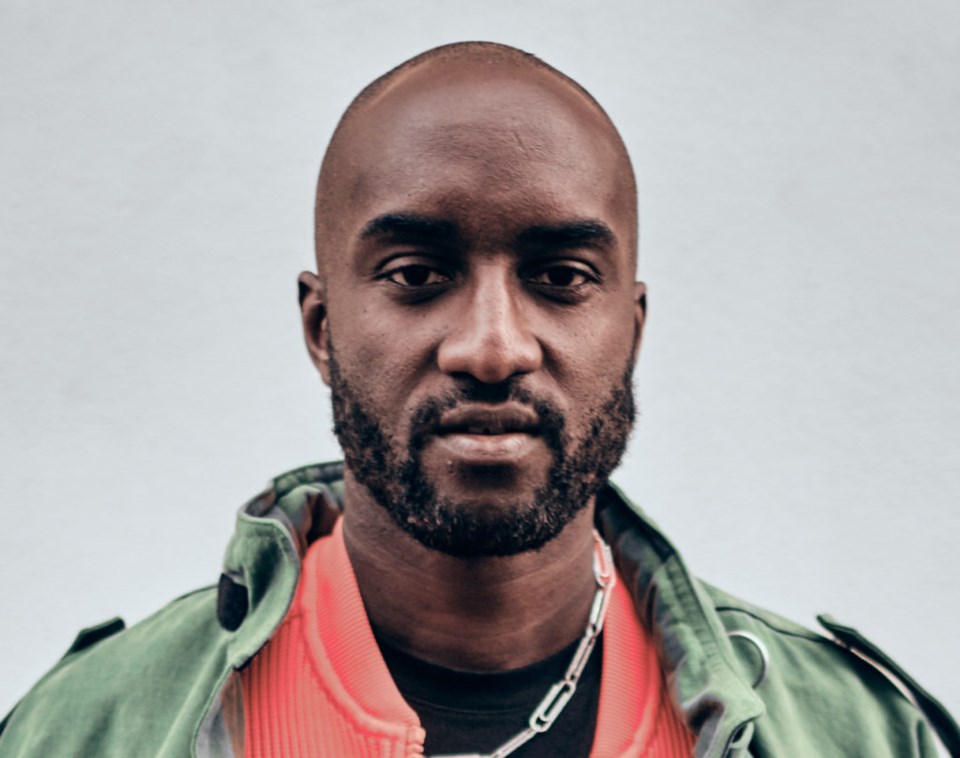 The exhibition traces two decades of Abloh's work, highlighting how his emphasis on collaboration and his unique creative process have reshaped notions of and taste in, fashion, art, commerce, design and youth culture.
Brooklyn Museum's Shelby White and Leon Levy Director Anne Pasternak said the museum team had worked with Abloh and "his exceptional team" on the Brooklyn Museum presentation of his exhibition for more than three years.
Throughout it all, she said, there was had a single goal: to celebrate his explosive talent and the ways he kicked open doors for young BIPOC artists.
The exhibit is being organized by guest curator Antwaun Sargent, who said during the years of collaboration, "Virgil and I have sought to think about his expansive practice in new ways."
"The exhibition includes objects and materials from his archive that touch on the ways he blurred the boundaries of different mediums to make something entirely his own," Sargent said.
"The show also includes a new monumental sculpture, designed by the artist, that emphasizes how Virgil's creativity made space for young people to explore their own ideas in ways that re-center art and design."
Abloh's "social sculpture," anchors the exhibition in the central atrium of the Museum's Great Hall and gives a space for gathering and performances, while showcasing Abloh's interdisciplinary inspirations from across the fields of music, design and visual arts.
The museum the structure was designed by Abloh to counter the historical lack of space afforded to Black artists and Black people in cultural institutions.
The son of Ghanaian immigrants, Abloh grew up in the Chicago area, and at a young age, expressed an interest in the intersections of music, fashion and art. His first experience with artistic collaboration came in 2007, when then-emerging musician Kanye West invited Abloh to join his creative team.
Abloh then pivoted from architecture, in which he was getting a master's degree, to album covers, concert design, merchandising, and fashion with West and his team.
In 2012, the artist launched Pyrex Vision, a fashion and art project that explored contemporary youth culture through film and a capsule collection of sportswear, drawing equally from collegiate lettering and canonical Renaissance art. Pyrex Vision was followed promptly by the founding, in 2013, of Off-White, Abloh's stand-alone fashion label based in Milan, Italy.
While maintaining Off-White, Abloh was named Men's Artistic Director at Louis Vuitton in 2018, making him the first Black person to lead the storied luxury brand, as well as one of the few Black designers to helm a major French fashion house.
On top of exploring his art and design, the Brooklyn Museum exhibit looks into Abloh's relationship with New York City, in both his collaborations and his influences.
Virgil Abloh: "Figures of Speech" is organized by Michael Darling, James W. Alsdorf Chief Curator, Museum of Contemporary Art Chicago. The Brooklyn Museum presentation is organized by Antwaun Sargent, independent curator and writer.
It is on view from July 1, 2022, to January 29, 2023. Tickets go on sale to the general public Thursday, March 10, 2022. Members will have access to a pre-sale to reserve free tickets beginning Thursday, February 24, 2022.
An exhibition shop will also feature Virgil Abloh and Off-White merchandise. Items will include T-shirts, hoodies, pants, caps, tote bags, postcards, posters, and zines. Only exhibition ticketholders will be able to access the Abloh exhibition shop.