Fort Greene-based actor Coffey assumed his son, a rising high school senior, was coming home early from the park summer evenings because someone was bothering him.
"When I questioned him about it, he just came out and told me that I was wrong... The reason [he] and his friends were coming home before dark was because they didn't want to get killed by the cops," Coffey said.
"As a dad I didn't have an answer to it. It was heartbreaking and the fact I couldn't answer it hurt me as well."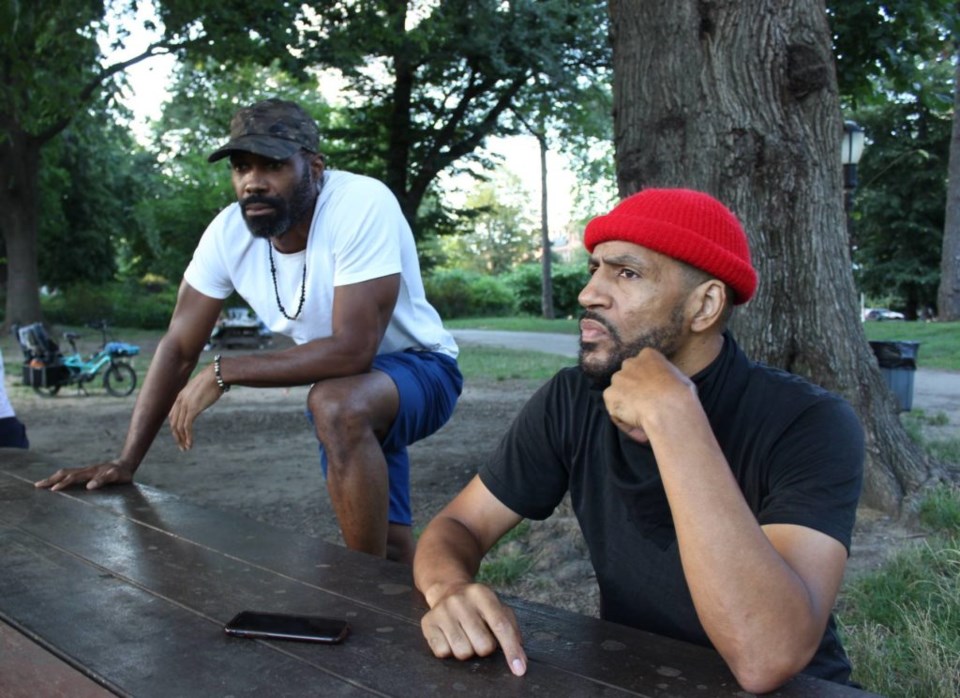 Too real
Months later, while out running, Coffey decided to write a short film centered on the issue, approaching it from a solutions-based perspective. That perspective brought a dedicated group of Black actors together to engage in a conversation on racism in the United States and how they could be a force for change.
Coffey and co-writer Samuel K. Rhind started working on the Sterling Milan-directed drama About the People in 2016, and it was released August 2019. Led by Hollywood star Michael K. Williams, the 10-member cast plays a diverse set of influential characters gathered in one room for a secret meeting.
The 28-minute film picked up the 2019 Newark International Film Festival prize for 'Best Narrative Short,' and it received a strong reaction on the festival scene.
But for Coffey, there's no celebration while Black people are still being killed at the hands of police and a racist system.
"Even when we won these awards we couldn't celebrate that. It was like, 'okay, thank you, I appreciate it,' and we moved on. We're coming from so much of a real perspective, what is there to celebrate when we're trying to stop this from happening."
Meeting of the minds
Influenced by the 1957 film 12 Angry Men and Jim Brown's 1967 Cleveland Summit, Coffey and Rhind structured the film around a conversation held in one room. Instead of names, the characters have distinct roles: The militant, the athlete, the professor, the college boy, the celebrity, the executive, the preacher, the author, the senator and the janitor.
Rhind said the conversation was one like Black folks had in barbershops, around kitchen tables, at meetings and at barbeques for generations.
"We took that idea and expanded and really tried to answer the question, 'What are we going to do?'"
Rhind was just out of business school when he started writing it, and said an economic solution was paramount: "It came to me succinctly," he said, touching on Black Wall Street and the Montgomery Boycott.
For actor Nashawn Kearse, who plays the professor, teaching Black history is a role he always plays in real life: "I have a daughter who is 6 years old now, and I'm more concerned about her education and her learning the truths about Black people, the truths about this country and the history of this country," he said.
The professor was an important person to have at the table for any conversations on racism, he said, because, 'Once you know the truth, you know how to proceed on in life.'"
"We have to able to start teaching our own kids and having them know what really happened to our people. How great we were... We had Black Wall Street and entrepreneurs and we lived a great life, and it was torn apart."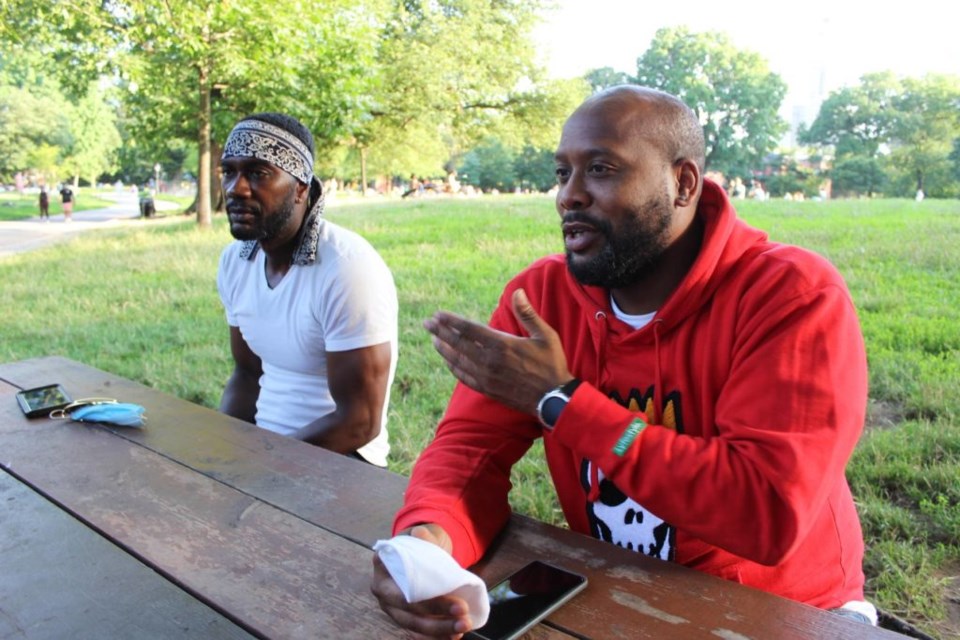 Everyone at the table
Throughout the film, there is an ongoing and obvious gap: No women are present. It isn't until near the end of the film when the janitor, played by Ebony Obsidian, enters the room and makes her presence felt.
For actor Akintola Jiboyewa, who plays the athlete, the exclusion and subsequent realization of how imperative a women was to the movement heightened the reality of the movie. "Unfortunately the way some men think who are in positions of power of positions of influence women are not at the table. Which is completely not right," he said.
"These guys are coming together to fight oppression and the same time they are oppressing a particular gender."
Rhind said it could be a blind spot if you're a man watching the film, but a woman watching would notice females weren't represented.
He said racism, sexism and classism all stemmed from realities people weren't seeing that affected how they operated in the world, "But the thing is, when you do see it, are you going to make the adjustment, or are you going to ignore it?"
Keeping up the dialogue
Coffey recently announced About the People would be developed into a limited series to keep the conversation going, and a hunt was on to find a network that wouldn't sugarcoat the topic.
And how does he feel about the award-winning response to his son's comment?
"I think we did a hell of a job for him."