The blood preserved in the resin panels of Jordan Eagles' art could have been used to save the lives of New Yorkers in need, during what is currently the biggest blood shortage the country has faced in over a generation.
That is what Eagles wants people to understand with his latest immersive light-based installation, Our Blood Can Save, opening Friday March 4 at the Major R. Owens Health & Wellness Community Center in Crown Heights.
The works in Eagles' installation are made from blood donated by gay, bisexual and queer men, a number of whom are from Brooklyn, who are barred by Food and Drug Administration policy from donating blood due to their sexual orientation.
The policy is riddled in discrimination and inequity, Eagles says, and only enhances stigma around the LBGTQ community as being dirty or having tainted blood.
"We're at a moment in time when we have the biggest blood shortage in a decade. It's ridiculous how simultaneously we have discriminatory policy, that the FDA won't budge on, that prohibits a number of people from donating blood," he says.
The FDA does not allow any man who has sex with men to donate blood within three months of having sex, regardless of whether they are HIV-negative. It also does not allow people on PrEP, an FDA-approved daily pill for people to prevent HIV infection, to donate within three months of taking the pill. The FDA's blood donation policy was instituted in 1983 in an early response to the AIDS crisis, and updated in 2015 and again in 2020.
Eagles says the law effectively bans any gay man in a monogamous relationship — and of course many others. There is no celibacy requirement for heterosexuals. "It seems riddled in discrimination — there is no scientific basis to stop men that have sex with other men from donating blood."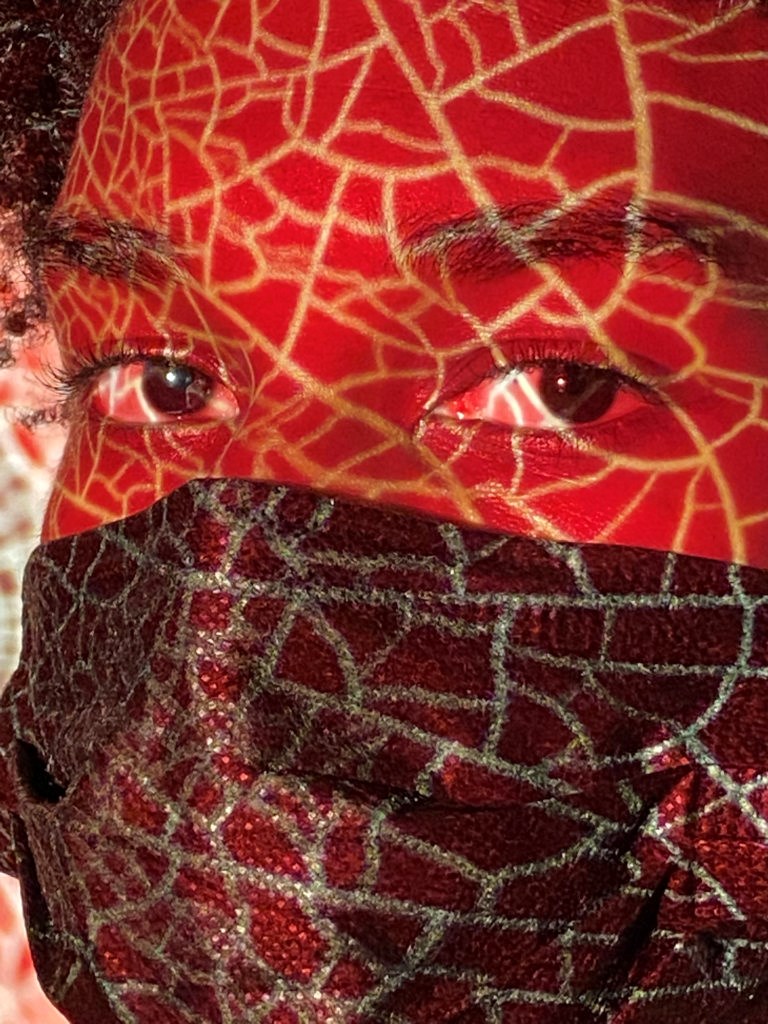 Eagles notes the fact PrEP users are banned further highlights the discrimination, as the only reason they're banned is because they are considered more likely to be having high risk sex.
He cites France and Greece as examples of how the FDA could change. Both countries have switched to doing individual screening assessments to determine who can donate blood, rather than having blanket rules that bar entire communities.
The American Red Cross also supports alternatives to the current system, saying: "The Red Cross recognizes the hurt this policy has caused to many in the LGBTQ+ community and believes blood donation eligibility should not be determined by methods that are based upon sexual orientation."
"We are committed to working with partners toward achieving this goal."
Alongside partner organizations, it is currently doing an FDA-funded study into possible different eligibility questions that are not based on sexual orientation, but rather on individual risk.
The installation spotlights previous racial discrimination in blood banking in the U.S. as proof the system has long been flawed. Dr. Charles R. Drew, a Black doctor who invented blood banking during World War II, resigned from the Red Cross in protest to blood being segregated by race when there was no scientific basis.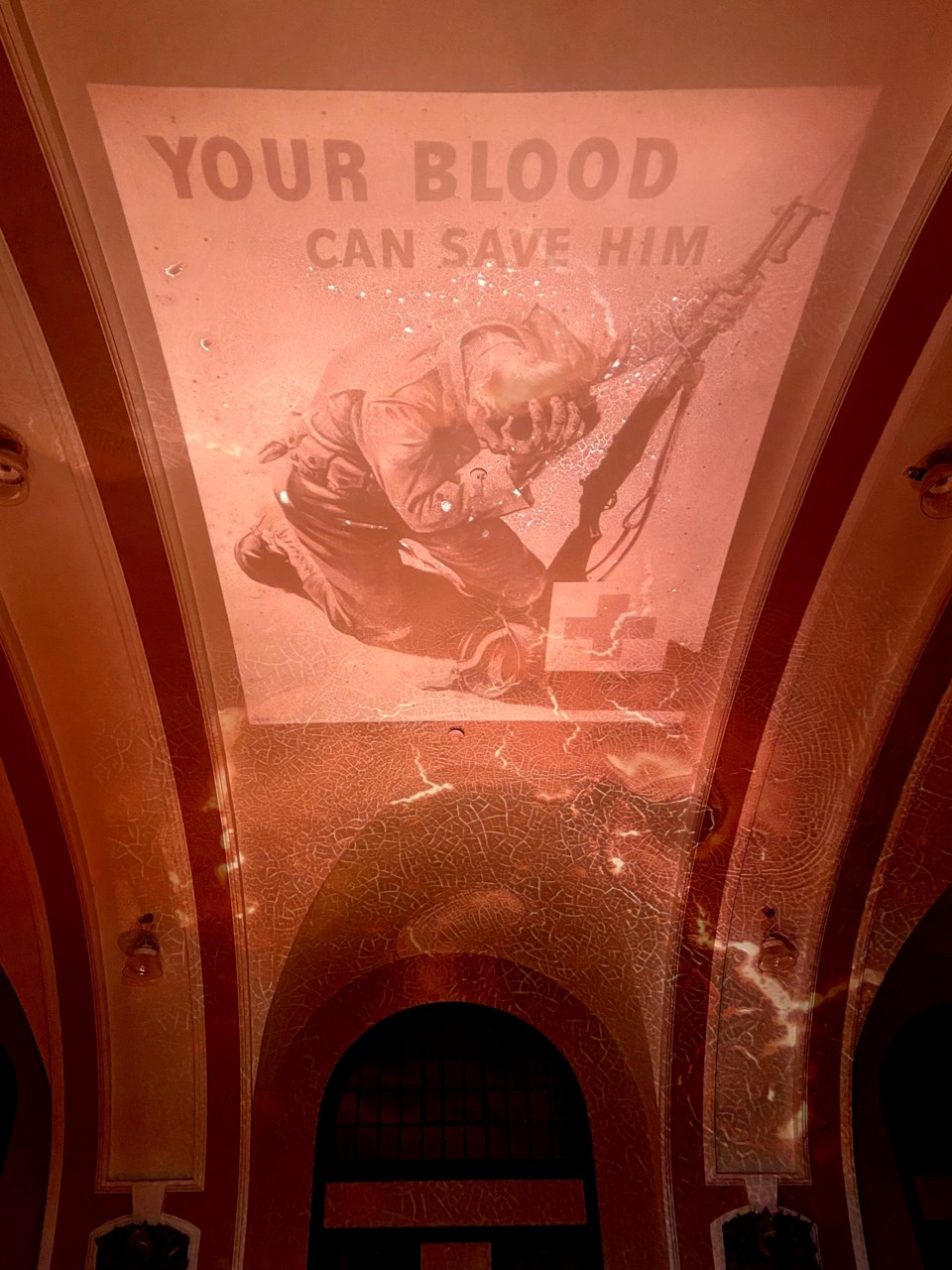 A central projection in the show features a 1943 WWII poster graphic soliciting blood donations. This panel is preserved with blood donated by an active U.S. Service Member who identifies as transgender and pansexual, raising questions about the problematic role of gender identification in blood donation policy. The image also connects to the history of The Major R. Owens Health & Wellness Center's history as a former Armory, Eagles notes.
Viewers are able to have their portrait taken by the artist with blood patterns projected onto them — a gesture of solidarity against the FDA's policy that says the participants would be willing to receive blood from the LGBTQ+ community should they ever need a transfusion, Eagles says.
"I want to spawn conversation and make people more aware of the issue, and bring communities together to look at our histories."
The project will also include a blood drive, hosted in partnership with the New York Blood Center, held inside Brooklyn Pride Community Pride Center at the Major Owens Center. Floyd Rumohr, Brooklyn Community Pride Center's CEO, told BK Reader that: "Despite the FDA's stigmatizing regulations preventing much of the LGBTQ+ community from donating blood, we have filled every appointment for Friday's blood drive with people who are eligible.
"If the FDA would reverse course on its outdated and offensive mindset, the LGBTQ+ community could and would show up to help address this critically dangerous shortage of blood."
Eagles adds that while the drive will help to save lives, there is irony in how most people who use the Pride Center won't be eligible for the donation.
"It adds a whole other layer of the injustice. Pretty much everyone who attends Brooklyn Pride Community Pride Center can't donate blood, but they're hosting it anyway."
Our Blood Can Save will be open to the public in the Betty Carter Auditorium from 6:00pm to 10:00pm, March 4 and 5.