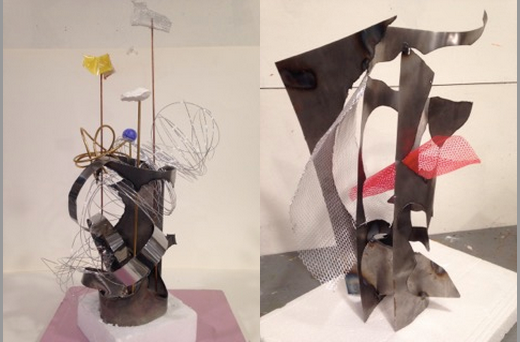 JUNE 6 - JUNE 28,
COLOR: SCULPTED AND PAINTED
DIETER KUHN, NORBERT MASAL, CINDY MILLIN, SCOTT REEDS
This exhibition highlights four artists whose work is informed by their particular use of color. Cindy Millin's paintings are nearly three-dimensional works with layers upon layers of sculpted paint that reveal splashes of bright colors on plain backgrounds; Dieter Kuhn in a more contained approach uses a vibrant palette to outline imaginary maps and mysterious scenes, at times joyful or mysterious; Norbert Masal's sculptures are equilibrist constructions where a metallic structures are often gently wrapped in colorful shapes; Scott Reeds, though a complex process involving the hand-bending of iron sheets and the bathing of the work in acrylic gesso, creates delightful wall sculptures that flash with their shiny and fluorescent colors.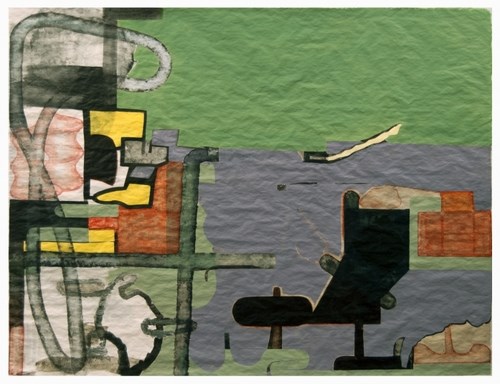 DIETER KUHN: I manipulate paint and play with forms and lines. Like an improvising musician I take a figure, a loop, a lick and run with it. Here is what I am after: something weightless that defies gravity; or something dense that filters and reflects the light; or something layered and crowded like history.
I have an affinity for maps and love the bird's eye view. I am drawn to activities that most people wouldn't call activities at all but ways of wasting time: doodling, walking with no place to go, writing without words. I sit and look.
My work has roots in music and language. What it shares with music is that meaning is not a given. From language I have learned that sense gets in the way of words. Adding and subtracting, erasing and watching: I love the intricacies of a process that takes me all over the map and ends when the thing I knew had to be there all along becomes visible. - Dieter Kuhn
NORBERT MASAL: My current body of freestanding sculptures and bas-relief works goes back to the assembling of basic positive and negative shapes from reclaimed studio materials found in metal shops, mixed media studios, and my own workspace. The negative shapes are made visible through my juxtaposition of the geometric with the biomorphic, angular metal fragments with wisps of color and light, closed and open. Assembled into three dimensional objects by way of free association they claim and actualize space, allowing the formation of a potential other reality in the mind of the viewer. Several heavier gauge metal sculptures were begun during a metal forging seminar with a medieval armor maker at the School of Visual Arts. Like personal armature, the interloping metal curves are not perfectly sealed and allow for the vulnerability or penetration of the form, as light passes through and mental spaces begin to open. In contrast to the heavy metal of armor, their delicate frameworks embody the idea of protection and human vulnerability, their interlocking positive and negative spaces are symbolic of a mood or state of mind. — Norbert Masal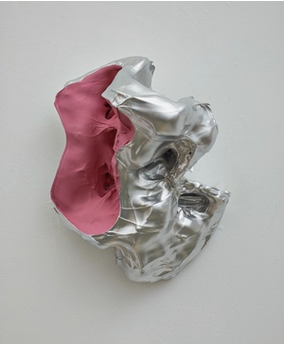 SCOTT REEDS: After a 30-year effort in printmaking I've returned to my sculptor's roots. My old sculptures were large, tongue-in-cheek, site-specific and slightly subversive.
My new ones, smaller in size, began somewhat by accident. I was struck by the transformative properties of thick acrylic gesso as a modeling agent. Each piece evolved differently by twisting and folding aluminum sheets with both hands. Later, the metal is dunked in a tub of acrylic gesso until the desired contours are formed. When cured they are painted and emerge as a series of three dimensional gestures. I followed in a similar method using stretched linen. Using the adhesive properties of gesso to make a relief of veins or fissures that mimic tree branches or root systems.
They owe much to drawing and they pull together everything I know from everywhere in the studio. Like new topographies they are uncharted the sort of serendipitous reward that comes only after years of work. - Scott Reeds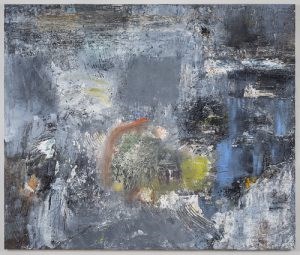 CINDY MILLIN: My work is not about anything in particular except the process of painting. I am intrigued by the physicality and the malleability of paint. The process is slow and open-ended. I am without destination. I paint. Intuitively, I construct, deconstruct and reconstruct. The surface becomes dense and tactile, often awkward. What remains is ragged and broken, layered unevenly, reflecting the residue of time. - Cindy Millin
GALLERY HOURS:
Thursday through Sunday, 1pm to 6pm; or by appointment.
Workroom is a curated interdisciplinary, experimental performance series. Presented by lonely collective, Workroom creates a platform for the risk-takers, for the work that sits by itself, for art that widens the possibilities in live performance while building upon our foundations in dance, theatre, music, film, and performance art.
Curated by lonely collective
Featuring performances and films by Steven Long, The Lovelies, Sam Lysaght, Macklen Mayse, Megan Odom, Rachel Oliver, Julie Rooney, and Alexa West.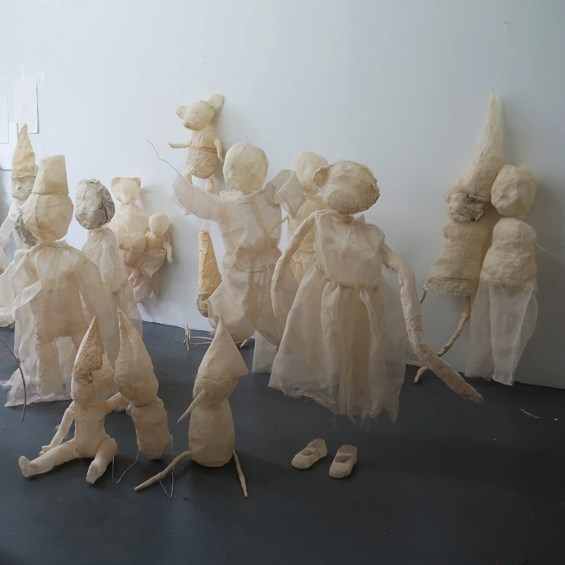 Running Out of Thread is Constance Slaughter's first solo show in New York. Constance's work is both playful and dark. Her light suspended sculptures, made from wire and semi-transparent fabric, hover and sway. The child-animal-toy figures are the characters of our half-remembered childhood games, songs and stories.
She invited the choreographer and artist Felix Aarts to create a dance performance around the theme of memory. Shadows on the Mind will be performed by the dancer Sarah Robak, on a score extracted from Mozart's first opera, Bastien und Bastienne.
Constance was born in France and educated in the UK. She earned an MFA from the Pratt Institute last year. Her work has been widely exhibited in Europe.
The exhibition opens on Wednesday 1st July. Opening reception 6-8pm.
Closing reception and performances on Saturday 11th July, 6:30pm and 7:30pm.