This Monday, students from Bed-Stuy's P.S. 5 are hosting a celebration to honor former Congressmember Shirley Chisholm on what would have been her 96th birthday at Chez Oskar, a popular Bed-Stuy restaurant.
Principal Lena Gates, Librarian Gwynn White and pre-K through 5th grade students have curated an audio and video show that will be shown outside the restaurant between 4 and 8 p.m. and local politicians have been invited to speak.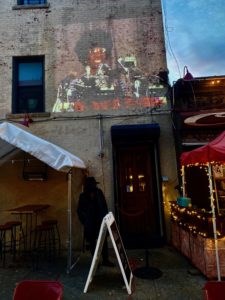 As part of the celebration, Chez Oskar will be donating 15% of its sales from the night to Stacey Abrams' organization Fair Fight.
Chez Oskar owner and artist Charlotta Janssen said the idea was to uplift the community and show how much the community really cared about the election, while connecting the dots between history and today.
"We'll be playing some of Shirley Chisholm's speeches, and it's as if you could have picked them out of today," she said. "None of them would be outdated, sadly."
Janssen said where she was from in Germany, art was often used to process what was happening in life.
"I think sometimes we can overlook that here, we rely on legislation to deal with things," she said. "To process and understand we need art in life, to fall in love and deal with pain and with all this history gushing by us."
Janssen said she was ecstatic to have the students on board with the celebration and fundraiser, which will also feature music from DJ Goodwill.
To join the celebration, head to Chez Oskar on Monday, Nov. 30 at 310 Malcolm X Blvd.