Trump won. Nothing makes any sense. Perhaps the best way to keep your head from exploding into a pile of comic book dust, is to hit the Brooklyn streets and turn up.
Will it solve anything? Will it make The Donald's victory turn into nothing more than a wavy hallucination and reveal that the real victor is Bernie Sanders, from his write-in position? Not. At. All. But when have you really needed a reason to turn up on the weekend anyway? Well the weather will be a classic, crispy autumn weekend and perfect for party hopping, though it will be a bit windy, so use extra pins to secure your wiggy situation and not embarrass yourself chasing a hair piece down Bedford Ave.
So here's a few picks for some weekend fun, that can only be had in Brooklyn New York baby!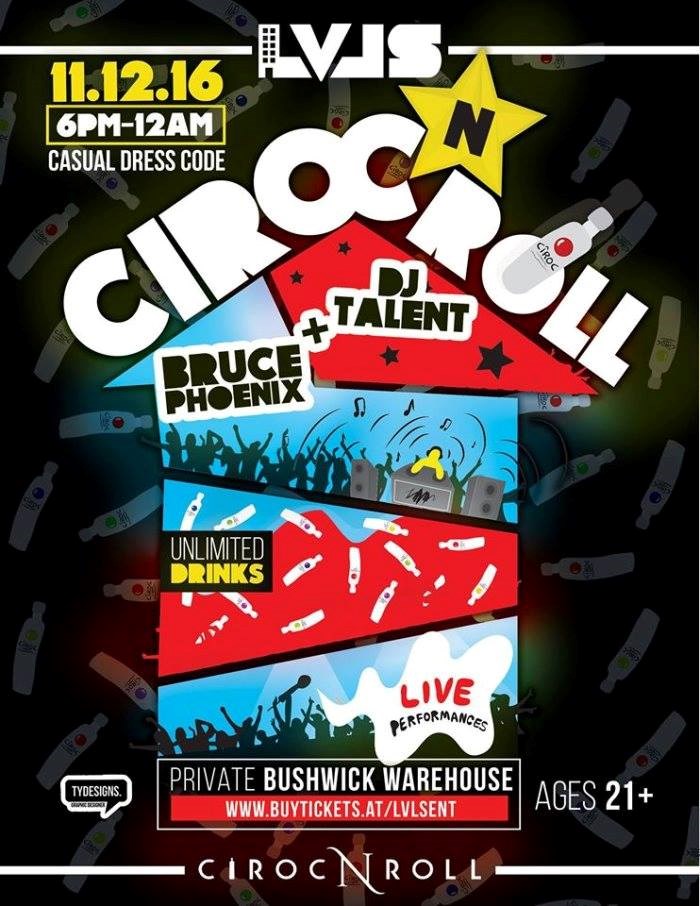 Ciroc N Roll, Private Brooklyn Warehouse, 6pm-12am, Saturday, $25
If you like day drinking, in the all you can drink variety, and also dig secret warehouse locations, then BONG, this is the party for you this weekend. Twenty five bucks gets you unlimited drinking for six hours, featuring Ciroc N Roll cocktails, DJs and surprise live performances. Once you purchase the ticket, you get the address of the location. It sounds like a perfect way to forget about our national nightmare and perhaps cuff a winter bae in the process...and one that likes to drink copious amounts of booze, just like you! Click here for more information and tickets

Drunk 24, Kymberle Project, 1332 Atlantic Avenue, Saturday, 8pm-Midnite, $10 (BedStuy)
If you like an interactive theater experience, then this should be really fun. A group of writers are given 24 hours to put together a play festival. The writers are Blake Bishton, Michael Bradley Block,, Rebecca Cohn, Mary DeCarlo, Hana Itkis, Seth McNeill, L. DeVaughn Nelson, Eli Powers, Jona Tarlin, Monica Trausch, Caity Urquhart,& Ran Xia.
This is taken from their Facebook event page: "Randomly selected teams of writers, directors, and actors will have only 24 hours to put together an amazing play festival! OH! And YOU, the audience, can surprise our actors by buying them booze that YES they will have to incorporate into their play and take on stage…!!" Get tickets by clicking here and go get some experimental theater in your life.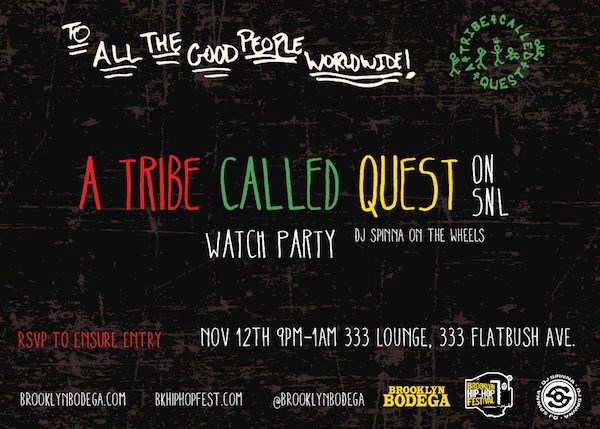 ATCQ SNL Watch Party, 333 Lounge, 333 Flatbush Ave, 9pm-1am $0 (Park Slope)
In case the Trump Hangover has had your brain in a haze for the last several days, you should know that the seminal Hip-Hop group A Tribe Called Quest just released their reunion album this week, with Tip, Ali, Phife AND Jarobi reunited for this highly anticipated record. Phife has since passed away due to complications from diabetes, which makes this album very bittersweet, but it also features a slew of amazing talent, such as Busta Rhymes, Anderson Paak, Andre 3000 and Kendrick Lamar. They'll be the musical guest on SNL this weekend, and the show is hosted by Dave Chappelle, so needless to say, this is must watch TV!
DJ Spinna brings the beats before the show, so get over there and boogie to his sounds and prepare for the live performance and the drop dead jokes from our favorite WOKE, didn't move to Africa, calling his own shots comic. But make sure to bring cash and cards, because no one will believe that you left your wallet in El Segundo! Get more info on the Facebook Event Page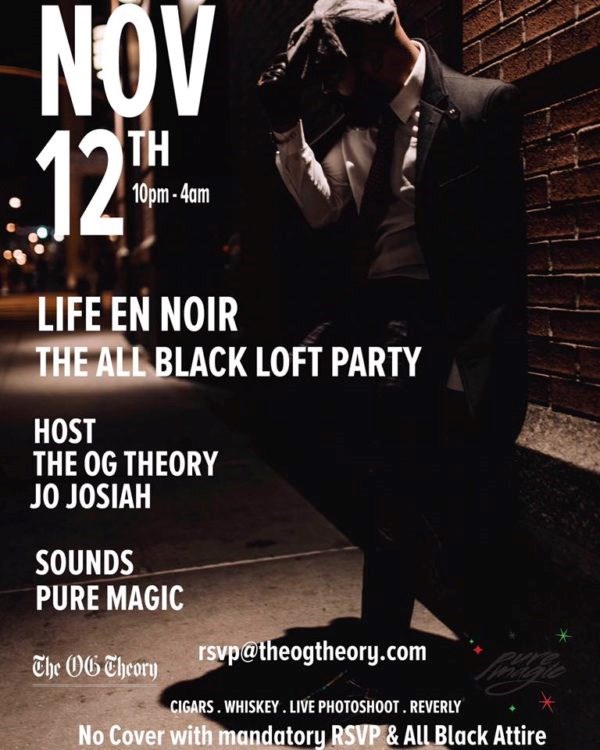 Life En Noir, Secret Location, 10pm-4am, $0 with RSVP:rsvp@theogtheory.com
Secret Loft Parties are cool. This one is an all black affair, and the attire is all black. It will probably be a lot of beautiful, creative and fun loving black people there, which according to Donald Trump, makes everyone from the "inner city"...so you should go, "what do you have to lose"? All jokes aside, this will probably be a scorcher, with music from Pure Magic (GoodWill & JahMedicine), and hosted by The OG Theory. The party will feature Cigars for Sale. Whiskey in excess. Live Photoshoots. Revelry. All Black. Sounds super fun and sexy and a great place for a weekend turn up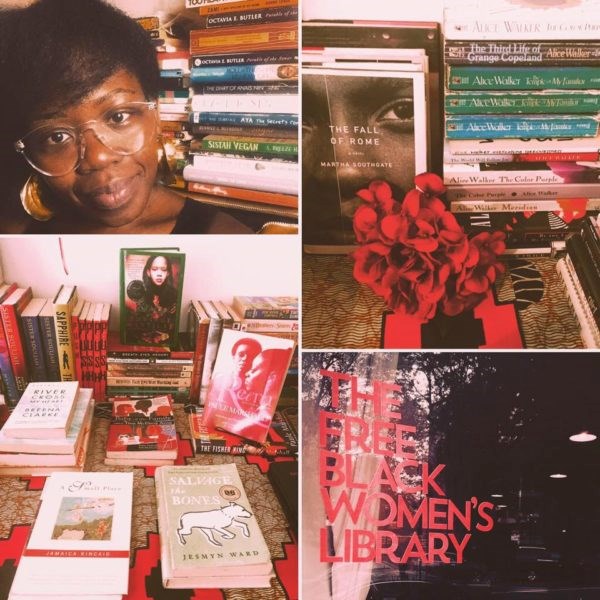 The Free Black Women's Library, BAX, 421 Fifth Avenue, Sunday, Nov 13th, 12pm-5pm, Free (Park Slope)
For the Helix Queer Performance Network's third Submerge festival, an annual celebration of queer and trans artists of color, curator Naimonu James has assembled an electrick program of performance, theater, video, dance and installation at BAX/Brooklyn Arts Exchange. Using books written to build community by creating space to center and celebrate the stories of Black women and girls, the library features a collection of 450 books written by Black women.
Started by Ola Ronke, the TFBWL it has turned into a movement. It's a radical mobile library and interactive biblio installation that features a collection of 450 books written by Black women. The library uses books to build community, explores the intersections of race, class and gender and creates space that centers and celebrates the lives, words and stories of Black women and girls. This mobile library pops up monthly and mainly throughout Brooklyn, NYC. Go to the Facebook Event Page for more information about library and Submerge festival
So there you go, multiple places to turn up and also some art, culture and self-love. Keep hate at bay, enjoy life and find something to be thankful about, in these darkest of hours during our national nightmare.