THIS SAT: Brooklyn's Best All-Ages, All-Day Party! 2pm-8pm @ BRIC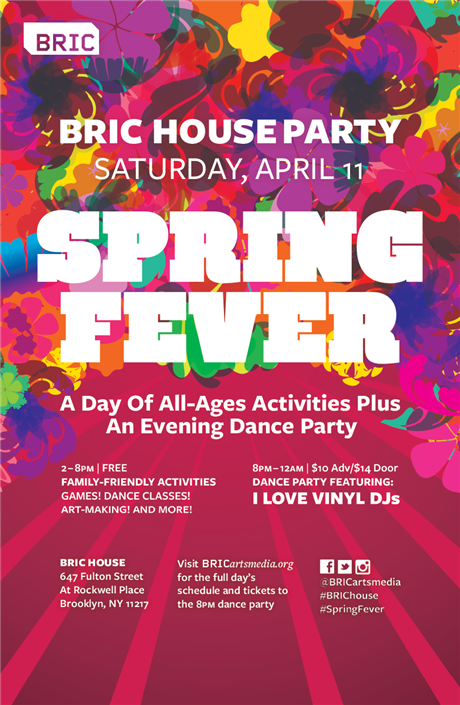 BRIC continues its series of House Parties, with special daytime activities, including family dance classes, film screenings, art making, and other participatory activities; and a nighttime musical main event, with a live band, DJ, and dance party.
BRIC, 647 Fulton St., Bklyn
Clean out the closets and get ready for warmer weather as we celebrate spring with family-friendly live music, film screenings, dance classes and more. Followed by an evening dance party by I Love Vinyl, their approach is mind-wide, foot-friendly and snap, crackly, poppin'; meaning that genre, time period and recognizability take a back seat to quality, taste and skill. Disco, house, soul, boogie, jazz/funk, hip hop, techno, new wave, new jack swing, Latin, electro and Afrobeat are woven into a cohesive, funky and irresistibly danceable sonic manifesto. Laptop-free since 2009.
SCHEDULE OF EVENTS
In Development - Check Back for Updated Information!
All Day
Boardgames!
Come play games such as Checkers, Connect Four, Candyland, Uno, Twister and more on the Stoop and in the gallery, all day long!
FREE | GALLERY & STOOP
All Day
Mapping Brooklyn, Chloe Bass, and Matt Jensen Exhibitions on View!
Take some time to wander around the gallery and hallway opposite the Ballroom to view the Mapping Brooklyn art exhibition showcasing the work of 18 contemporary artists, as well as special projects by atrists Chloe Bass and Matt Jensen.
FREE | GALLERY & HALLWAY ACROSS FROM BALLROOM
2-4pm
Educational Activity: Vinyl Visions
An animated art-making activity for kids of all ages!
FREE | TV STUDIO
2-5pm
Chloe Bass Scavenger Hunt
Come and explore visual artist Chloe Bass's special project "Mental Map" at BRIC House, through a scavenger hunt! The hunt is for all ages and self-guided so that BRIC visitors can take part throughout the day.
FREE | HALLWAY ACROSS FROM BALLROOM
3 — 3:30pm & 5:30 — 6pm
Bindlestiff Family Cirkus Cavalcade of Youth
Future stars of circus arts enliven BRIC House with a couple pop-up performance to celebrate the joy and playfulness of spring!
FREE | STOOP
3-4pm
Found Objects Roadshow
Matthew Jensen will highlight his project Walking Flatbush by hosting an archeologist version of Antiques Roadshow, looking over his found objects with Archeologist Alyssa Loorya from Chrysalis Archaeological Consultants, Inc. Come and see the histories contained in these objects.
FREE | ARTIST STUDIO
3:30-4:15pm
Family Dance Class with Ray Davis
Join Ray Davis of Cumbe Center for African and Diaspora Dance for a little hustle, disco and Saturday afternoon fever!
FREE | BALLROOM
4:30-6pm
Teeny Tiny Terrariums!
Create your own little terrarium world of moss and dirt with help from BRIC's own Kate Hill Cantrill, who has shown her botanical wall art at The Brooklyn Lyceum and Gnarly Vines and used to work as the Head Botanical Designer at Big Red Sun in Austin, Texas. We'll be doing 1/2 hour-long workshops for groups of 15-20. * PLEASE NOTE: Sign up in advance during the House Party & please bring your own SMALL JARS (spaghetti sauce or jam jars are perfect).
FREE | ARTIST STUDIO
4-5:30pm
Rhythmic games with Billy Martin
Billy Martin (an experimental artist, drummer, teacher, and composer) discusses the concept behind his Stridulation for the Good Luck Feast, a 13-part rhythmic game piece that can be used to compose, tighten or loosen up your band rhythmically, a study in phrasing and improvisation for all! Not just for musicians. Martin just released a new album, Wandering Music, which you can listen to and purchase here.
FREE | STOOP
5-6pm
B Scene - B Funny
A showcase of Brooklyn Public Network comedy, as seen on TV, followed by a discussion and Q&A on how to write, produce, and B Funny!
Host: Yvonne Delet
Featuring:
B Funny - Produced by T. Billi Martin, B Free Award winner of The George Stony B Informed Award
Ms Divine's Tee Hee Heure - Produced by Ms. Divine, B Free Award winner of Best Entertainment B Hilarious Award
SOAP - Produced by Andrew Benedict, B Free Award winner of The B Artistic Award
FREE | BALLROOM
6-7pm
"I ? BK" MOVIE TRIVIA
As we enter the spring fever season, Rafer Guzman and Kristen Meinzer, of WNYC's Movie Date podcast, look at romantic films set in the Borough of Kings, . . . and dare audience members to answer trivia questions related to those films!
FREE | BALLROOM
6:30-8:30pm
Lively Latin Music Band Peliroja Plays the Stoop!
Peliroja is a New York band made up of a collective of musicians inspired by the sounds of Ethiopia, Dominican Republic, Cuba and the Congo. Their debut album Injusticia came out this past August on Chulo Records.
FREE | STOOP
8pm-12am
DANCE PARTY!
I Love Vinyl will drop some records and play some music that's mind-wide, foot-friendly, and will most definitely move some butts on the dance floor.
$10 Adv/$14 Door | BALLROOM
PURCHASE TICKETS NOW