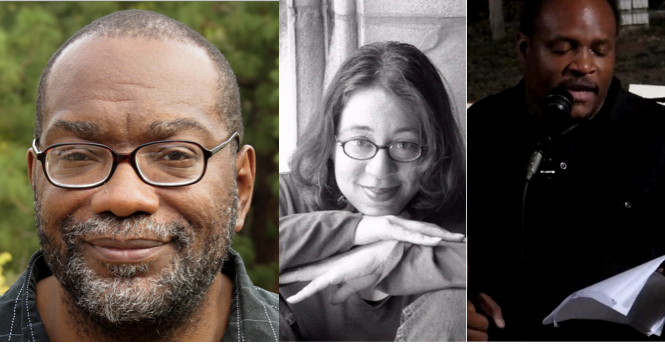 Since National Poetry Month started in April 1996, it has become one the largest literary celebrations to honor the nation's poets and acknowledge the vital role poetry plays in our culture.
To celebrate Poetry Month in 2015, on Saturday, April 25, 2015, from 3:00pm - 6:00pm, the Center for Black Literature at Medgar Evers College and the English Department in CUNY, in collaboration with the Brooklyn Public Library and Wesleyan University Press, present poet and National Book Award finalist Fred Moten, author of the recently published "The Little Edges" and the award-nominated "The Feel Trio."
Moten is currently an English professor at University of California, Riverside, and teaches at the Jack Kerouac School of Disembodies Poets at Naropa University. He is the author of six poetry collections and two nonfiction titles; his work has appeared in several anthologies and collections and he has read for audiences around the world.
The Poetry Month program will also feature poet Tara Betts, author of "Arc & Hue," who recently received her Ph.D. in English/creative writing at Binghamton University, and Mel Cooke, a poet from Jamaica and author of two collections of poetry, "11/9 "and "Seh Sup'm: Live from Kingston," both published by Blue Moon Press/Blouse & Skirt Books in Jamaica.
The program will include author readings, a Q& A with the audience, and a book signing. The event will take place at the Brooklyn Public Library, 10 Grand Army Plaza, Brooklyn, NY 11238. The Poetry Month program is part of the Center's John Oliver Killens Reading Series and is free and open to the public.
For more information and to RSVP for the Poetry Month program a the Brooklyn Public Library, please go here.