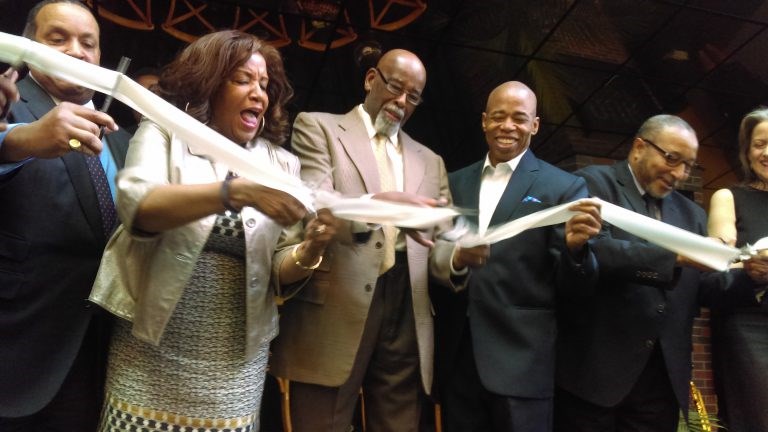 Can we all say: The Billie is Back!
Bed-Stuy's legendary Billie Holiday Theatre officially reopened Tuesday morning in Restoration Plaza to the most stellar, heartwarming crowd of supporters this side of the East River.
Judging from the "who's-who of Bed-Stuy" crowd that was in attendance-- world-renowned choreographer Ron Brown, Brooklyn Borough President Eric L. Adams, Weeksville Heritage Center Executive Director Tia Powell Harris, former City Councilmember Al Vann; representatives from the office of the city councilman, the mayor and the governor; and the entire leadership of Restoration from A to Z, just to name a few-- it was clear the theatre not only was an important icon worthy of celebration but also was sorely missed!
For the past three years, the theatre's physical location at Restoration has been closed for much-needed renovations-- its first since the theatre's founding 45 years ago. The $4 million facelift, spearheaded by the city's Department of Design and Construction, effectively expanded the stage, upgraded the look of the theatre's interior and added new sound and video equipment.
"We know the theatre plays an essential and vital role in theatre history; it's one of the anchor organizations of the black theatre movement in New York City, along with the Federal Theatre and the Negro Ensemble Theatre Company," said Mara Manus, executive director for the NY State Council on the Arts. "This groundbreaking begins a new chapter that Billie Holiday more than deserves. We look forward to celebrating many many great years with you going forward."
The occasion was marked with a ribbon-cutting celebration, mimosas, live music and a round of much-deserved praise and applause for Marjorie Moon, executive director emeritus for BHT and who has led the theatre in its growth and development for the past four decades. Moon will be honored with the inaugural Harry Belafonte Artist and Achievement Award, along with Tony Award-Winning actor, director and screenwriter Ruben Santiago-Hudson on Friday, May 12, at the theatre's grand opening night performance of "Their Eyes Were Watching God," written by Zora Neal Hurston and directed by Santiago-Hudson .
Also receiving mounds of praise was Dr. Indira Etwaroo, RestorationArt's Executive Director, who has spearheaded a number of groundbreaking changes since her arrival in 2015.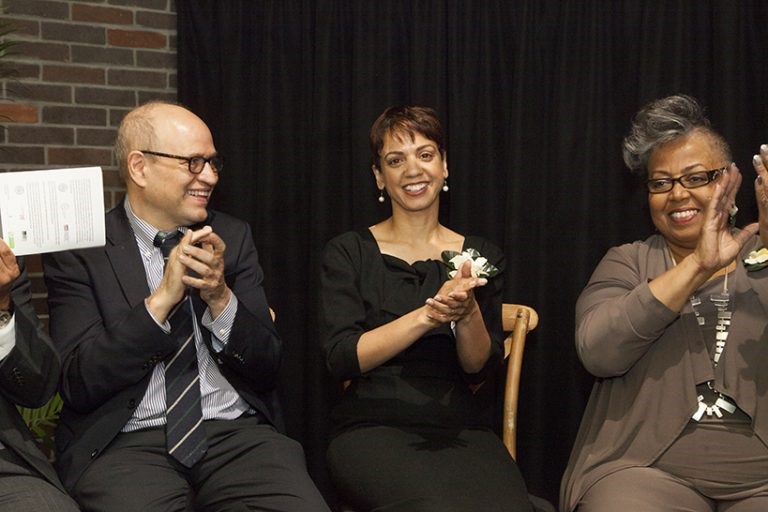 "Through programming that celebrates African Diaspora artist, the Billie Holiday Theatre has given a much need spotlight to stories that are crucial part of American narrative," said Manus, "And this renovation is emblematic of the culture renaissance of Bed-Stuy in which Dr. Etwaroo has played a key role."
"Dr. Indira is taking us into the future," said Colvin Grannum, president of Bedford Stuyvesant Restoration Corporation. "With a vision of building a 21st Century world-class creative complex that folds artists and audiences from around the corner and around the world from the African Diaspora into dance, music, theatre, film and conversation-- a 24-7 dynamic hub of activity year-round."
Following the ribbon-cutting, the crowd had a chance to experience the newly minted theatre with performances by award-winning poet and activist Sonia Sanches, Tony Award-winning actor Roger Robinson, MacArthur Fellow Jason Moran, Renowned Mezzo-Soprano Alicia Hall-Moran and Shanice Williams, who played the role of Dorothy from NBC's "The Wiz Live."
For tickets to this weekend performances of "Their Eyes Were Watching God," a theatrical reading, visit TheBillieHoliday.org.
"You thought the first 45 years were great," said Wayne Winborne, chair of the Billie Holiday Theater Board and former chair of Restorations' Board of Trustees, "the next 45 years are going to be phenomenal!"