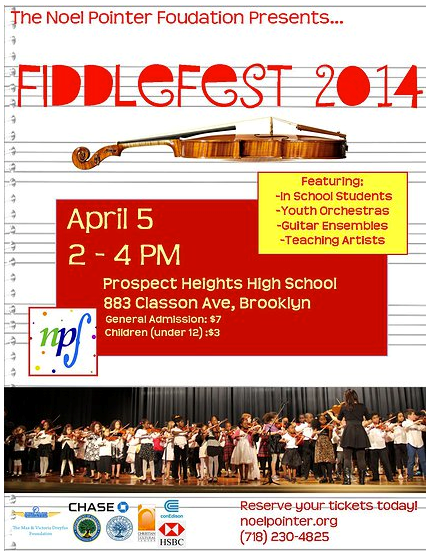 Spring isn't the only thing waiting for us around the corner: On April 5, at Prospect Heights High School, located at 883 Classon Avenue, get ready for Fiddlefest 2014, the Noel Pointer Foundation's annual fundraiser and concert.
Noel Pointer was a world-renowned, Grammy-nominated jazz violinist and composer. At age 13, he made his solo debut performing Vivaldi with the Symphony of the New World Orchestra, followed by guest solo appearances with the Chicago Chamber Orchestra and Detroit Symphony Orchestra.
By age 19, his experience as a free-lance musician included continuous work in The Apollo Theatre Orchestra, The Unlimited Orchestra, The Westbury Music Fair Orchestra, TheRadio City Music Hall Symphony, The Love Unlimited Orchestra (US Tour), The Dance Theater of Harlem Orchestra, The Symphony of the New World Orchestra, and the pit orchestras of several Broadway shows, like Dreamgirls.
In 1981 Noel was nominated for the Grammy for Best R&B Instrumental Track. Pointer's reputation as a noted jazz musician and literary advocate garnered him honorary citizenship in cities across the United States. He served as a music advisory panelist for the National Endowment for the Arts (NEA) and the United States Information Agency (USIA).
With all his esteem, Noel had affection for audiences in inner-city communities, where he loved to perform and bring his unique sounds of jazz. He also greatly enjoyed working with children and families. Noel believed that learning to play a string instrument is a transformative experience that advances children's lives.
The Noel Pointer Foundation, started by Pointer's wife, Chinita, keeps his legacy, spirit and dream alive.
At Fiddlefest 2014, NPF students from across 27 schools around the borough will showcase their talents in the biggest festival of strings by students in the entire borough.
Enjoy this video of some of the students rehearsing for the festival during one of the Saturday sessions.