On Friday, at the Kumble Theatre in Fort Greene, Brooklyn, five "Local Stars" in the community-- from corporate, to government, to nonprofit-- set the stage on fire during this year's 10th annual Stars of New York Dance Competition.
Founded and produced by Cheryl Todmann, Stars of NY Dance is a fun and thrilling dance competition where community leaders are coupled with trained dancers to compete for a $10,000 prize that is donated to a deserving local arts organization of their choice.
For this year's competition the stakes were high, as Todmann brought back past first- through third-place winners to compete in what was dubbed the "Dance-Off of the Decade." While some dancers who formerly placed second and third returned for another shot at first place; others returned to reclaim their throne.
In the end, one couple-- City Councilmember Laurie Cumbo and her partner Jamel Gaines of Creative Outlet Dance Theatre-- reclaimed their first-place title (from 2014), with a perfect score of five "10s."
This year, as in the previous nine years, NY1 Political Commentator Errol Louis returned as the event's host.
At the top of the evening was a wonderful Latin dance prelude by the Huracán Dance studio, followed by the Rising Stars Youth Dancers. Then four local dance companies shared special performances in honor of U.S. Congressman Hakeem Jeffries, this year's Stellar Humanitarian Award recipient. Susan Taylor, founder and CEO of National CARES Mentoring Movement and the 2nd Annual Stars of NY Dance Stellar Humanitarian Honoree, presented the award to Jeffries.
A riveting spoken word presentation by Jennifer Falu paid homage to the "Political Hakeem." A beautiful praise dance performance by the Professional Center for the Arts and a solo by a Temple of Praise Youth dancer honored the "Spiritual Hakeem."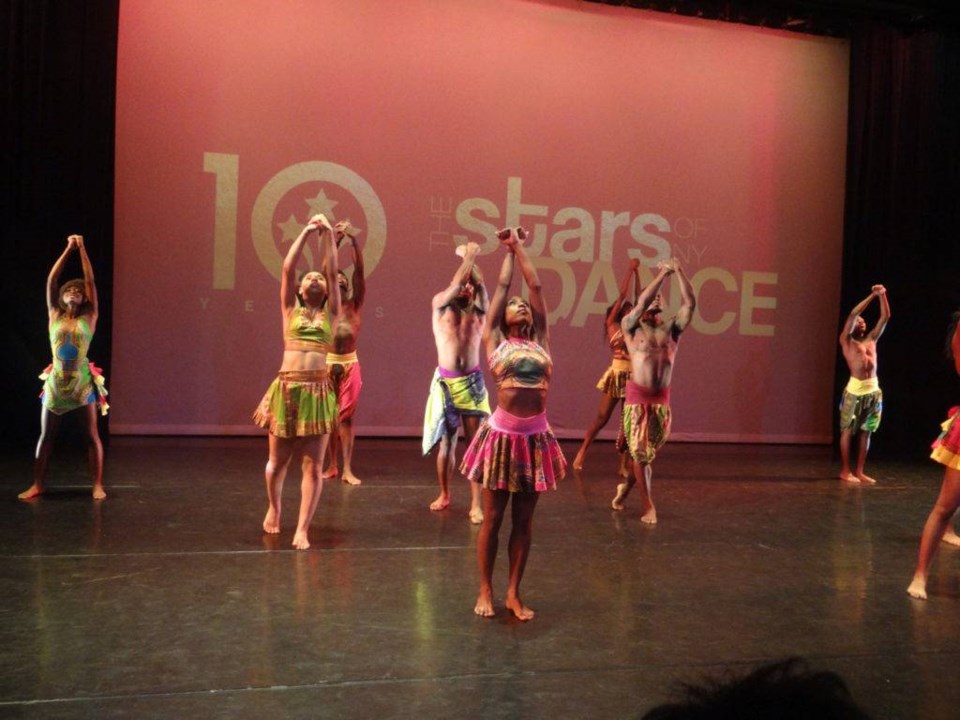 Following that performance were the School of Blyss youth dancers who offered up a fun and playful Biggie Tribute honoring the "Hip Hop Hakeem;" followed by a flawless Fela "Tribal Truth" performance by Creative Outlet Theatre of Brooklyn honoring Jeffries's social justice side. And then Pure Elements tore up the stage with the finale tribute performance, a dance of "bravery and valor," giving honor to Jeffries's youth, family and community.
The second half of the show was the competition:
This year's competition was fierce, as all of the competing couples were returning winners. You couldn't help but wonder after all this time Who still had the sauce?"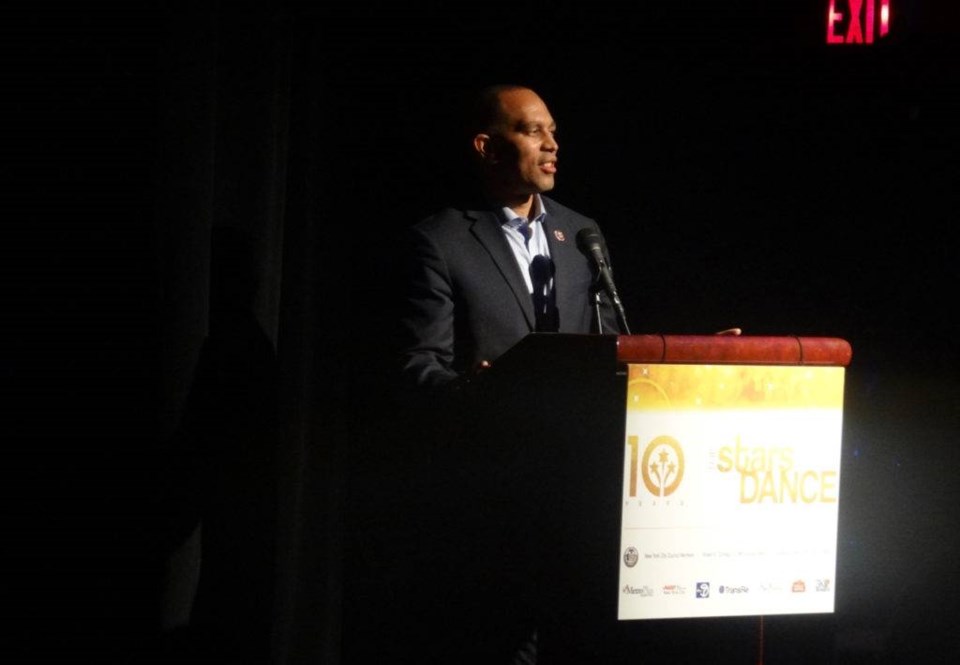 One former first-place couple, State Senator Kevin Parker with his partner Zakiya Harris of Asase Yaa School of the Arts, returned with an Afrobeats routine that had audience members jumping out their seats ready to join them on stage. AARP State Director Reggie Nance and his partner Synchana Madonna of Pure Onyx Movement staged an elaborate and colorful dance production with background dancers and costuming to add full context to a wistful re-telling of the story of Adam and Eve.
Elwanda Young, second-place winner at the 4th annual competition, with her partner Jude Evans of Forces of Nature gave the audience a breathtaking Afro-modern-jazz routine reminiscent of classic Alvin Ailey 70s. And who could forget the 2013 first-place winner Judge Betty Staton who returned with a new partner Nathan Trice of Nathan Trice Rituals. At 85 years young, Staton shimmied and two stepped to Michael Jackson's "The Way You Make Me Feel" better than most 30-year-olds.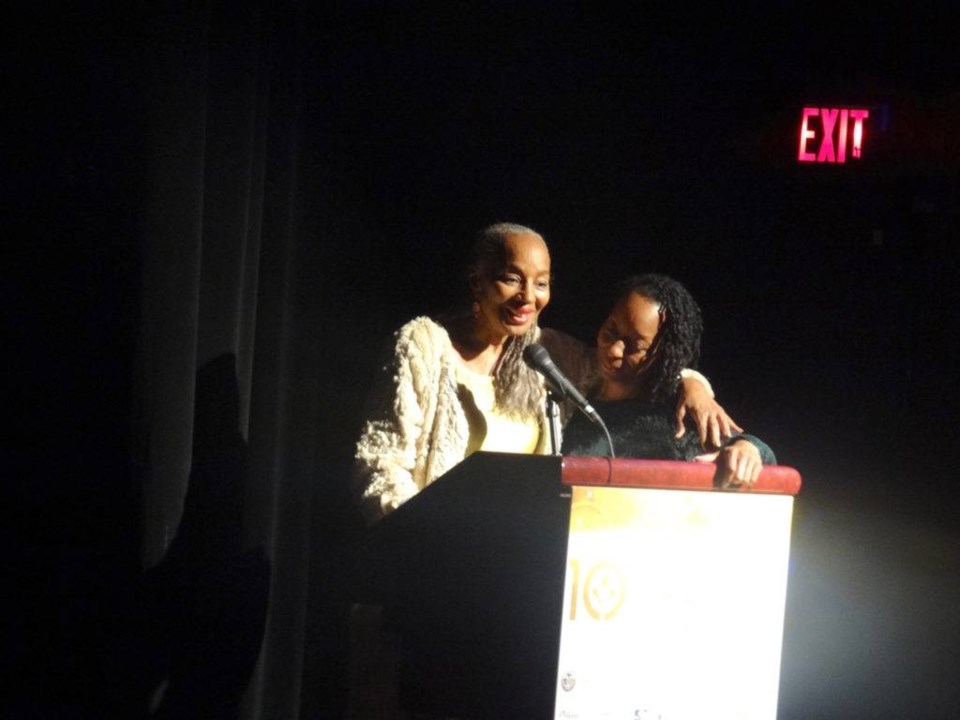 But in the end, it was Cumbo and Gaines, who used dance to tell the story of lynching in America that got the audience's attention and earned them the win. Their routine was inspired by a recent Halloween display of cut-outs that resembled brown children getting lynched near a Brooklyn elementary school. Cumbo and Gaines brought emotional realness to their performance, showcasing both skill and physical commitment through an expressive, physical narrative that certainly hit close to home.
By evening's end, the winners were clear: All 60 couples who, over the past decade, chose to competed.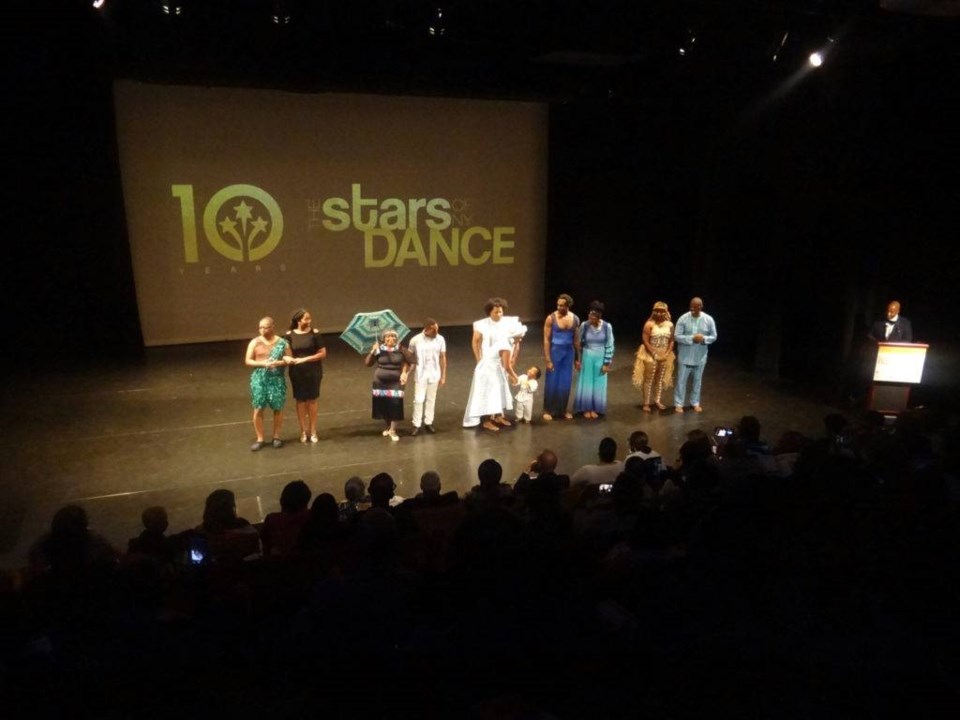 Yes, the Dancers of the Decade were all of the "local stars," ages 40-85 who volunteered their time, pushed themselves in rehearsals, and gave their bodies permission to move again. It was every last person who decided to set aside their fear, and submit to being judged in front of perfect strangers, all in the name of youth arts.
And for that, they all get perfect 10s.