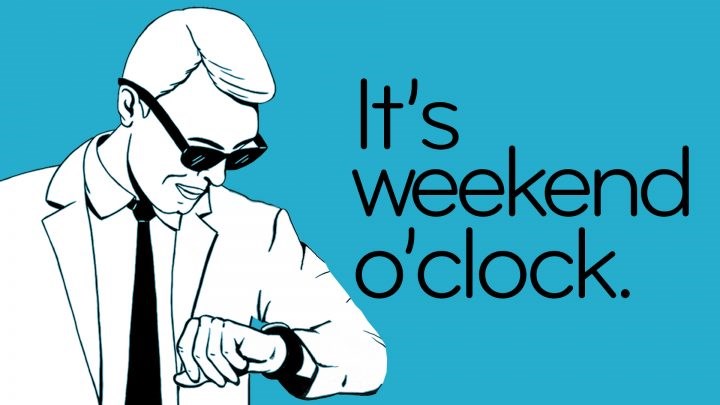 I know, I know, it's St. Patrick's Day weekend and you're gonna go bananas.
You're gonna drink copious amounts of Jameson and Guinness, scream and shout with your friends and make a complete fool out of yourself. You're gonna see the pictures of that night up on Instagram and Facebook and be wildly embarrassed about the entire night. You'll spend a good part of Saturday afternoon untagging yourself in all the posts and texting your friends about how you hate all the images and suggesting that real friends would take them down.
So what makes that different than any other Friday night in Brooklyn? Ohhhhhh, you're going to wear green! I don't think you should clown yourself over a holiday that doesn't mean much to you. They say that everybody is Irish on St. Patrick's day, but that's just not true. Is everybody Black during Black History Month? Is everybody Jewish during Yom Kippur? Is everybody gay on Gay Pride day? Though you might take those questions as rhetorical, the actual answer to all three is no!
So please, don't start drinking at 10am, then start throwing up at 1pm and then pass out on someone's front porch when school is letting out, forcing parents to explain your presence to their kids... it's not the best way to go green. With that in mind, here's a quick event guide for this "St. Parties Day" Weekend in Brooklyn.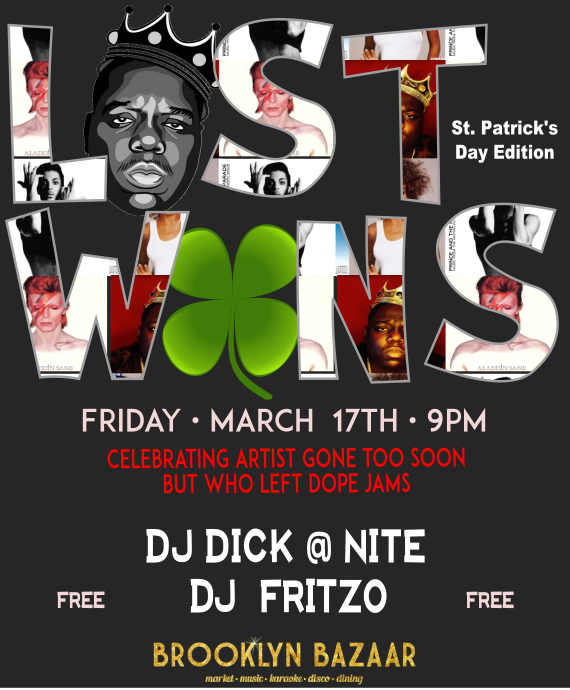 Lost Wons, Brooklyn Night Bazaar, 150 Greenpoint Avenue, Friday, Free (Greenpoint)
This is a party that I DJ with my man DJ Fritzo, where we celebrate the musical geniuses that are gone too soon, but who left us some DOPE jams! It's a funky and fun filled night of Biggie, MJ, Prince, Pac, Whitney, Winehouse, Aaliyah, Marvin Gaye, Bob Marley and other amazing artists. You can experience the entire Bazaar, which includes private Karaoke rooms, glow in the dark mini-golf, billiards, ping-pong, video games, Black Star restaurant, a vendors market and a concert stage on the top floor.
You can get wrecked and not have to leave the building for the entire night. Sounds like fun to my green ears! Click here for the FB event page

XX Factor: Celebrating Women In Hip-Hop, 7 two 7 Create, 727 Franklin Avenue, Friday, 6pm-11pm, $10-$20
Women deserve a seat at the Hip-Hop table, and that's the truth, Ruth. The music and culture has been on and popping since the 80's and women have been there since the onset. XX Factor is a reception, panel discussion and open cipher, celebrating women in Hip-Hop. It's a lot going on with a roster of MCs and voices in the Hop-Hop world. Click here for the Facebook event page, and get all the information and find out how to purchase tickets.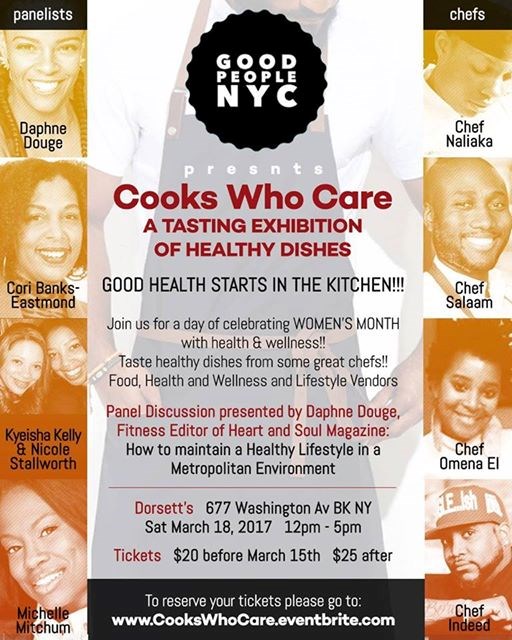 Cooks Who Care, Dorsett's BK, 677 Washington Avenue, Saturday, 12pm-5pm, $20
Eating healthy is very important and especially for women who often wear many hats. Being a mother, bread winner, role model, college student and wife can leave little time for a proper diet, so for Women's Month, Good People and Heart & Soul Magazine are cooking up a day of chefs demonstrations and a panel discussion about eating healthy, which starts in the kitchen. Click here to get the chef lineup and to see who is on the panel.
Black Tie Affair- Haiti Baraderes Fundraising Gala, Saturday, 8pm-1am, Brooklyn Commons, 495 Flatbush Avenue, Various $ (Prospect Heights)
If you need a reason to rock that penguin suit you purchased for that destination wedding a few years ago, it's no better occasion than this Saturday. It's a fundraiser for Baraderes, a commune/town in Southwest Haiti, which was ravished by hurricane Matthew. I know, I know, hurricanes ravish the Caribbean Islands so much, that raising money to rebuild destroyed communities can be a fruitless cycle. But that's pondering for another day, because this Saturday, you can get down to great music, honor distinguished human beings, enjoy an open bar, live music, dancing a silent auction and maybe win something in the raffle. Click here to purchase tickets and get a complete run down of the evening.
Celebrate this weekend and retain your dignity come Monday by checking out the above events. Keep it funky and shake what your momma gave ya!