On May 19, photographer Steven Burton's exhibition "Skin Deep, Looking Beyond the Tattoos," a photo series examining the impact of tattoos on people formerly involved with gangs, opened at 454 Carroll St in Gowanus.
Within the concrete interior of the exhibition, 36 large-scale portraits hang from the ceiling. On one half of each towering photo pair, Burton presents the participants as they are, with their tattoos intact. Neighboring the original photo is a version that is photoshopped, presenting the subject bare-skinned, every speck of ink meticulously scrubbed away. 
Bodies of text accompany the portraits. They offer stories from the participants and recount the moment the people first witnessed the digitally altered pictures of themselves. Seeing themselves without tattoos, their reactions are emotional and raw. Like a mirror reflecting an alternate universe, the photos present images of themselves they'd never seen.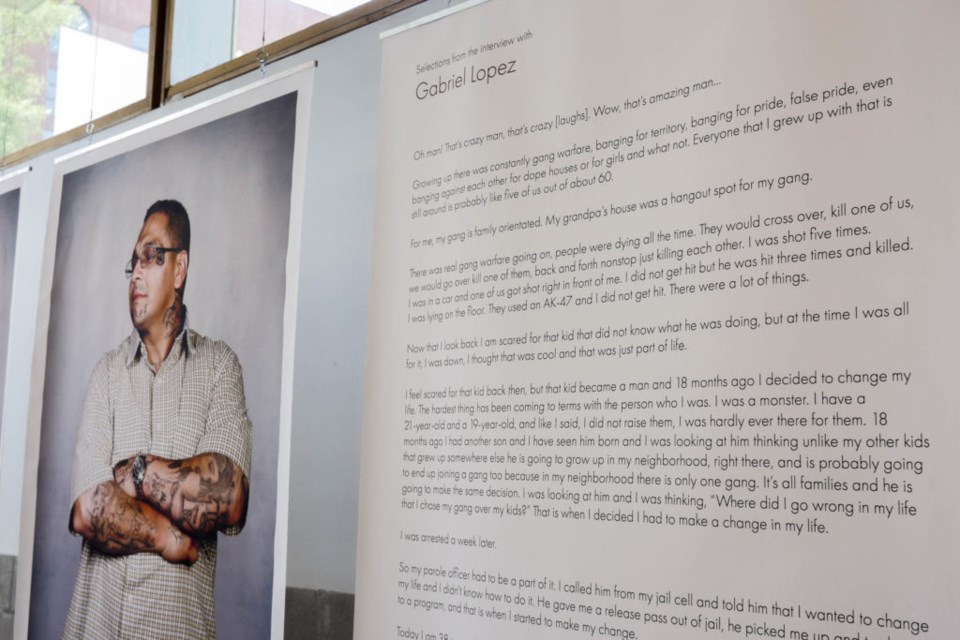 "It's an enticing concept visually, but I want it to be more about the stories," Burton said. "The most powerful things are the stories."
Burton's before-and-after photos aim to educate viewers on the judgment and obstacles formerly incarcerated individuals face when reentering society. Through showing the participants with and without their tattoos, the series forces viewers to confront their own biases about how tattoos affect the way they view people.
Proceeds from Skin Deep's opening night will benefit The Fortune Society, a New York nonprofit that helps formerly incarcerated individuals find jobs, overcome drug addiction, find family care and access a plethora of other services.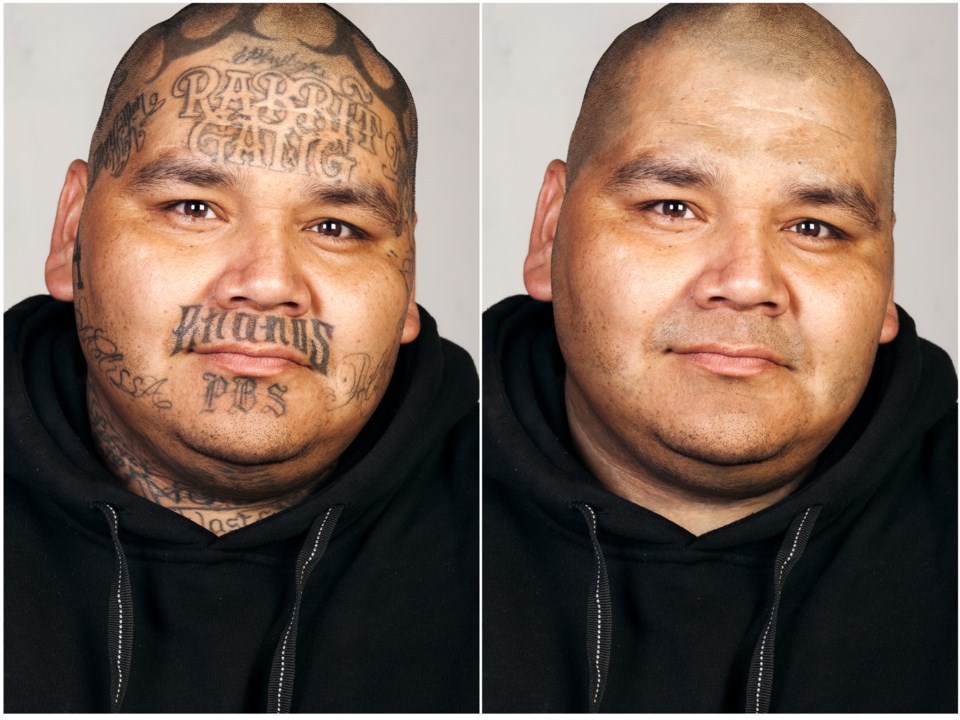 The Fortune Society's mission is to strengthen the fabric of New York communities through aiding successful reentry from incarceration and promoting alternatives to incarceration. The organization offers in-house social services to over 7000 people with incarceration histories every year. Moreover, around 70% of Fortune's employees have histories of incarceration, substance use or experienced homelessness.
"The job of Fortune Society is simple: all we do every day is plant seeds. Seeds of faith, seeds of hope, and seeds of success," said Barry Campbell, the organization's director of residential aide.
Campbell attended the press opening of "Skin Deep." As an individual formerly involved with the justice system himself, he identified with the stories of the participants.
"I know every single one of these people up here on the wall—not personally, but I know the type of situation they were in," Campbell said. "Each and every single one of them has a piece of me."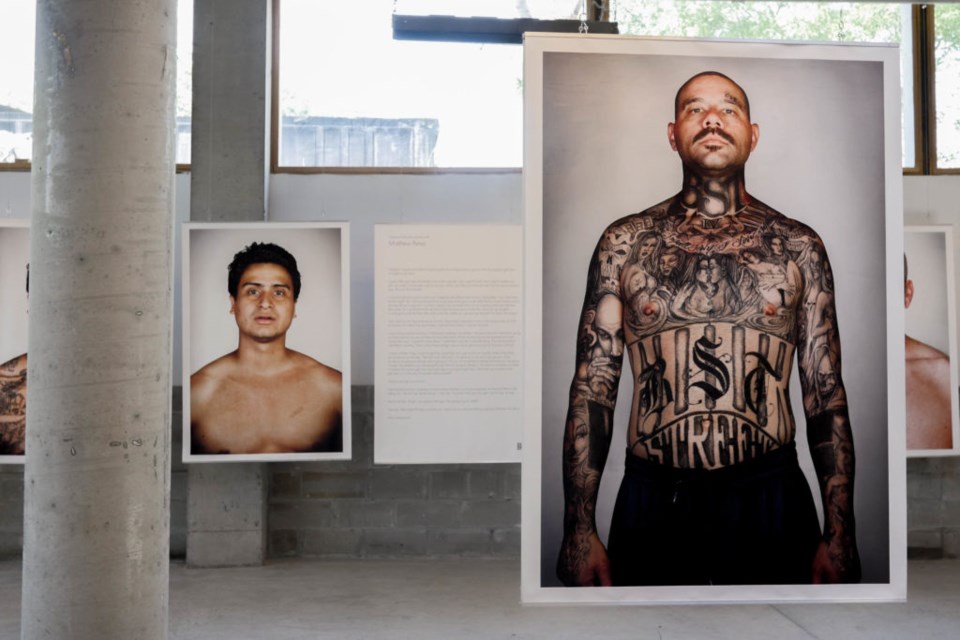 After incarceration, people often face societal stigmas that make getting a job, accessing education and securing housing especially difficult. "Coming home, you want to do the right thing so badly, but you don't know how. You don't know where to start," Campbell said.
Since the beginning of the project, the participants' lives have continued down varied trajectories. Some have passed away due to gang-related violence. Others have completely turned their life around. One recently graduated with a Bachelor's degree in sociology. "There's tragedy, but there's also success," Burton said.
Growing up a working-class Englishman, Burton entered the project knowing little about the experiences of gang-involved individuals. He was ready to listen, eager to learn and brimming with unanswered questions.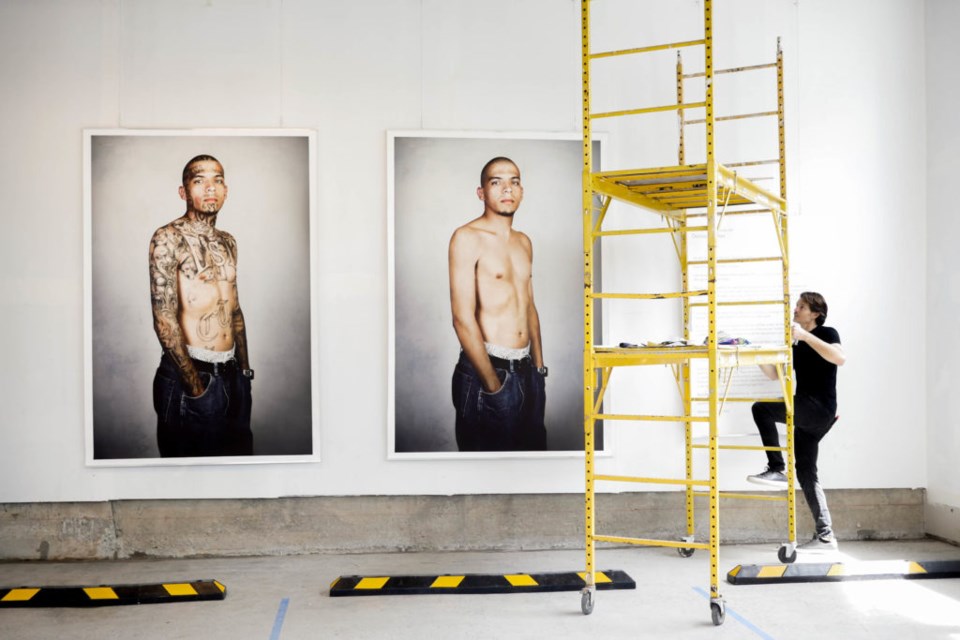 "I went into this to try and understand them and treat them as human beings," Burton said. "There's an answer in each one of these portraits."
While creating the series in California, Burton worked closely with Homeboy Industries, the largest gang rehabilitation and re-entry program in the world. Many of the participants' stories mention the kindness of the organization's founder, Father Greg Boyle or "G-Dog." A documentary by the same name inspired Burton's work.
Through "Skin Deep," Burton hopes the photos will generate empathy for formerly incarcerated or gang-involved people.
"Possibly this will humanize people who have been demonized over the years."