Samantha Bowers sometimes jokes about how, as a musician, she had a bigger name on YouTube when she was 14 years old, than she does today at 24. It's an exaggeration.
But from age 14-17, Bushwick resident Samantha Bowers was in fact a YouTube sensation. With her fresh face, quirky lyrics, dextrous vocals and a kazoo, Bowers woo'd hundreds of thousands of YouTubers daily into her whimsical, musical world-- the sort of world where Etta James and Bruce Springsteen would hook up, have a baby and name her Sam.
Bowers has since taken most of those YouTube posts down, because she has grown up and, "when someone Googles my name, I'd want them to see me as the artist I am today."
Today, Sam Bowers is a fast-rising star on New York's music scene; someone to pay close attention to now, before she's off and running, criss-crossing the globe!
Born and raised in the small town of Derby, Connecticut, Bowers was writing and performing music by age 12, had recorded her first EP, "Hopeless," by age 15 and dropped a second one entitled, "Celebrate my Heart" by age 18.
Ironically, neither one of her parents were singers or musicians. But Bowers and her brother somehow got the latent musical gene. "We both realized that we communicated best through music," said Bowers who spent her childhood learning to play piano while soaking in the sounds of the classic rock artists of the 80s and 90s.
In 2013, at age 19, Bowers packed up and moved to New York City to attend college and pursue a career in music and songwriting.
But the turning point for Bowers, musically, came after she discovered jazz. She began studying the vocal stylings of Ella Fitzgerald, Billie Holiday, Sarah Vaughn and all of leading women of jazz. And that's when, combined with her pop, folk and rock beginnings, her musical direction truly began to take shape.
In 2014, following a 6-month residency at the world-renowned Cotton Club in Harlem, Bowers left school, moved to Brooklyn, took a day job at a healthcare app start-up company while in the evenings worked on her third EP "Sugar," which was released in 2016.
Her fan base was growing. But she was so busy, she barely had time to meet and make friends. So when Bowers pulled together her current band, she decided to name them, "Sammy Rae and the Friends."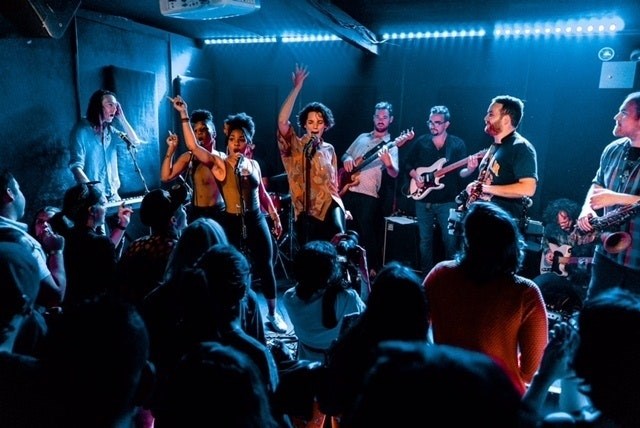 For the past two years, Sammy Rae and the Friends has been gigging around New York City, building a loyal, almost cult-like following not unlike her YouTube days: the band's energy is contagious. "Come join us," invites her music... "Come join our band of friends."
This past July, Bowers released her fourth EP, "The Good Life," as Sammy Rae and the Friends and this time, to fans waiting with bated breath. The band has been performing the new album at venues across the city.
While gigging at night, Bowers works in children's media during the day, at "Songs for Seeds" a pre-school where she teaches in a 3-person band, and she also co-produces educational music content for children.
Bowers says teaching is her lifeblood; the thing that keeps her going. Well if teaching is her fuel, then her band is undoubtedly the "engine with benefits." You'll hear the influence of some of the greats from the past five decades, while at the same time, get acquainted with a sound entirely its own.
"The folks that come to see us say they like the fact they can dance to our stuff, which makes me happy. So it's something we try to lean into" said Bowers.
"I fell in love with the idea of a band where everybody plays an important role; where everybody is as talented as the person next to them, and the whole thing is a unit, like a club. A family."
It's clear that Bowers is far less concerned about the matching of things than she is about the caliber, the feeling and the fun of things. And if you think about it, in those latter qualities, is where we often find... the best of friends.
Sammy Rae and the Friends will perform on November 19 at The Bowery Electric. You can follow them on Instagram and Facebook at @sammyraemusic.