These kids rock! The Brooklyn-based music education program is giving kids the real rock band experience with rehearsals and live performances while teaching them how to work together and articulate ideas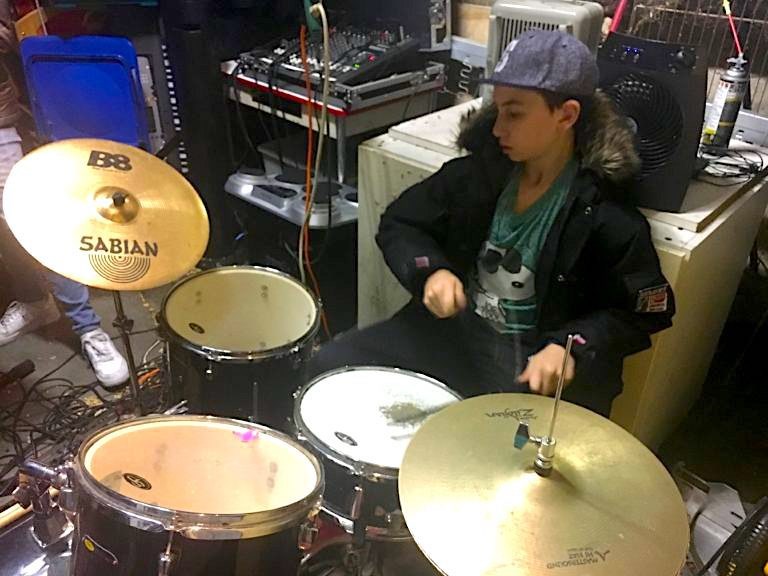 It's not just about the music and lyrics for young Brooklyn rockers, being part of a band is about learning to work together towards a common goal and communicate in constructive ways, Jon Neufeld knows. Thus, in 2014, he started the educational music program Rock Bands for Kids in Brooklyn.
First, Neufeld began with just one band, Blue Lightning. Then another came, and another one. Before long, word got around to other families who were interested in having him lead bands for their children. Fast forward four years: Neufeld has now twelve bands in the program with band members ranging in age from first grade through to high school, all from Brooklyn.
Aside from giving the kids the real rock band experience, Neufeld has several goals for the music education program.
"I want to continue rocking out with young musicians. I want to continue promoting exciting concerts that highlight their talent and I want to help each band and musician fulfill their goals and realize their creative potential."
The bands practice once a week, some in recording studios, some in fully equipped homes. Blue Lightning, who has now been together for five years, is a full garage rock band practicing in a Park Slope garage. For the live shows that the kids get to perform, Neufeld adds a theme or tribute component to introduce them to new music. Moreover, he also likes to pay homage to the music that has shaped the world - as it has influenced his.
Music has always been an essential part of Neufeld's life, leading him to attend Berklee College of Music. Since graduating, he has worked as a performer, writer and teacher.
"My grandfather was a musician and played the saxophone. Growing up, music was always playing in our home and in the car. The importance of music and the deep feeling it can produce was clear to me at an early age."
And this experience is something he is eager to share with the kids. In its fifth year, Rock Bands for Kids continues to look for young musicians interested in joining a band or forming a new band on their own.
And these kids rock! On top of the weekly rehearsals, the bands perform at exciting New York City music venues every four to six weeks. Last year the bands played at venues including Union Hall, Littlefield, Brooklyn Bowl, C'mon Everybody and Baby's Alright. Aside from presenting their original written content, the kids also performed tributes to Prince, Tom Petty and Michael Jackson, to name a few.
On February 3, Rock Bands for Kids is holding its next tribute show, dedicated to Women in Rock, at C'mon Everybody on Franklin Ave. The show will feature music from a number of iconic women musicians as well as include music of the rock band Heart, which - according to Neuman - is one the greatest rock bands ever.
Rock Band for Kids at C'mon Everybody/ Saturday, February 3, 1:00 -4:00 pm/ $5 cover charge. Click here to buy tickets or find out more information.