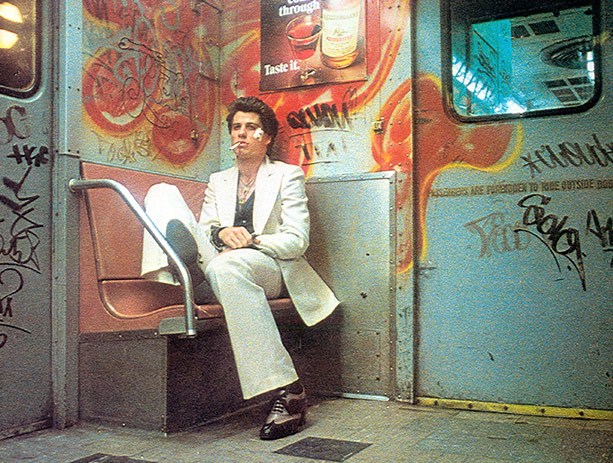 Take a ride through the history of the New York City subway, from dreamy visions of modern city life in the 1930s to the heyday of graffiti art in the 1970s when there was still a K train and rides cost less than $1.
BAMcinématek presents "Retro Metro," a week-long, throw-back movie series running now through October 5 at Brooklyn Academy of Music.
Movie lineup:
Monday, September 29
Dames (1934), Directed by Ray Enright & Busby Berkeley, with Ruby Keeler, Dick Powell, Joan Blondell
This snappy pre-Code musical confection features kaleidoscopic dance numbers courtesy of native Hollywood surrealist Busby Berkeley, including the show-stopping "I Only Have Eyes for You," wherein stars Ruby Keeler and Dick Powell ride the subway straight into a geometric acid-trip involving hundreds of floating Keeler heads.
El Atlantis (1973), Directed by Frank Kuenstler
This experimental short by New York poet Frank Kuenstler features footage shot in the 1950s of the now-vanished Third Avenue El, set to a soundtrack of Kuenstler playing a toy piano.
Tuesday, September 30
Just Another Girl on the I.R.T. (1992), Directed by Leslie Harris with Ariyan A. Johnson, Kevin Thigpen, Ebony Jerido
Brash 17-year-old Brooklynite Chantel (the commanding, charismatic Johnson) is a smart, sassy high-school student from the projects who's determined to go to college and become a doctor—until her plans get derailed. Leslie Harris' explosively entertaining indie drama—which won a Special Jury Prize at Sundance—is a groundbreaking, streetwise look at the experiences of inner-city black females.
The Clock (1945), Directed by Vincente Minnelli, with Judy Garland, Robert Walker, James Gleason
A young woman (Garland, in a rare dramatic performance) and a soldier (Walker) meet and fall in love while he's on 48-hour leave. Vincente Minnelli's tender, hopelessly charming love story—which abounds with trademark Manhattan locales, including a famous sequence in the subway—is given visual panache thanks to the director's typically inventive camerawork and set design.
The Wonder Ring (1955), Directed by Stan Brakhage
Brakhage's kaleidoscopic short—commissioned by fellow avant-garde pioneer Joseph Cornell—is an impressionistic elegy for the Third Avenue El on the eve of its demolition.
On the Town (1949), Directed by Stanley Donen, Gene Kelly, with Gene Kelly, Frank Sinatra, Betty Garrett
Kelly, Sinatra, and Munshin light up the screen as three sailors in the Big Apple with a one-day pass to see everything. Set to a Comden and Green score, this love letter to grand old New York marks the film directing debut of theater director Donen and Kelly, who shot everything on location.
Daybreak Express (1953), Directed by D.A. Pennebaker
Trailblazing documentarian Pennebaker's very first work was this jazzy chronicle of a ride aboard the Third Avenue El, snappily edited to the rhythms of the titular Duke Ellington track.
The Incident
(1967), Directed by Larry Peerce, with Tony Musante, Martin Sheen, Beau Bridge
Fear rides the rails in this gritty Gotham nerve-shredder as two sadistic hooligans (Musante and Sheen, each making their film debut) terrorize the passengers (Ed McMahon, Ruby Dee, and Thelma Ritter among them) aboard a Bronx subway train. Steeped in the nihilism of New Hollywood, The Incident is a tense, edgy portrait of violence run amok in the urban jungle.
Speedy (1928), Directed by Ted Wilde, with Harold Lloyd, Ann Christy, Bert Woodruff
This time capsule of 1920s New York is an amusement ride from beginning to end, with Harold Lloyd—whose athletic slapstick is in top-notch form—as the title character, a soda jerk turned cabbie fighting to save the city's last horse-drawn trolley from the evil forces of the mass transit monopoly. This silent masterpiece includes a sequence in which Speedy entertains his girlfriend in Coney Island—a mini-masterpiece of sight gags and slapstick—and be on the look out for a cameo by Babe Ruth! *This screening will feature live piano accompaniment by Steve Sterner.
Saturday Night Fever
(1977), Directed by John Badham, with John Travolta, Karen Lynn Gorney, Barry Miller
John Travolta discoed his way into pop-culture immortality as the white-suited Tony Manero, a Bay Ridge hardware store clerk who lives only for the thrill of the dance floor. Packed with Bee Gees hits and colorful 1970s Brooklyn character (including the then-graffiti-scrawled MTA),Saturday Night Fever captures both the glamour and grit of the disco era.
The French Connection
(1971), Directed by William Friedkin, with Gene Hackman, Roy Scheider, Fernando Rey
William Friedkin's gritty cat-and-mouse masterpiece is as tough as police thrillers come, with Gene Hackman and Roy Scheider as a pair of flawed yet dedicated cops out to intercept a huge heroin shipment arriving from France. Their pursuit of urban kingpin Alain Charnier (Rey) leads to one of the most spectacular car chase scenes (shot in Brooklyn, along 86th Street and Utrecht Avenue) ever filmed.