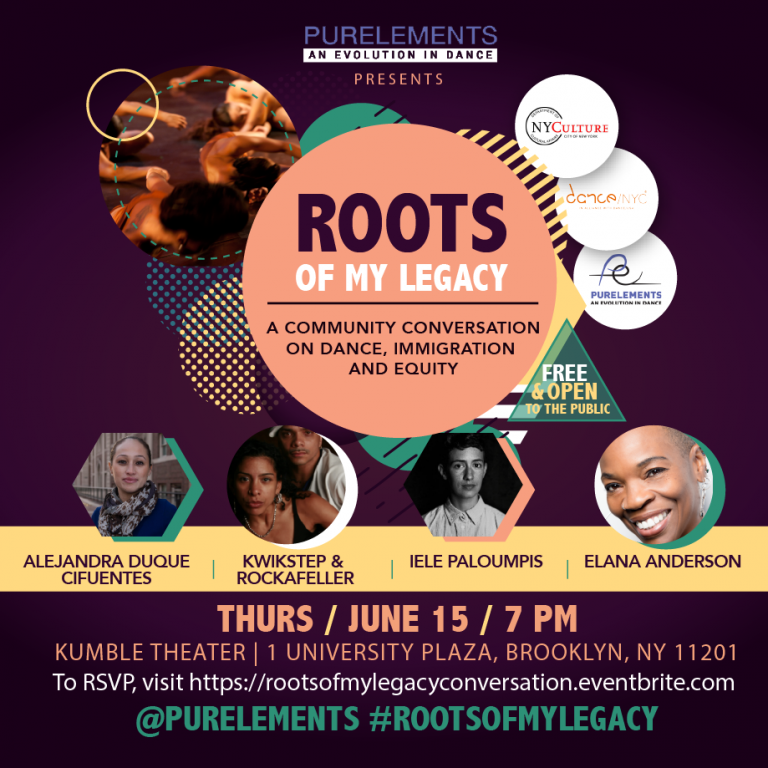 Roots Of My Legacy - A Community Conversation on Dance, Immigration and Equity
Brooklyn based performance arts company Purelements: An Evolution in Dance presents 'Roots of My Legacy', a two-night dance concert and townhall event series that explores the impact of immigration on dance and cultural practices, and the cultural and racial legacy of East New York and other underrepresented areas.
The two-night series will kick off on Thursday, June 15, with a conversation moderated by Dance NYC's programs manager Alejandra Duque Cifuentes and will feature dance artist, educator and intuitive healer iele paloumpis; dance instructor Elana Anderson,Ph.D, of Dance Dimensions; and world renown breakers Kwikstep and Rokafella of Full Circle Productions at LIU's Kumble Theater. The guests will explore questions of how immigrants and first-generation Americans assimilate, preserve or transcribe dance and cultural practices for future generation, as well as how equity plays a role in the creation of spaces that help to preserve and support the development of dance as a cultural practice.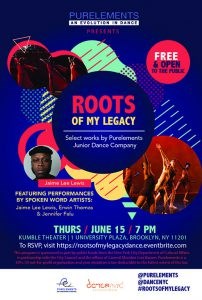 Purelements Junior Dance Company will take centerstage on Friday, June 16, accompanied with spoken word performances by artists Jaime Lee Lewis, Erwin Thomas and Jennifer Falu. Dance styles performed will include five selected works highlighting modern, jazz, contemporary, African pyrogramics and improv dance.
Roots of My Legacy Community on Dance, Immigration & Equity
When: Thursday, June 15, 2017 | Doors open at 6:00pm | Conversation starts at 7:00pm
Where: Kumble Theater, located at 1 University Plaza, Brooklyn, NY 11201
Roots of My Legacy Dance Concert
When: Friday, June 16, 2017 | Doors open at 6:00pm | Performance starts at 7:00pm
Where: Kumble Theater, located at 1 University Plaza, Brooklyn, NY 11201
Both events are FREE and open to the public. For more details and to RSVP visit: - rootsofmylegacyconversation.eventbrite.com