On Saturday, Brooklynites gathered in the streets of Bedford Stuyvesant for the sixth annual STooPs Bed-Stuy Art Crawl.
Attendees listened to poetry, practiced African dance, watched visual artists at work and took part in performance art sketches.
The event was hosted by STooPS, a Bed-Stuy-born group that brings artists and neighbors together in unconventional, public spaces. For the art crawl, that space was one of Bed-Stuy's hallmarks: the stoops of its iconic brownstones. Local artists of all disciplines were each given a stoop for the day, which they transformed into an interactive art exhibit for the community to engage with.
This year, STooPS had help from the Laundromat Project, an organization which provides funding for local artists. Like STooPS, the group has a penchant for putting on art shows in unique public spaces — such as laundromats. Since 2005, the Laundromat Project has invested $850,000 in public art events and artist development throughout New York.
Crown Heights resident Keisha-Gaye Anderson took part in the art crawl for the first time this year as part of her artist residency at the Brooklyn Public Library. The Jamaican-born poet and visual artist was stationed inside the small community garden at 392 Hancock Street, where she displayed visual art and read selections from her debut poetry collection, "Gathering the Waters."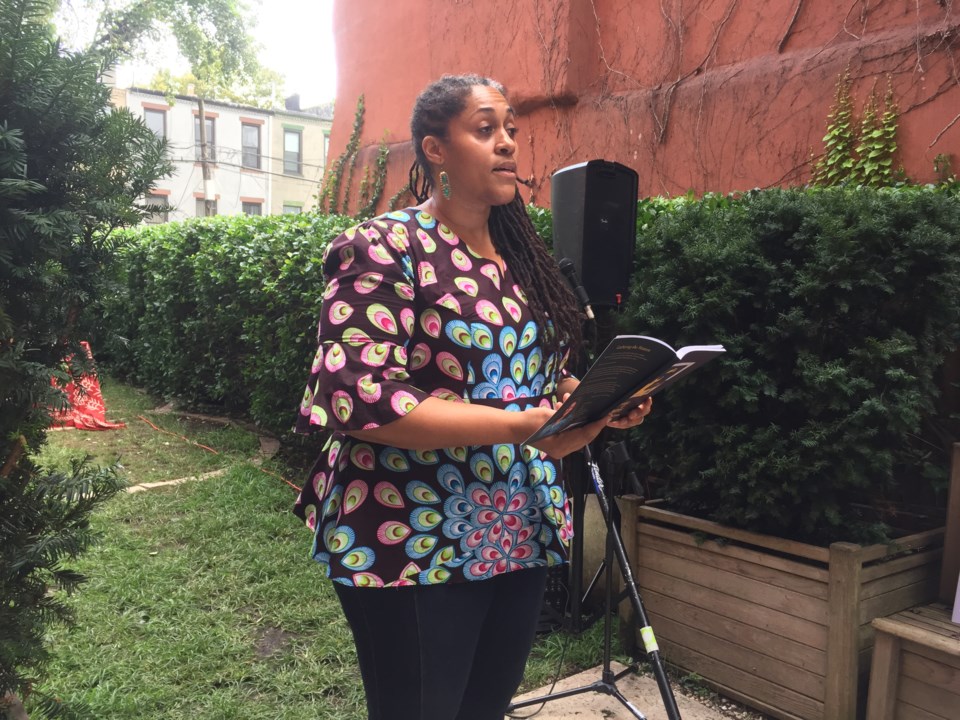 "I started my career as a journalist," Anderson said. "I've published a lot, and I was a TV producer. I've pretty much done every type of storytelling that exists. But I was always writing poems, and I wanted to pay that the proper respect."
Her poetry took off, and Anderson now has two forthcoming books.
Dancers from Bed-Stuy's own Cumbe: Center for African and Diaspora Dance were onsite to demonstrate traditional moves for the art crawlers. The center hosts classes and events for dancers of all levels year-round, as well as workshops and summer camps for kids.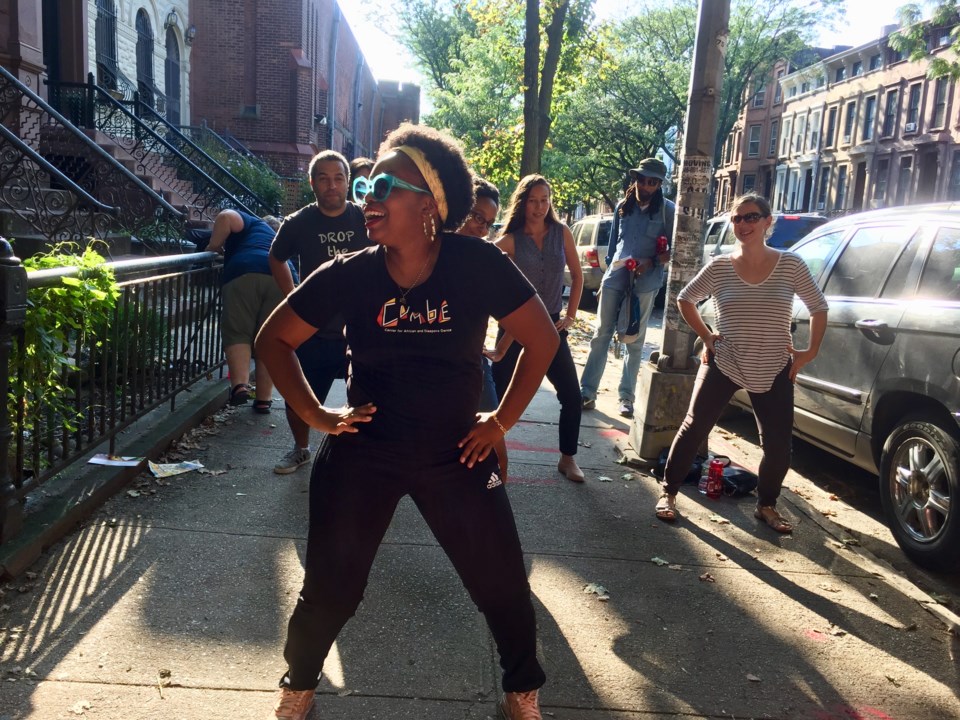 Artist Cat Del Buono partnered with Tanya Jennings to bring Beauty Box, an interactive performance which offered free "consultations," to the community. Instead of serums or Botox, participants received prescriptions which listed their own unique, positive qualities.
Del Buono and Jennings wore white lab coats and used instruments like a tape measurer, a magnifying glass and a blood pressure cuff to evaluate patients. "Put this in your pocket, and you can show it to anyone if they ever question it, okay?" Del Buono said as she handed a young female participant a slip of paper.
"It says 'you are beautiful, empathetic and radiant,'" the young woman read to the crowd.
The Brooklyn Public Library Macon Branch hosted a kiddie corner, where young art crawlers could paint and draw. After the events wrapped up, attendees and artists mingled over refreshments at Life Wellness BK Center.
If you're a Bed-Stuy homeowner or business and you'd like to take part in the art crawl next year, you can host an artist on your stoop on in your space. Go here for more details.
For more art crawl photos, check out the gallery below.
All photos taken by Alex Williamson for BK Reader.