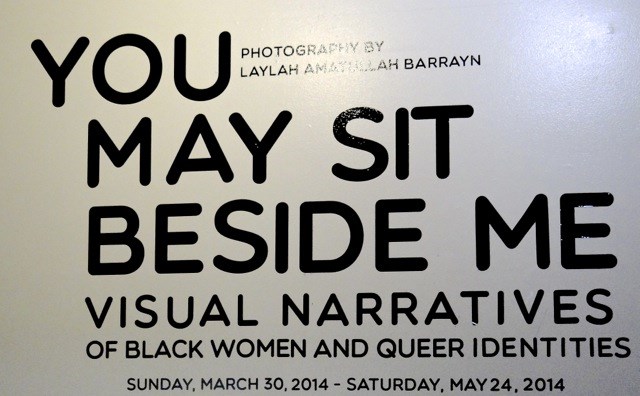 On Sunday, March 30, Restoration's Skylight Gallery debuted "You May Sit Beside Me: Visual Narratives of Black Women and Queer Identities," curated by photographer Laylah Amatullah Barrayn.
You May Sit Beside Me is an exhibition of intimate photographs, accompanied by spirited conversations, that explores the complexities of living as a queer black woman while underscoring the commonalities of the human experience.
"This particular exhibit is part of a larger project I'm doing about black women," Barrayn said. "A few years ago, there was this crazy attack on black women and why we weren't this and why we weren't that, and why we can't get married... so I was like 'noooo,' I want to respond to this.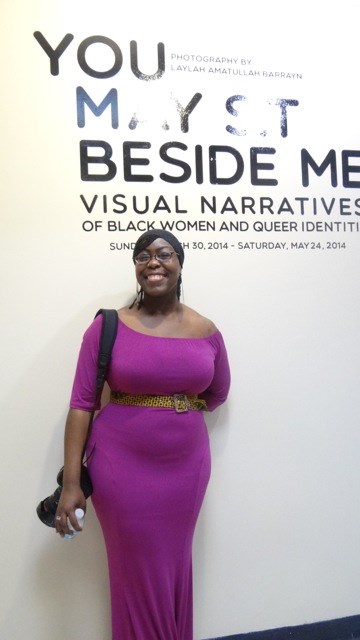 "I wanted us to tell our own stories. And I wanted to engage with the queer community, because yes, we do see stories about queer women on t.v. and in the media. But myself, I didn't understand some things. We may see stories of gay people, but they're not presented with layers," said Barrayn.
"You see this person every day, but you have no idea who she really is. So I really just wanted to add an extra layer. With all my projects, it's always about humanity, showing kinship. So I just wanted to create that bridge."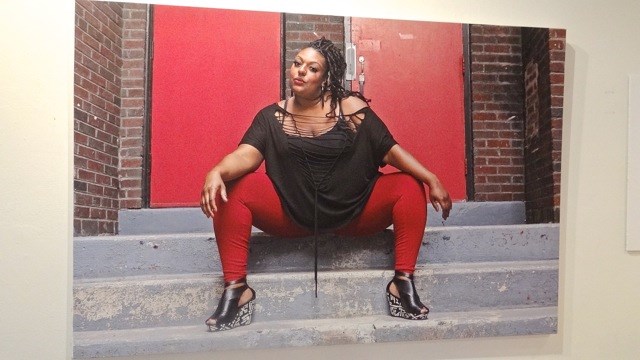 DJ and Musician Maria Elena "Ri Ri" Garcia is one of the women profiled in the exhibit. She said the exhibit was timely, because it represented a natural outgrowth of a new influx of queer women of color to Central Brooklyn—a community that traditionally has been comprised of black heterosexual families.
In fact, the black queer community in Bed-Stuy, Garcia pointed out, has grown so much it now has its own annual Pride celebration.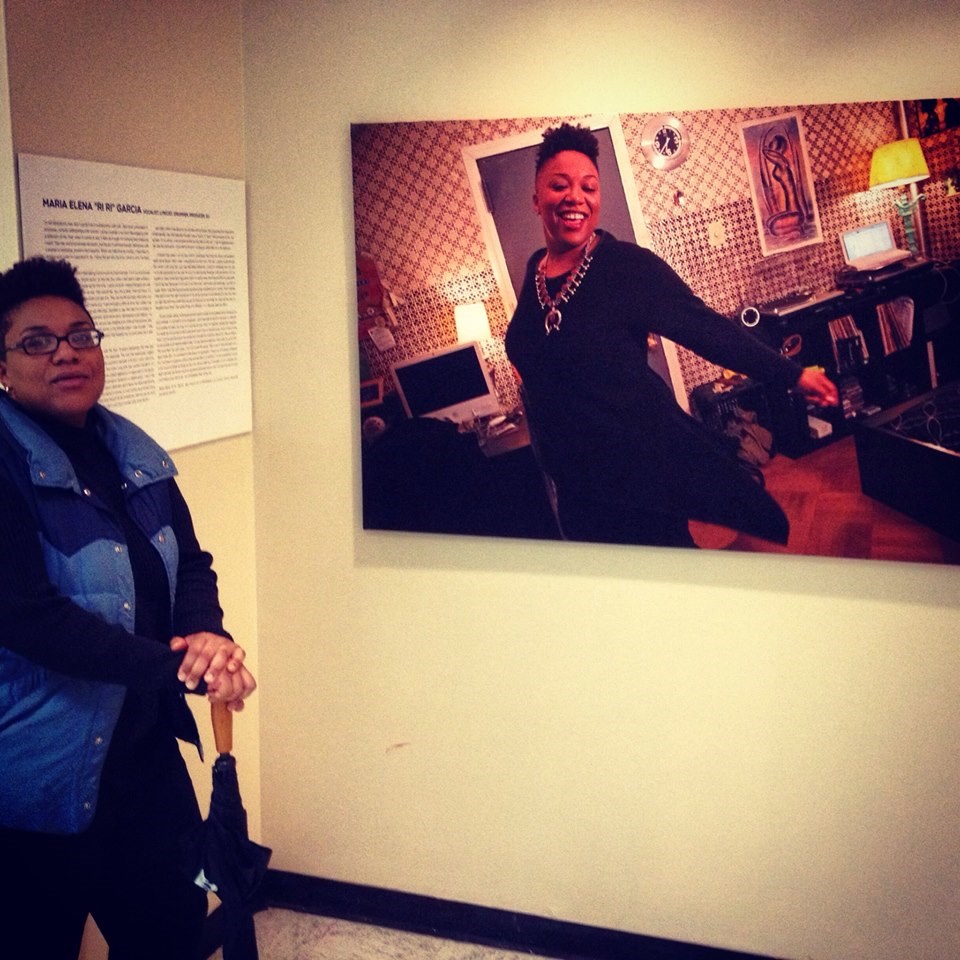 "So the exhibit represents a tipping of the hat, a celebration of this community," said Garcia, a Detroit native who grew up in the Bay area and moved to Bed-Stuy six years ago. "Having black queer women in this kind of environment is not only political but revolutionary."
"I thought the exhibit was beautiful. The photos were gorgeous and the narratives that accompanied the pieces were awesome as well. So many people got to tell the stories that maybe somebody may not have known about. It was very intimate."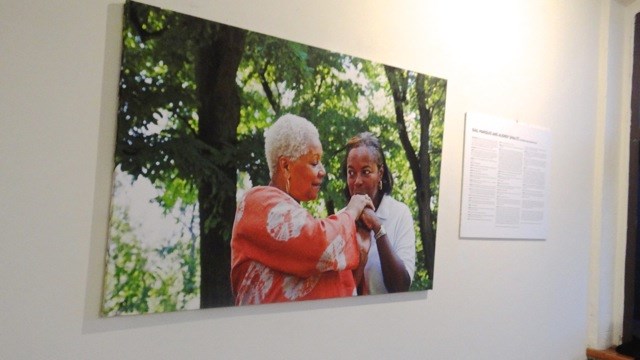 Barrayn said she was a little hesitant to do the project at first, because she wasn't sure how the LGBT community would react to her wanting to get inside their personal lives:
"I was going into a community that I was not necessarily a part of, and I know those places are protected," she said. "But I learned so much just talking to the women, getting their stories."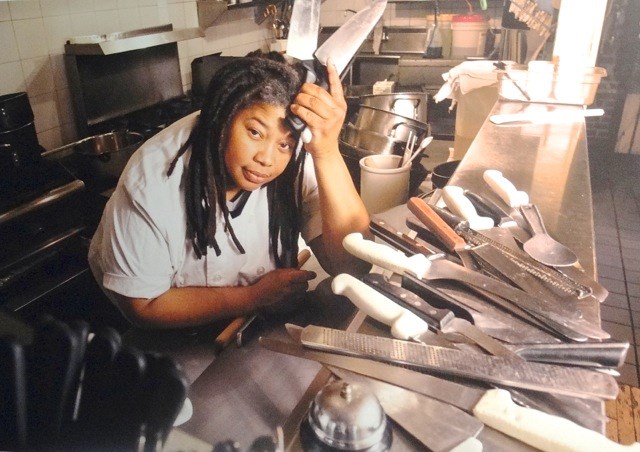 Barrayn said she was happy to have it in the middle of Bed-Stuy at Skylight Gallery, because it was a place people of all backgrounds could engage. Also, a lot of her subjects were pulled from the surrounding communities: "And it's nice to see yourself reflected in art," said Barrayn.
"People seeing themselves in the frame is really magical, like wow; it's really powerful."
"I really enjoyed the exhibit," said YK Hong, an artist who lives in Bed-Stuy. "We don't necessarily see a lot of the images she captured in mainstream media. But it was good to see them as everyday people-- a community of people we already know living their lives as queer, which is part of their overall identity."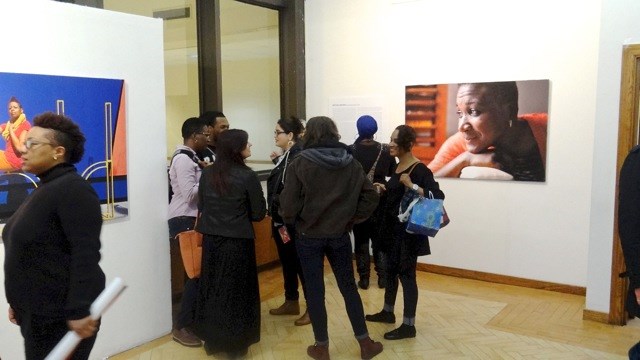 "I want to see the exhibit in different places," Hong added. "I would like to see more women and more photographs. I see it as a great starting point for something that should continue expanding and be ongoing.
Barrayn said she does want to include a few more women, "Because I want it to have a diverse feel. Even within this community, it's very diverse. So I want to put some more voices in the project, maybe include more bois."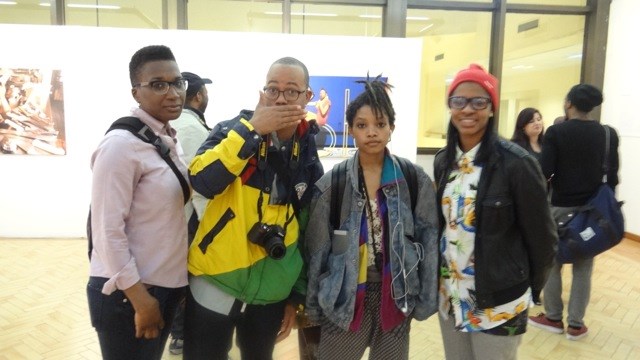 And then, she does plan to have the exhibit travel to other cities with larger queer communities, including Atlanta and Washington, DC.
"It was nice to have [the exhibit] be so personal, intimate and lovely," Garcia said.
"I was feeling myself during the interview," she chuckled. "I said a lot of things that a lot of people may not know about me. And I appreciate it, because so many times, people make up stories about you.
"It was like our hearts were being touched. Great job."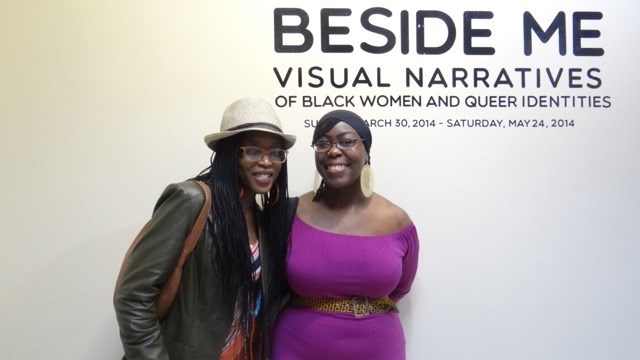 You May Sit Beside Me, runs from March 30 — May 24, 2014, with three public programs:
Thursday, April 10, 6:30pm—Panel discussion with women from the exhibit
Thursday, May 1, 6:30pm—Queer community film screening
Thursday, May 22, 6;30pm—Closing reception and queer film screening
The Skylight Gallery is located at 1368 Fulton Street, 3rd floor in Brooklyn. Gallery hours are Wednesday — Friday, 11:00am — 6:00pm; Saturday, 1:00pm- 6:00pm