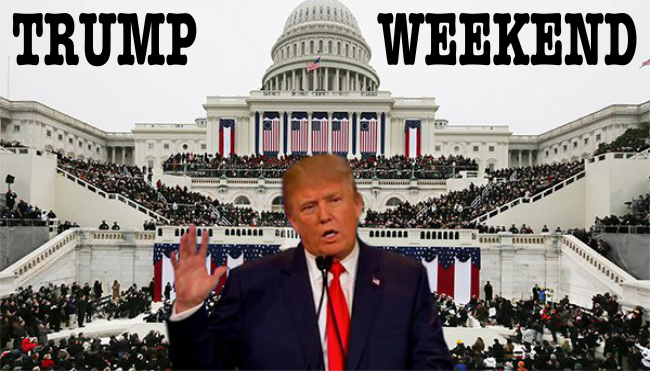 Orange is about to be the new black. No, I'm not referring to the HBO series. But with Donald Trump replacing Barack Obama in the White House, clearly, orange is the new black.
This weekend will be the first with Mr. Trump as the POTUS, and though you may feel adverse to his presidency, it probably won't have a tangible, negative effect on your weekend. In fact, it might be the exact opposite!
People may completely turn up this weekend. Perhaps it's to party away a bizarre reality or, in some cases, celebrate the new president, because somebody voted for him and those folks have to be in a celebratory mood for the inauguration.
But it's Brooklyn and "those folks" are not represented in high numbers, so finding a Trump celebration, in the borough of Biggie and Barbara Streisand, won't be easy! Here's a few recommendations for this weekend if you're looking to party away your whoas: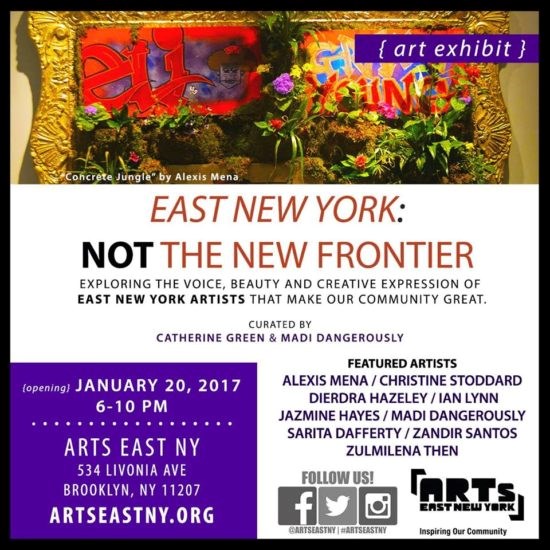 East New York:Not The New Frontier, ARTS East New York, 534 Livonia Avenue, Friday, 6pm-10pm, Free
East New York is supposedly the next place for gentrification, so if you go to this opening and see anyone that's clearly a developer, start acting like the crazy dude on the A train. Well, OK, that won't work, but still, something has to stop the gentrification train, and I'm not talking about the L. This group art exhibition highlights and platforms East New York artists and the beauty of the neighborhood.
It's curated by Curated by Catherine MBali Green & Madi Dangerously, and this is an excerpt from their curatorial statement:
"We live in a day and age where "PEOPLE" are not valued…."COMMUNITY", is just a word… And longstanding members of Black communities are being forced out and bought out of their homes and legacy's all to transform another classic Brooklyn neighborhood into an over-priced, "white washed" and manufactured community that bears no resemblance to what existed before it."
Featuring a roster of artists, including the c0-curator Madi Dangerously, visit the Facebook Event Page for the full artist lineup and to ask any questions.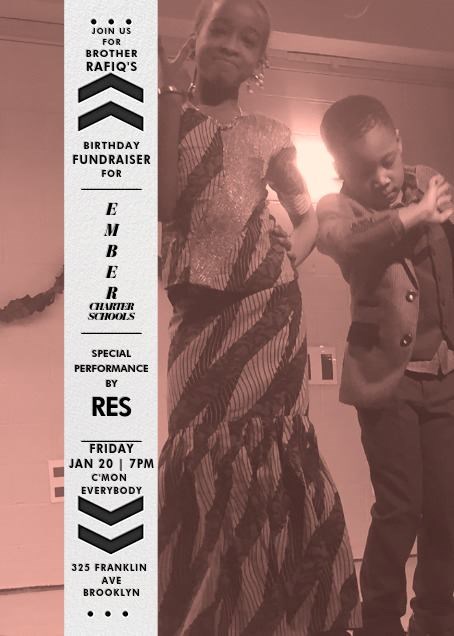 Ember Charter Schools Fundraiser featuring RES and DJ Phes, C'mon Everybody, 325 Franklin Avenue, 7pm-10:30pm, $25 and up (BedStuy)
This is a fundraiser for the Ember Charter School. You can visit their website by clicking here. This taken from the Facebook Event Page:
Please join Rafiq Jeffries Kalam Id-Din (and acclaimed indie-soul singer/songwriter and recording artist Res), to celebrate his birthday and raise money for the launch of Ember Charter Schools, dedicated to serving Brooklyn's lowest income and most at-risk youth.
Special performance by Res
Music by Dj Phes
Minimum donation: $25.
All donations are tax deductible and will help fund the inaugural middle school study abroad program in Ghana. While donations will be accepted at the door, we highly recommend donating in advance to ensure entry--we expect a sold out crowd!
Donations and reservations here >> https://tfoa-professional-preparatory-charter-school.secured.atpay.com/campaign/rafiq-s-birthday-fundraiser-featuring-res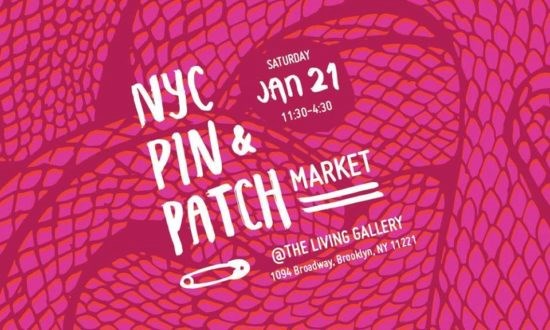 NYC Pin & Patch Market, Living Gallery BK, 1094 Broadway, Saturday, 11:30am-4:30pm, free (BedStuy)
Pins and patches are a great way to embellish your wardrobe, while at the same time speaking your mind-without opening your mouth. They've been making a comeback lately, which is very possibly a false statement. Perhaps the organizers of the event should wear a patch that says "don't call it a comeback". Imagery of hippies wearing patches saying "free love" or "give peace a chance" or metal fans rocking Metallica patches may come to mind, but it's so much more
If you're pin and patch game is not on point, which it probably isn't, you definitely need to hit up this market and get right. With the new administration coming in, I'm sure it's nuff reasons to wear your heart on your sleeve or on your collar. Check out the Facebook Event Page for a rundown of the vendors at the market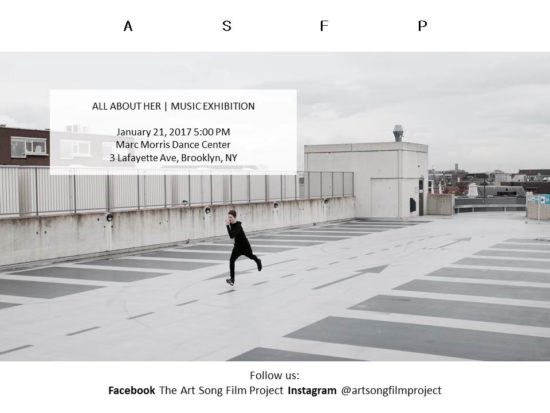 All About Her|Music Exhibition, Mark Morris Dance Center, 3 Lafayette St, Saturday, 5pm-7pm, $15-$25 (Fort Greene)
This is a full on art situation, as it pairs dancing, with visual art and music. I'm always a fan of such immersive artistic events, especially if it's at the Marc Morris Dance Center. Presented by the Art Song Film Project, an artist collective, this exhibition draws inspiration from music written about famous women figures. As quoted from the Eventbrite page:
"All About her is a collaboration between musicians and visual artist bridging interpretations and drawing inspiration from musical works written about famous women figures, some real historical ones such as Mary Stuart Queen of the Scots, some fictional like Shakespear's Ophelia, and some creators themselves, like Emily Dickinson."
There will be a reception afterwards, where you can enjoy adult beverages and talk to the artists. Check out the Facebook Event Page for more information about the artists, which include Maayan Goldenfeld Goldenfeld | Soprano and Maya Isak | Visual Artist.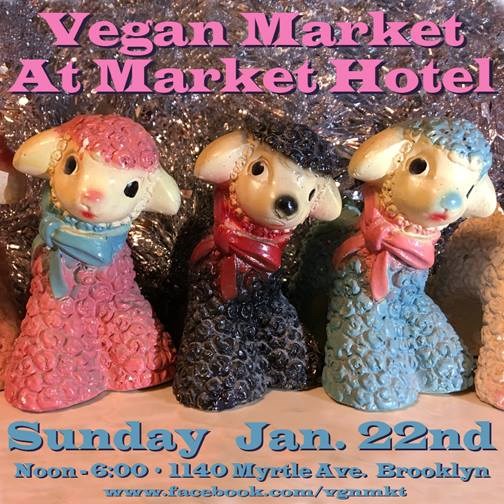 Vegan Market, Market Hotel, 1140 Myrtle Avenue, Sunday, 12pm-6pm, Free (Bushwick)
If you're a vegan, I feel you pain. No, I'm not a vegan, but it just feels like a tough road to travel, which is why the Vegan market sounds so cool. It's a place where vegans can go to get their life! It's a pop-up market featuring vegan apparel, cosmetics, bath and body, chocolate, cheeses, baked goods, hot foods and more...and just in time before the newly elected POTUS makes Veganism a crime. Yeah, that's a joke (not fake news), but it's a great place to fulfill many vegan needs, under one roof.
Visit the Facebook Event Page, for a list of vendors at the market and if you go and have the vegan pizza, let me know how it tastes, in the comments section.