The Valentine's Day All-Star Comedy Show starring Tommy Davidson, Aries Spears, Mark Curry and Alex Thomas will bring you a hilarious night out for you and your significant plus one!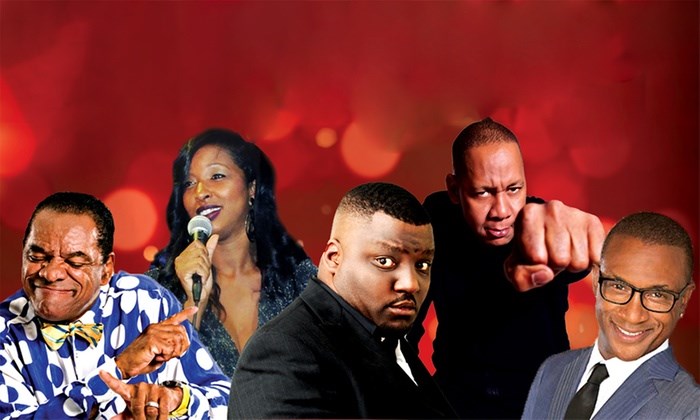 Grab your sweetheart and get ready to laugh the night away with this riotous roster of stand-up talent hosted by Smokey Suarez. The all-star line up including Tommy Davidson, Aries Spears, Ashima Franklin, Mark Curry and Alex Thomas will have you in stitches when they take the stage at the Kings Theatre on Friday, February 9!
In Living Color veteran Tommy Davidson displays an exceptional performance range — from stand-up comedy and acting to versatile music accomplishments. Also known for his role as Cream Corn in the hit 2009 film Black Dynamite, Davidson has played in Spike Lee's Bamboozled, to Juwanna Mann and Jim Carrey's Ace Ventura II: When Nature Calls, followed. His hilarious impressions of Sammy Davis Jr., Michael Jackson and other icons have become infamous.
Aries Spears, the star of the stand-up special, Aries Spears: Hollywood, Look I'm Smiling, was a longtime regular on Fox TV's sketch comedy series MADtv. He starred with Damon Wayans in The Underground and has landed parts in films such as Why Do Fools Fall in Love, The Pest and delivered his most notable performance as Cuba Gooding Jr.'s brother in the blockbuster Jerry Maguire.
If you remember the 90s sitcom Hangin' with Mr. Cooper, then comedian Mark Curry will certainly have your laugh muscles working hard. The former host of It's Showtime at the Apollo, is also known for his role on Nick at Nite's live-action series See Dad Run and on BET's comedy talent search show Coming to the Stage. In addition to his stand-up performances, Curry appeared opposite of Kirstie Alley on Showtime's hit Fat Actress.
Alex Thomas, known as "Phil" aka "Phino" from the Jamie Foxx Show, may have appeared on every comedy show on TV: BET's Comic View, Def Comedy Jam, Comedy Central's Premium Blend, The Arsenio Hall Show and The Jay Leno Show which eventually lead to his own one hour comedy special on Showtime entitled Straight Clownin. Thomas starred in several motion pictures including Don't Be a Menace to South Central, The Players Club, Two Can Play That Game, Just Married, among others. In addition to guest appearances on shows such like Moesha, Martin, The Parkers and All of Us, he also hosted the legendary Up in Smoke Tour in 2001.
Former Def Jam Comedy writer Ashima Franklin rose to fame on Showtime's Kattpacalypse and Bounce TV's Off the Chain and joined Katt Williams on his Outlaw of Comedy Tour. She will round out this laugh fest of comedic heavyweights.
Smokey Suarez, known from Def Comedy Jam and P.Diddy's The Bad Boys of Comedy, will guide through the night with his raw, authentic, uncensored comedic talent. With his raspy, weathered voice and incisive wit, Smokey Suarez is able to blend impeccable comedic timing, clever punchlines, and bold physical comedy into one completely sensational standup routine.
Hold on to your seats - it's going to be a funny ride!
Valentine's All-Star Comedy Show
When: Friday, February 9, 8:00pm
Where: Kings Theatre, 1027 Flatbush Avenue, Brooklyn, NY 11226
How much: $49 - $69. Tickets available here.