Where to go, what do on New Year's Eve? Don't fret, we have compiled a list of things to do, ranging from Coney Island family fun to a comedy show, house music, African Caribbean tunes and fares, and much more for you to bring in the new year the Brooklyn Way.

Just a Show - New Year's Eve Edition
The hosts of this recurring variety presentation are making their year-end version a matinee, supplying New Year's revelers with a round of laughter before their evening festivities. The lineup includes stand-up from Farah Brook, Steven Markow, Ashley Hamilton, Jo Firestone and others; Matt DeCaro will play the music. Doors open at 3:30 pm, show starts at 4:00 pm!
Where: Sunnyvale, 1031 Grand St, Brooklyn, NY, 11211
How much: $6- $8, Tickets are available here.
Africology: New Year's Eve 2018!
Head to the Africology New Year's Eve party at Brooklyn's Bunna Cafe to celebrate the last day of 2017 with some wonderful people great food great spirits... There will be complimentary NYE party favors, small Ethiopian bites and top shelf spirits. DJ Sirak and Enic 1 connect will spin a fusion of Caribbean, African, Top 40 tunes and much more to keep you grooving 'till the morning. Festivities begins at 10:00pm.
Where: Bunna Cafe, 1084 Flushing Ave, NY 11237
How much: $25. Tickets are available here.
New Year's Eve: Y2K at House of Yes
Party like it's 1999! House of Yes is reliving the Millennium midnight countdown. This is a night of throwback magic, nostalgia overload and futuristic chaos with '90s music, fashion and snacks like Capri Suns, Gushers and Fruit Roll-Ups. Also enjoy the Y2K of it all, with some "cyber sexy glam tech," robots and more. Dress for the past, dress for the future. This party has a strict dress code of 90s styles (neon, animal print, crop tops, you name it) or futurist looks! It's the end of the world as we know it. Let's Dance. Doors open at 9:00 pm.
Where: House of Yes, 2 Wyckoff Ave, Brooklyn, NY 11237
How much: $30 - $75. Get tickets here.
Rich Medina Present Home NYE at C'mon Everybody
Spend New Year's Eve with the legendary Rich Medina! One of the finest D.J.s in the New York-Philadelphia axis, with deep crates and a fine touch, Medina floats easily across categories, spinning hip-hop, old soul, new soul, house music, Afrobeat and beyond. Dance your way into 2018! Tickets range from $35 for (advanced general admission) to $75 advanced VIP tickets which gets you access to the open bar from 10:00 pm - 11:00 pm.
Where: C'mon Everybody, 325 Franklin Ave, Brooklyn, New York 11238
How much: $30 - $75, tickets are available here.
Peace out, 2017! at Butter & Scotch
The team at Butter & Scotch invites you to join them for their end of year bash as they raise their glasses and celebrate the end to another garbage-fire year with a toast to a couple of sparkly bright spots. As per usual: No door fee, no tickets, no-nonsense. Just lots of bubbly, good friends, CAKE, and a group of like-minded individuals who are SO ready for 2018. They'll have bubbles by the glass and the bottle, your favorite jams on the stereo, SPRINKLES, and twinkly sparkly things all around. This sweet affair begins at 5:00 pm.
Where: Butter & Scotch, 818 Franklin Ave, Brooklyn, NY 11225
How much: Free.

New Year's Eve Brewery Bash at Brooklyn Brewery
Toss out the dregs of 2017 and welcome a new year of beer at our traditional New Year's Eve Brewery Bash.
The night will get started with a DJ spinning recent hits and old-school classics alike, plus a special performance from Brooklyn-based blues/hip-hop powerhouse Ryan O'Neil. You don't have to dance, but you may not be able to resist. Hit up the open beer bar featuring all of your favorites and some very special barrel-aged releases, and snag delicious sliders, bites and snacks from Stuf'd. Brooklyn Brewery will kick off 2018 with a toast of an unreleased Ghost Bottle, fresh from their barrel aging facility. New Year, new beer, as the old saying goes, starting at 10:00 pm.
Where: 79 N 11th St, Brooklyn, New York 11249
How much: $115, tickets only available online.

CITYFOX 2018 NYE Marathon Fest
If you don't want the party to stop you may want to head to Avant Gardner. Cityfox 2018 promises house-heavy marathon party that lasts 26.2 hours - with tickets available for entrance at various points in the proceedings. Among the headliners are the German house-music innovator Dixon and New York's own house-music prodigies the Martinez Brothers. Also featuring Lee Burridge from London, M.A.N.D.Y., Steve Bug and a dozen others. The marathon fest kicks off at 10:00 pm and goes...'till you drop. NOT!
Where: Avant Gardner, 140 Stewart Ave, 11237 Brooklyn, New York
How much: Tickets are starting at $50 and are available here.
38th Annual Fireworks Celebration at Prospect Park
Enjoy live entertainment by Brooklyn's own Quintessential Playlist starting and spectacular fireworks display at the stroke of midnight. Locations for viewing the fireworks include Grand Army Plaza, the Park's West Drive, and along Prospect Park West between Grand Army Plaza and 9th Street. This event is free and open to the public and begins at 10:30 pm.
Where: Grand Army Plaza Memorial Arch, Grand Army Plaza at Eastern Parkway, Brooklyn, NY 11238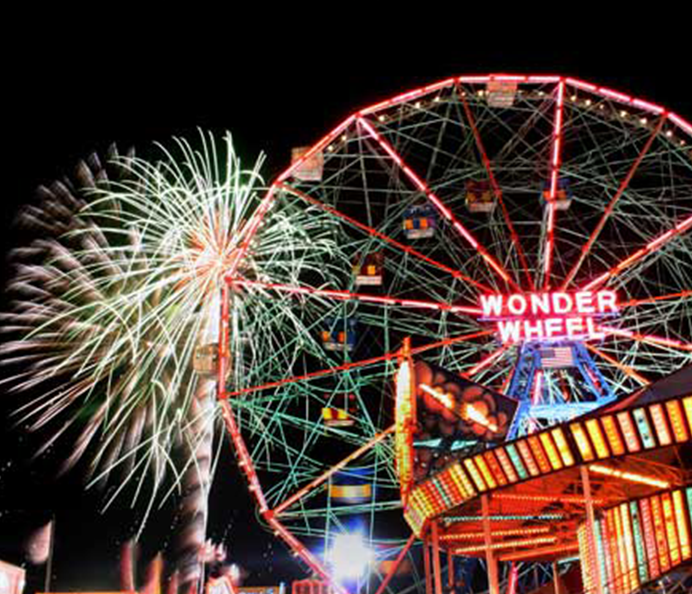 New Year's Eve at Coney Island
Coney Island event, hosted in partnership with the Alliance for Coney Island at Steeplechase Plaza, will complement the annual fireworks and festivities held in Grand Army Plaza. Beginning at 6:00 pm, the B&B Carousel, Deno's Wonder Wheel, Stop the Zombies 7D, the Abe Stark skating rink and the Thunderbolt will be open for free until 9:30 pm. The New York Aquarium will have special extended hours of operations until 9:00 pm. Additionally, local dining and entertainment options that will open specially for this holiday celebration include Applebee's, Coney Island Brewery, Coney Island USA, El Dorado Bumper Cars, Kitchen 21, Nathan's Famous, Tom's Restaurant and White Castle.At midnight, fireworks will shoot off and the Parachute Jump will feature a burst of lights. The family-friendly celebrations begin at 6:00 pm - and are free!
Where: Coney Island Boardwalk, Surf Ave at Stillwell Ave, Brooklyn, New York 11224
Brooklynites! We wish you a happy and healthy new year. Bundle up, stay safe and have a blast!