A new sculpture at the foot of the Brooklyn Bridge pays tribute to the art and legacy of the city's most notorious hip-hop legend.
The new, nine-foot sculpture sits on the northeast corner of Prospect Street and Washington Street. Dubbed, 'Sky's the Limit in the County of Kings', it is a tribute to Christopher 'the Notorious B.I.G.' Wallace.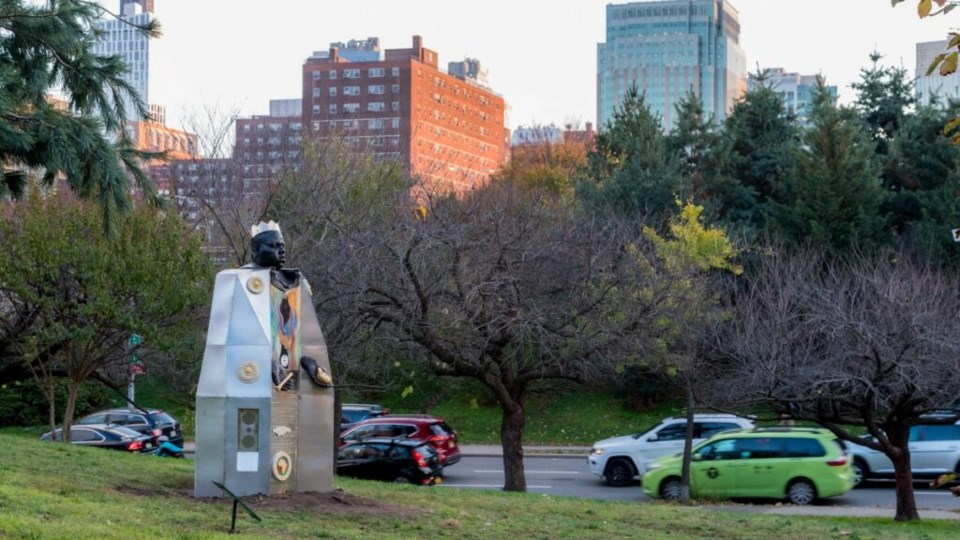 "Located at one of Brooklyn's most iconic locations — the entrance to the Brooklyn Bridge — this installation will allow New Yorkers and visitors to explore how B.I.G.'s native city shaped his artistry," said Regina Myer, president of the Downtown Brooklyn Partnership.
The DBP and the DUMBO Improvement District unveiled the new monument on Dec. 6.
"This is a spectacular piece that will greet countless New Yorkers," said Alexandria Sica, president of Dumbo.
"Giving space to new kinds of monuments and works is what a public art fund is all about. We are very proud to be hosting this work."
True to the subject, the public art piece will feature an audio experience. The creator of the sculpture is Sherwin Banfield.
"Delivering this project means so much to me personally. My story and artistic development as well as countless fans of hip-hop culture who continue to be positively affected by the communal experiences and sonic frequencies of B.I.G.'s artistry," Banfield said.
He aims to challenge the traditions of western public sculpture by representing his African American artistry and lineage.
"I cherish the significance of the potential impact on young children of color who will have an opportunity to experience a public sculpture that represents and reflects their identity, circumstance and/or dreams," he continued.
Dumbo Public Art Fund provides funding for the project. It is exhibited as part of NYC Parks' Art in the Park program.
"The Notorious B.I.G. has had a profound impact on the music industry. And there is no better way to honor his legacy than with Sherwin's tribute," Myer added.
For more information, click here.