"There's this amazing artwork where you put on 3D glasses and you feel like you're actually in the painting," says Jeff Beler, a Brooklyn-based art curator.
He's talking about the work of artist Myztico Campo, the next artist to be featured at a Monday night hangout Beler produces at Cheryl's Global Soul, a Jamaican/soul food restaurant in Prospect Heights.
For almost four months now Beler has been scouting unconventional artist from all across the city to exhibit at his bi-weekly Monday event. Intimate, swanky and underground might be some of the ways to describe it. But for Beler, it's really about living out his passion of seeing people enjoy art and express themselves creatively over a good meal and an open bar (yes, I said OPEN BAR, shhhh)...
"[Myztico's] show is going to be the biggest," says Beler excitedly. "He's kinda this hippy, trippy guy, who's really talented. His art is impressive, detailed and very thoughtful."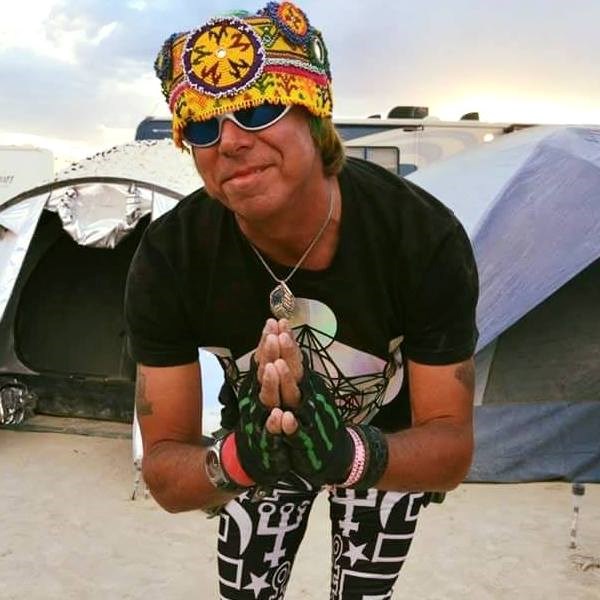 Born in Cuba, Myztiko (or "Tico," as his friends call him) grew up in the Hell's Kitchen area of Manhattan. He said around age 5, his father used to draw with him and inspired him to be interested in art. But throughout the years, he's always been creative, working as a musician and then filmmaker, always a nomad, traveling the globe. But it wasn't until ten years ago when he began to dive back into art.
This time, a lifetime of experiences drew him to creating what he terms, Visionary Shamanic Art, "which means when I paint, I surrender to the source of free activity; to a higher source of a great spiritual flow that permeates the cosmos," says Tico. "And I don't question or analyze what comes out of this experience. I am a humble vessel for this to flow through."
His work delves into otherworldly scenarios, using free-flowing symbols of spirituality and ancient cultural references.
"The human eye is only capable of seeing within the 5 senses, so I like to break down the parallel universes that exist outside our own reality," says Tico. "Because we live in a consumer-based society and because we've lost touch with nature and our own spiritual evolution, I like to go down rabbit holes that a lot of people don't get a chance to go."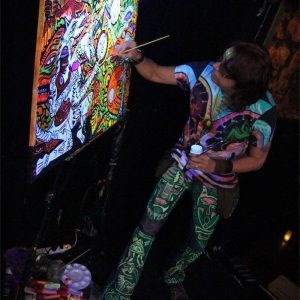 His signature style of using black light painting, which involves UV lighting and fluorescent paint, appropriates light wave spectrums that serve to amplify his vision of an alternate reality. So the painting appears different in daylight than it does in complete darkness. And with a pair of 3D glasses, the painting moves into a third light spectrum that makes the painting come alive.
Tico's art has been commissioned in Europe, Peru and all across the United States. And on Monday, October 3, from 6:00pm - 9:00pm at Cheryl's Global Soul, Tico will have 15 pieces of his artwork on display. Cheryl's Global Soul is located at 236 Underhill Avenue, one block off of Grand Army Plaza.
This Monday, come enjoy soul food, drinks, art and enlightenment in a parallel universe that happens to have a Prospect Heights address.