Tensions fly when a young man finds himself caught in a romantic triangle with his childhood sweetheart and a much older woman in "The Old Settler," currently running at the Billie Holiday Theatre.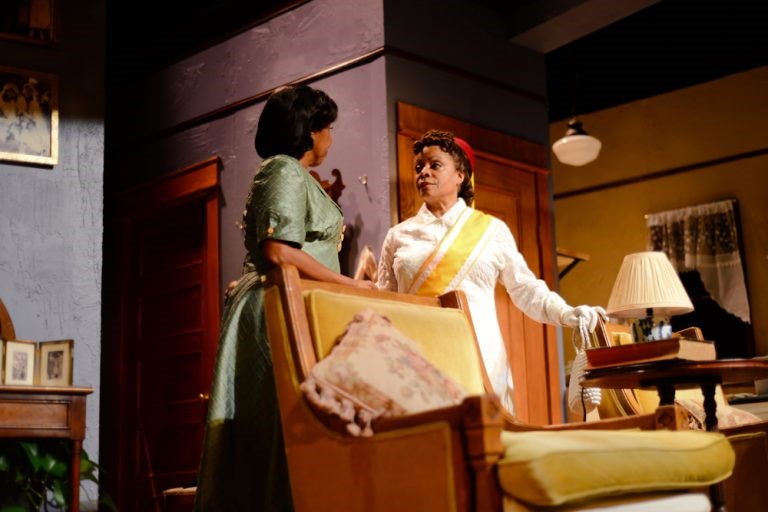 Tensions rise, sparks fly and then love is born when a young man finds himself caught in a romantic triangle with his childhood sweetheart and a much older woman in John Henry Redwood's "The Old Settler," currently running at the Billie Holiday Theatre.
The year is 1942, and Husband Witherspoon, played by Bed-Stuy's own Warner Miller ("American Gangster," "Everyday People," "Luke Cage"), has arrived in Harlem from South Carolina as the young and naive, plucky-faced geechee. After his mother passes away, Husband decides to leave his small town of Frogmore, SC, to look for his childhood love, the "fast" and flirtatious Lou Bessie, played by Maechi Aharanwa ("Placeholders," "Police State," "Boy in a Backpack"), who fled Frogmore a few years prior in search of a brand-new life.
Husband rents out a room from two elderly, bickering sisters Elizabeth Borny, played by Pauletta Pearson Washington ("90 Days," "The Watsons go to Birmingham," "Beloved"), and Quilly McGrath, played by Denise Burse ("Greenleaf," "Black Mirror," "House of Payne"). Although Quilly is skeptical about her older sister choosing to take in a young male boarder, Elizabeth insists it's no big deal considering neither could barely afford the cost of rent.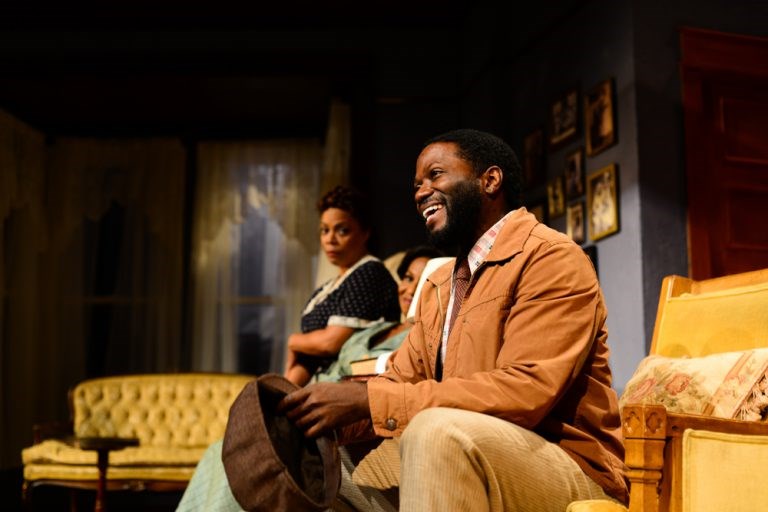 While on a wild goose chase across New York to find the evasive Lou Bessie, Husband convinces himself he also has a "connection" with Elizabeth, who is nearly twice his age: It's a May-December Love-- love between someone in the spring of their life with another who is in their winter. However, what it really boils down to is a "momma's boy" missing the love of his mother and a senior woman desperate for affection.
When Lou Bessie gets wind of the budding romance, out of spite and jealousy, she refers to Elizabeth as nothing but an "old settler."
The play's director, Michele Shay (an award-winning actress, director, and producer best known for her Tony Award-nominated performance as "Louise" in August Wilson's "Seven Guitars"), does a fine job of retelling the age-old tale of how love always seems to find a way through even the most uncomfortable circumstances.
And at moments, that uncomfortableness-- the romantic scenes between Husband and Elizabeth and the tension between Elizabeth and both Quilly and Lou Bessie-- is almost palatable. And so, Elizabeth arrives as the accidental centerpiece to it all, skillfully acted by Washington (who happens to be married to actor Denzel Washington), and supported in equal measure by Burs, Aharanwa and Miller.
The play's stage is extended to provide more depth, and the set is expertly constructed. From the light fixtures, to the costuming; from the Depression-era furniture, to the small icebox in the kitchen, the audience immediately is transported to the early 40s-- a time when the zoot suit and the conk represented a way forward for the negro man; when the negro women had full-time jobs working as the help for "their white lady;" and when "Boogie Woogie Bugle Boy" was a radio hit as the United States entered World War II.
Playwright John Henry Redwood, a native of Brownsville, has appeared on Broadway in "Guys and Dolls" and "The Piano Lesson" and off-Broadway in "One Flew Over the Cuckoo's Nest;" his film credits include "Mr. Holland's Opus," "Passion Fish," and "Big," amongst others. As a playwright, he has written "No Niggers, No Jews, No Dogs;" "We Never Knew Their Names;" "Acted Within Proper Departmental Procedure," and others. He said he is especially proud of "What if You're the One," which encouraged mammograms.
However, "Old Settler" at the Billie Holiday Theatre may be Mr. Redwood's opus. Full of humor and grit, Redwood's story of "strange love" born of America's own strange mix of poverty, racism, hope and survival provides an historical lens into life for black people during the years of the Great Northern Migration. Yet, the universal themes of family bonds that strengthen through struggle; and yearning for love while yearning to fit in lend the play a timelessness that resonates today.
The Old Settler
By John Henry Redwood
Directed by Tony Award-nominated Michele Shay
Oct 20 — Nov 19, 2017; for showtimes, go here.
General Admission: $40 — $65/Students and Seniors $25