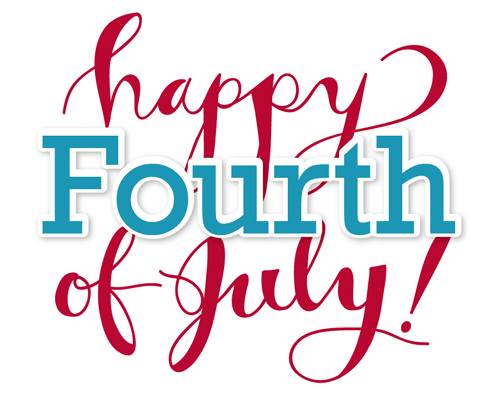 I hate it when July 4th falls on a Tuesday or Wednesday, because it's difficult to figure out which weekend is the party weekend. Since this year it's on a Tuesday - what does Monday mean? You might want to call out on Monday with the excuse that you're sick, but trust me bruh, errrbody's doing that! Do you take one of your sick days because you want to grill in the backyard, to recuperate from the weekend or to be ready for all the fireworks on Tuesday?
With the current state of the Presidency and the ongoing diatribe from the man in the White House, let alone the mood and tenor of the country, is July 4th even a holiday worth getting super celebratory about?
I always believe that basing your decision upon moral or political reasons, as to turn up or not to turn up, is a benefit of being in America; and whatever benefit you can get in this country, you should hold it high and tight like a Noah Syndergaardd fastball. If you want to sit this one out, then by all means do it, but if you wanna get boozy and make bad decisions this weekend...well, read on my friend!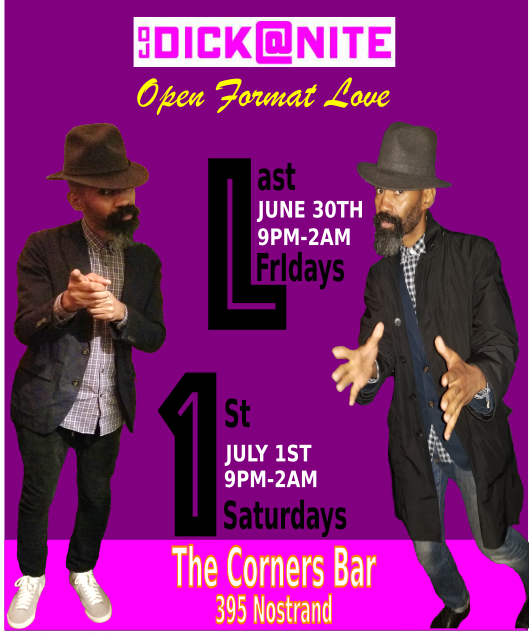 Open Format Love, The Corners, 395 Nostrand Avenue, 9:00pm-2:00am, Fri & Sat, free (BedStuy)
So this week I'll do it twice at the Corners bar, a super cool, neighborhood bar, with stiff drinks, great vibes, a sweet backroom and DJ Dick At Nite (me) on Friday and Saturday this weekend. Opened by two former bartenders, The Corners really knows what it's doing with a fun and sexy cast of regulars and visitors who turn up each weekend. If you come through, you can find me holed up in the back, fighting off song requests, laying down jams and accepting lap dances two at a time!
White Night, BKLYN Commons, 495 Flatbush Avenue, Friday, 7:30pm, various $ (Prospect-Lefferts Garden)
Why are Black folks so fond of white parties? We'll throw a white party on a boat. We'll throw a white party in a warehouse. We'll throw a white party on a roof and we will throw a white party with a game night! This event sounds super fun with tons of games, drink specials, free champers for the first 50 people - and for the first half hour, everybody pays whatever they roll on a die; so if you roll a one, you get in for $1! Check out this link for more info about the event which will be held at one of the cooler co-working spaces in Brooklyn. Presented by Playtime Worldwide.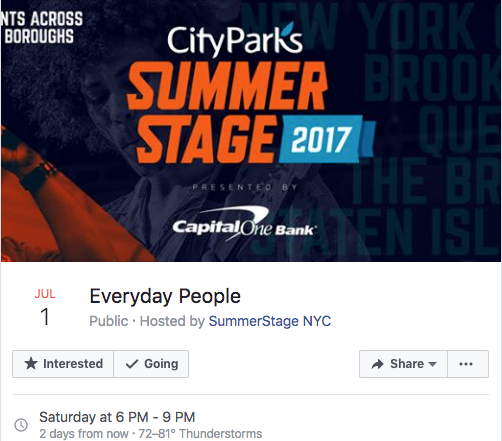 Everyday People, Summer Stage, Betsey Head Park, 865 Thomas S. Boyland Street, Saturday, July 1, 6;00pm - 9:00pm, free (Brownsville)
This is a ridiculously good day party, with really good looking people and great music. I doubt that there's a brunch situation poppin', but there will be beatboxing instruction from Scratch Academy, so at least you can put your mouth to work. It's in Brownsville (never ran, never will), so you can get a look at one of the next neighborhoods you'll be forced out of in five years. This weekend, Betsey Head Park is going up with their Summer Stage program featuring Ginuwine (Pony) and Boogie Blind this Friday, and DJ Premier & Friends on Sunday.
Hoops & High Tops, House Of Yes, 2 Wyckoff Avenue, Sunday, 9:00 pm, $15-$20 (Bushwick)
This is a throwback party that keeps it moving, bringing you some Sunday funday action with future Old-School. Here's a quote from the FB Event page:
"We're stupid hyped to have the legend Stretch Armstrong headlining for us at #FUTUREOLDSCHOOL, along some other killer selectors. Come through and let us take you on a ride from Soul & Funk, Old-School Hip-Hop jams to Rap classics, and the beats of today and the sounds of manana. As always, you can expect some dope surprises - but we're too excited not to announce that we have 3V Breakdancers doing impromptu performances throughout the night. Also: Gazoo Tothemoon is doing a HUGE street art installation, all basking in projected aesthetics from the 90's Hip Hop scene."
There is more stuff happening, so click here for the event page to get more information.
Denroy Morgan, International African Arts Festival, Commodore Barry Park, Monday, 10:00am - 9:00pm, free (Fort Greene)
Denroy Morgan is the ish! His Reggae dance hit "I'll do anything for you" will still get you on your feet. Also, as the father of the group Morgan Heritage he's quasi Reggae royalty! He's performing at the IAAF which is full with art, culture food, music, and more. The festival is going on from Saturday to Tuesday, which gives you ample time to check it out. Though if you wanna see Denroy, you gotta go on Monday. Check the FB event page and ask the event administrators about the schedule and performance times.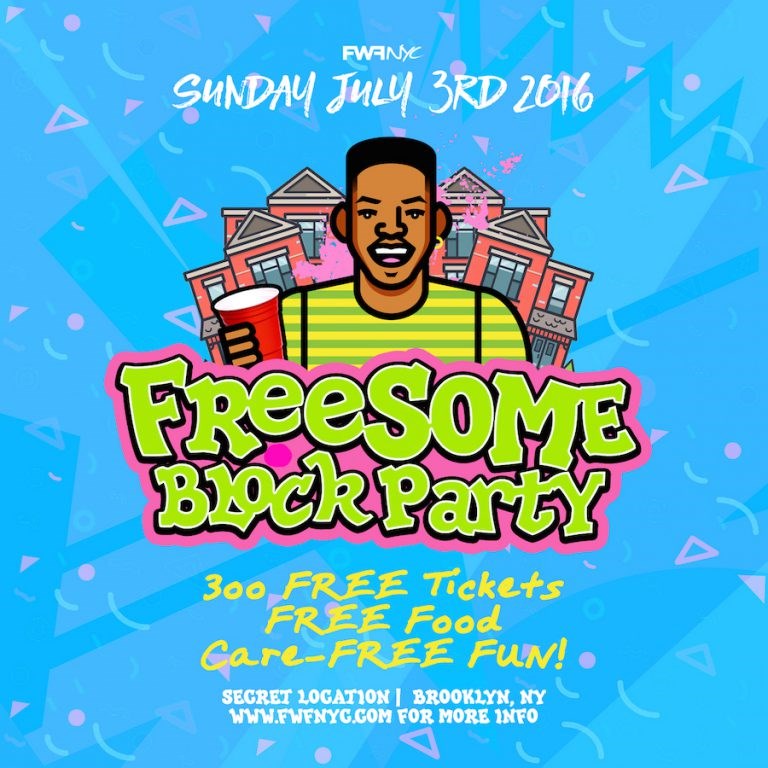 Freesome Block Party, secret location, Tuesday, 1:00pm - 8:00pm ($0-$25)
It's on July 4th, so if you're not on your own roof creating a ruckus and earning the ire of your neighbors, then you might wanna hit up this jawnt, which is known to be pretty litty! I don't know exactly where this is because it's a secret location - so don't ask me. You wanna know? Get a ticket and they send you the address before the event. If it just happens to be around that ex-boyfriend that you're stalking - well, the better for you. Click here for the FB event page for details and to ask any questions. Yeah, the same questions that you were going to ask me.
So there you have it, my fellow Americans, non-Americans and celestial beings. Go out and find yourself a friend for the weekend, but please don't drink and drive...that's what Uber is for. No, it's not for them to drink and drive you around, but for your Uber drivers to shuttle you back and forth while you contemplate puking in the back seat! Which would be very unpatriotic of you, my friend!