The New York Liberty dispatched the Washington Mystics 90-75 on Friday night at Barclays Center behind Sabrina Ionescu's torrid three-point shooting in the second half, for the kickoff of the WNBA playoff series.
The Liberty was down early, trailing 23-29 at the end of the 1st quarter, as Natasha Cloud handed out six assists and scored six points for the Mystics, who rang up eight fast break points on 4 for 4 shooting in the opening 10 minutes.
The No.2 seed and series underdog Washington Mystics were coming off a shocking season-finale win over the NY Liberty five days ago. In that game, Brittney Sykes hit a buzzer-beating, game-winning shot, which prompted Mystics guard Natasha Cloud to wave goodbye to the stunned Barclays crowd.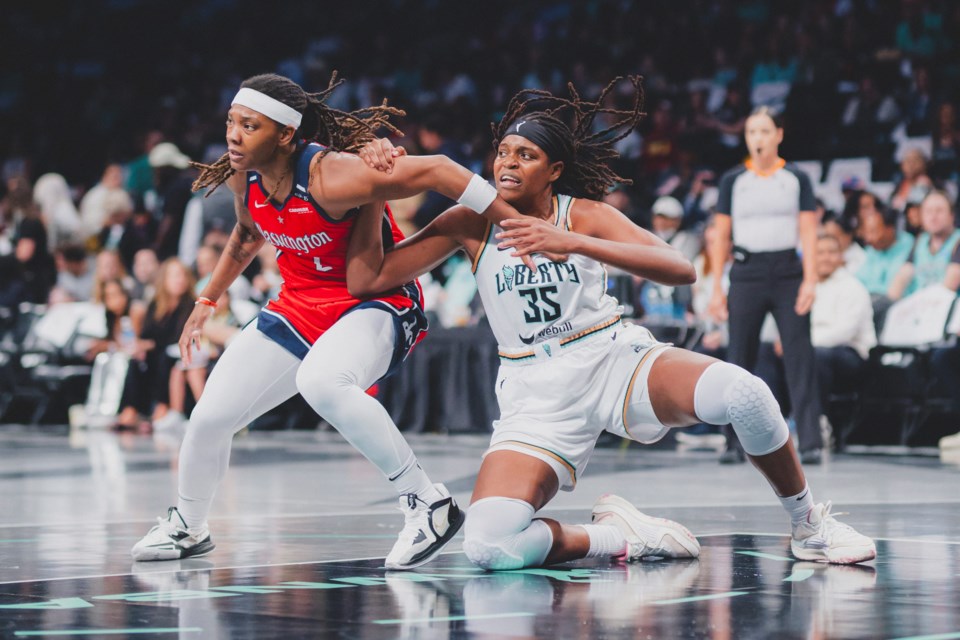 Liberty struggled against the Mystics' unquestionably tight defense, shooting 25% from three with just seven total assists in a hotly contested first half but was kept afloat by forward Betnijah Laney, who had 14 points and six rebounds at intermission.
Betnijah Laney had an excellent all-around game and played tough defense, often picking up Mystic guards before they reached te half-court line.
"You know what you're gonna get every single game; she's gonna compete," said Liberty coach Sandy Brondello about Laney. "She may score twenty she may score ten, but she's gonna have a fantastic game for us because she sets the tone defensively"
The Liberty came out of the locker room with renewed effort in the second half, outscoring the Mystics 23-15 in the 3rd quarter before Sabrina Ionescu blew it open in the fourth. The 2020 WNBA No. 1 pick scored 12 points in the 4th quarter on 4-5 shooting from the three-point line, with her final dagger coming from 33 feet out with 12 seconds remaining in the game.
Breanna Stewart had a low-scoring game, making her first field goal at the :58 mark of the 2nd quarter, but she contributed with tough defense and eight rebounds. Notching her 11th career postseason double-double, center Jonquel Jones totaled 20 points on 58.3% (7-12) shooting from the floor, 12 rebounds, four assists, and two blocks.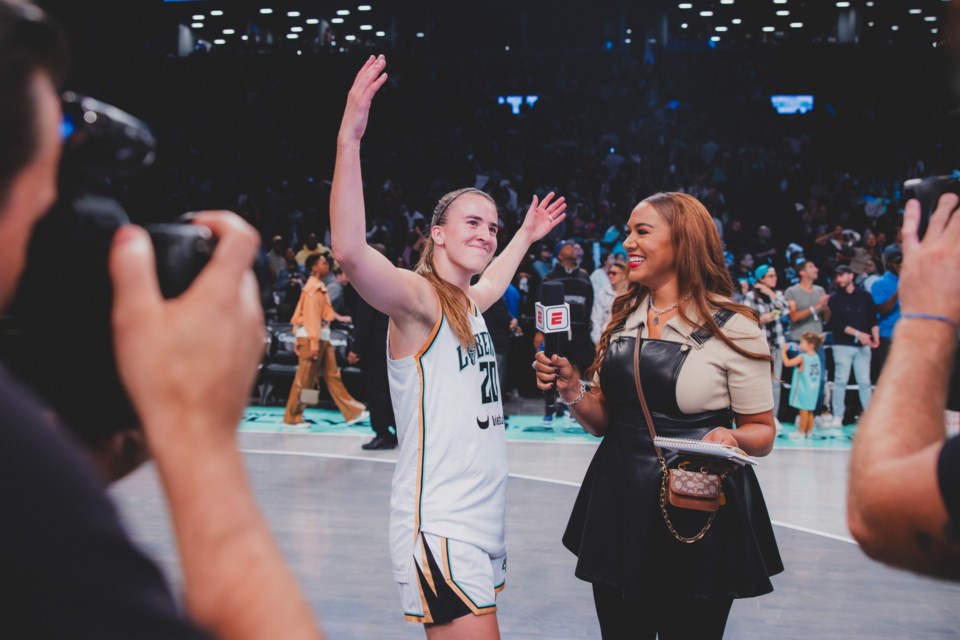 Sabrina Ionescu finished with a playoff career-high 29 points on 55.6% (10-18) shooting from the floor, including 53.8% (7-13) from deep, six rebounds, and two assists. Her seven three-pointers set a Liberty single-game postseason record.
"They waved us off our home court last game, and we had to show them what that feels like," Ionescu told ESPN's Ros Gold-Onwude during her on-court interview after the game. "They punked us, and we had to come out here and prove what we're made of, and we did that tonight."
The next game is Tuesday, September 19th at Barclays, as Washington looks to even the series at 1-1.