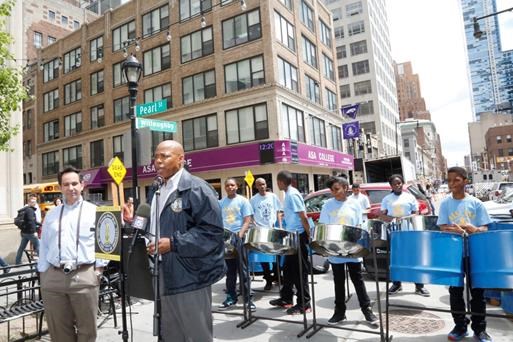 On Wednesday, Brooklyn Borough President Eric L. Adams kicked off the 2015 School Lunchtime Concert Series, with performances in Willoughby Plaza by students from the guitar club at MS 577 Conselyea Preparatory School in Williamsburg as well as from the steel orchestra at MS 354 The School of Integrated Learning in Crown Heights.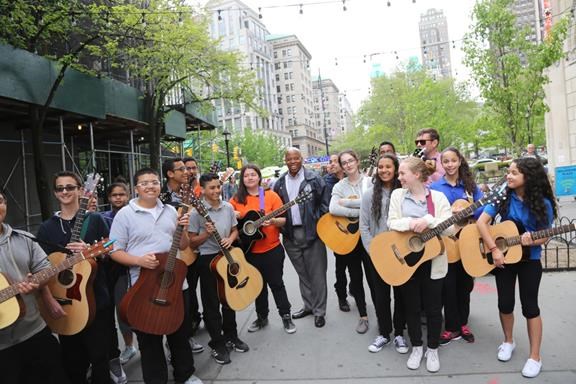 The free lunchtime series, held in collaboration with the Downtown Brooklyn Partnership and sponsored by Investors Bank,will continue for the next five, consecutive Wednesdays at noon at Willoughby Plaza and focus on showcasing local junior high school students who have a talent for great music and a love of performance.
"The sound of a young person discovering their passion for performance and getting to share it with the community is music to everyone's ears," said Adams.
Upcoming Performances:
Wednesday, May 20
IS 392 The School for the Gifted and Talented in Brownsville
IS 291 Roland Hayes in Bushwick
Park Place Community School MS 266 in Park Slope
Wednesday, May 27
IS 211 John Wilson in Canarsie
MS 385 School of Business, Finance and Entrepreneurship in Bedford-Stuyvesant
IS 340 North Star Academy in Prospect Heights
Wednesday, June 3
District 75 P53K in East New York
IS 98 Bay Academy in Sheepshead Bay
IS 303 Herbert S. Eisenberg in Coney Island
Wednesday, June 10
JHS 265 Susan S. McKinney in Fort Greene
IS 392 The School for the Gifted and Talented in Brownsville
Wednesday, June 17
School of the Future Brooklyn in East New York
PS 399 The Stanley Eugene Clark School in East Flatbush
"What a perfect way to spend lunchtime in Downtown Brooklyn," said Tucker Reed, president of the Downtown Brooklyn Partnership. "Willoughby Plaza is always buzzing with activity, but today some of our borough's most talented students really brought it to life. Thanks to Borough President Adams for his leadership, which furthers our efforts to activate our public plazas and make our neighborhood a vibrant destination."