It's the weekend after July 4th and summer is in full swing. It's actually my mental sweet spot, where I'm just thinking about fun and sun and the specter of the fall and the dreaded winter has yet to enter my thoughts.
With that in mind, here's some weekend event picks in Brooklyn. It's a lot going on, but these are just a few that I think are gonna be good and worthy.
FRIDAY, JULY 11th
Lola Star's Dreamland Roller Disco at LAKESIDE, Prospect Park
The 80?s are back…. and on skates!!!!! Lola Star is bringing the magic of Coney Island to Lakeside in Prospect Park and she's pressing rewind on the decades to a time when leg warmers, BIG crimped hair, Shoulder Pads and Gawdy-Anything was in! For her kick-off Skate Party Theme, Lola Star has chosen FLASHDANCE to usher in her Summer of Skating!!! My boy Dhundee is spinning, so the music will be on point.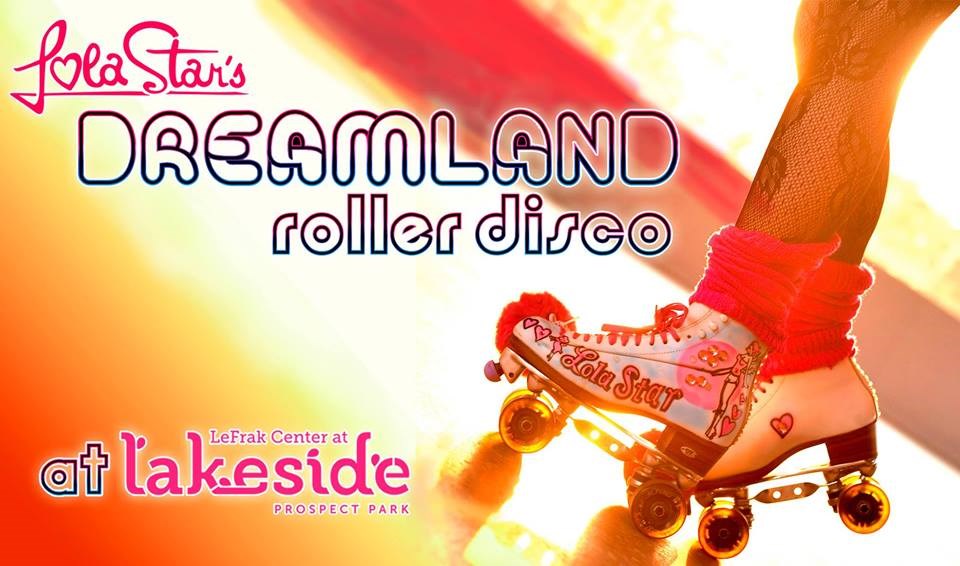 Vote: It Ain't Illegal Yet, 7:30pm , CELEBRATE BROOKLYN! @Prospect Park Bandshell
A film directed by author/filmmaker/journalist and longtime Fort Greene resident Nelson George, this special BRIC commission honors the 50th anniversary of the landmark Civil Rights Act of 1964 with a moving and exciting combination of film, music, and spoken word. This ambitious exploration of American polls yesterday and today celebrates and recognizes the journey we have collectively undertaken towards equality at the voting booth—and the distance we have left to travel. Vote, It Ain't Illegal Yet! will include contributions by BURNING SPEAR, VERNON REID, MAYA AZUCENA, ROGER GUENVEUR SMITH, CARL HANCOCK RUX, RAMYA RAMANA, HARI KONDABOLU, VY HIGGINSEN'S GOSPEL FOR TEENS and many more. With musical direction by D-NICE and an opening set by FREDERICKS BROWN.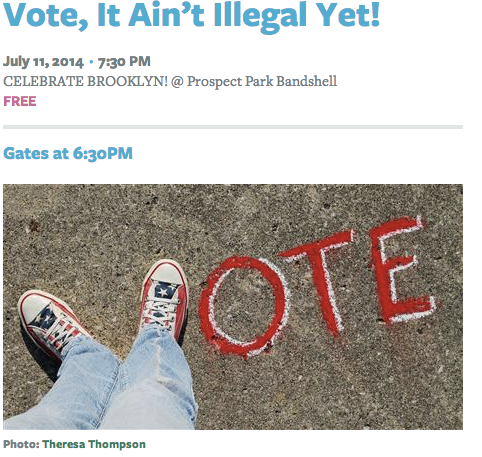 SATURDAY JULY 12th
STR8 Westcoastin', 2pm-9pm, Project Parlor, 742 Myrtle Avenue, Bed-Stuy, Brooklyn NY,
It's gonna be a backyard boogie at Project Parlor, with a day of West Coast music to put everybody on a supreme gangsta lean. DJs Eleven, Dopeshoes & Still Life are the fire on the turntables, while the fire on the food keeps the bbq vibe in full effect. I'm not sure if they'll have any veggie options, but when in doubt, I've sometimes brought my own food for the grill. Looks like it will be a worthy way to spend your Saturday day. Maybe you'll run into Dey-Dey.

Brooklyn Hip-Hop Festival 10th Anniversary Concert, 50 Kent St, Williamsburg, Brooklyn
This 4-day festival showcases the positive aspects of Hip-Hop culture by highlighting Hip-Hop's legacy as an agent of artistic progression, community building and social change.
In addition to musical performances, the Festival offers a number of activities for its audience, including: panel discussions, exhibitions, parties, an award show and a family-friendly block party. The Festival is more than a concert or outdoor fair. It is a family reunion for lovers of this great culture. The concert features Raekwon & Jay Electronica, amongst other performers.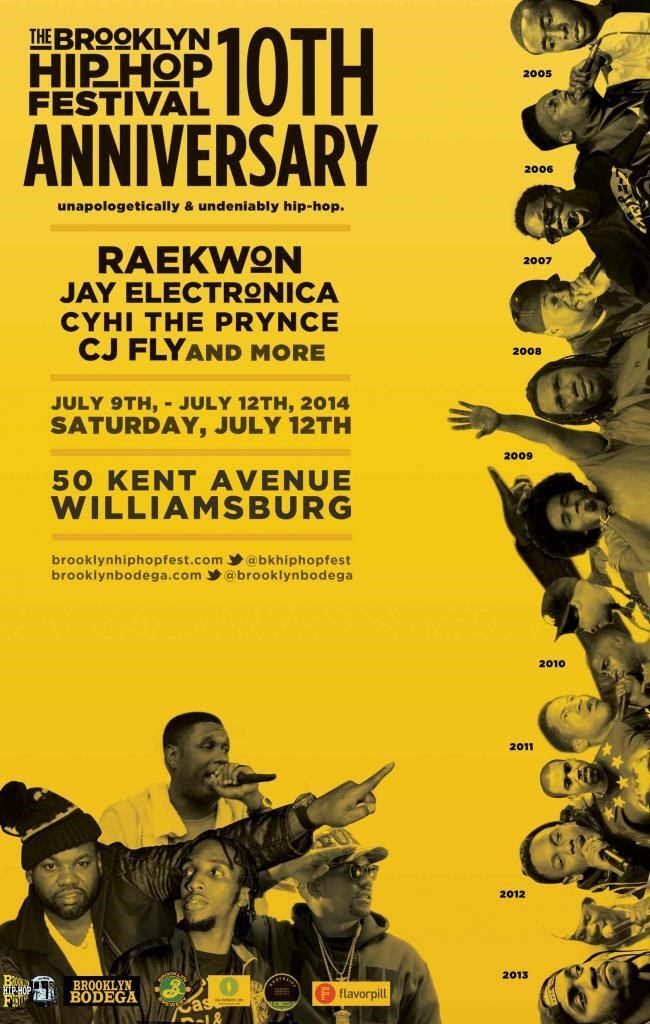 SUNDAY, JULY 13TH
World Cup Championship Party, 4pm, LOT 45, 411 Troutman St., Bushwick, Brooklyn
Great space to watch a hopefully great match. Party afterwards with me, DJ Dick at Nite and friends. Free Frankfurters for everybody (not just the German fans).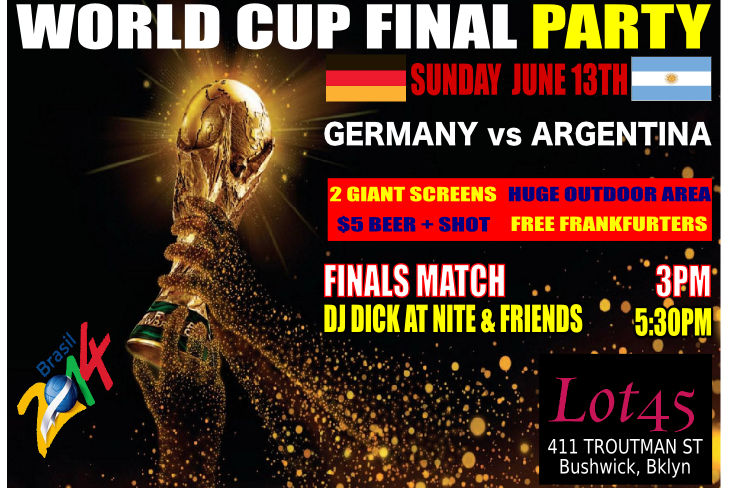 Hope to see ya out and about. Feel free to let me know what's happening in Brooklyn in the comments below.