After the birth of her first child, the legendary Janet Jackson is ready to return to the stage and will make a stop at the Barclays Center in November
Multiple Grammy Award-winner and platinum-selling recording artist Janet Jackson is bringing her State of the World Tour to the Barclays Center on November 15. The newly announced tour dates are a continuation from Jackson's 2015 Unbreakable Tour which was in support of her eleventh album. The tour came to a halt in 2016 after Jackson announced her pregnancy with her first child.
A beautiful baby boy and a divorce later, the 51-year-old entertainer - who does not seem to age and never misses a beat - is now ready to return to the stage and recently kicked off her State of the World Tour in Lafayette, La on September 7.
One of the last true superstars, Jackson has won numerous Grammy Awards, 2 Emmy Awards, a Golden Globe Award, a nomination for an Academy Award along with dozens of American Music Awards, MTV Video Music Awards and Billboard Music Awards. She is a published author, dancer, actress, businesswoman and philanthropist. With sales of over 160 million records worldwide, Jackson is one of the best-selling artists of all time with a string of hits that have left a lasting impression on the music world.
So, what can fans expect of one of the most influential entertainers of the modern era? One epic concert event with world class entertainment including high-caliber choreographies, more than two dozen songs of her extensive catalog of hits and many wardrobe changes - of course!
Brooklynites should not miss the "unbreakable" icon when she shares her "State of the World" at the Barclays Center on November 15!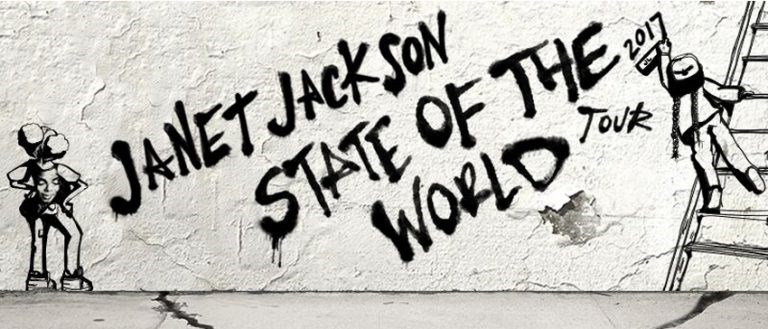 Janet Jackson 'State of the World Tour 2017'
When: Wednesday, November 15, 8:00pm
Where: Barclays Center, 620 Atlantic Ave, Brooklyn, NY 11217
For tickets, please go here.
Please note, tickets for the Janet Jackson concert previously scheduled for the Barclays Center on August 15, 2016 prior to postponement will be valid for this new concert date of November 15, 2017. If you are unable to attend this rescheduled show, refunds will be available at your point of purchase.