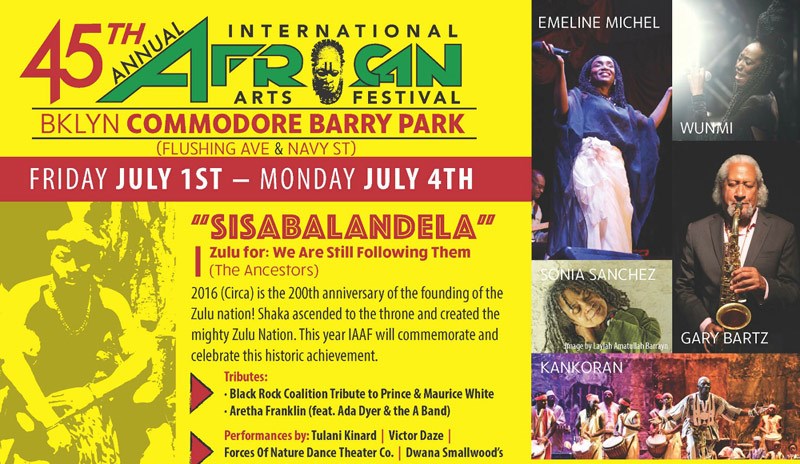 For the past 45 years, the International African Arts Festival has been recognized for its supreme ability to educate youth and adults about African culture. What began as a fundraiser in 1971 for the Uhuru Sasa School, soon became a must-attend on the list of summer events in New York City. Amid venue changes over the years and unforeseen obstacles, this Brooklyn-based festival consistently draws an audience of nearly 75,000 attendees. To commemorate the 45th anniversary, this year's lineup includes performances by Haïtian music icon Emeline Michel, Grammy award winning jazz musician Gary Bartz and global hip hop trailblazer Blitz The Ambassador.
Rain or shine, the International African Arts festival is slated for July 1 - July 4, 2016 between 10:00am and 9:00pm each day at Commodore Barry Park in Brooklyn. Unlike similar festivals that draw diverse Brooklyn crowds, this event is appropriate for people of all ages and features a wide range of culturally related activities like a children's program, an arts and crafts zone, an impressive chess tournament as well as a fashion show. All of these attractions are in addition to the wide range of musical artists who will be providing the soundtrack for each day of the festival.
Headliner Blitz The Ambassador is a Ghanaian-American hip-hop and visual artist that now calls Brooklyn home. In 2015, Blitz received the Vilcek Prize for Creative Promise in contemporary music and has released three studio albums in his seemingly short career. In addition to his talent as an emcee, he also has an eye for direction and design, showcasing his skill be self-directing his own enchanting music video that explores Afro-Brazilian culture.
Apart from the headliners, attendees can enjoy performances by the Kankouran West African Dance Company, Thuli Dumakude & Thokoza, Tulani Kinard, Black Rock Coalition, Forces of Nature, Victor Daze, Steve Cromity, Dwana Smallwood's Performing Arts Center Youth Ensemble, Curtis Haywood, Tony Lee's Gospel Ensemble, Uzalo and the Mighty Zulu Nation, and an explosive tribute to the late Prince.
The admission is $5 for adults and $2 for children (suggested minimum donation). For general information, call 718.638.6700 or email info@iaafestival.org.