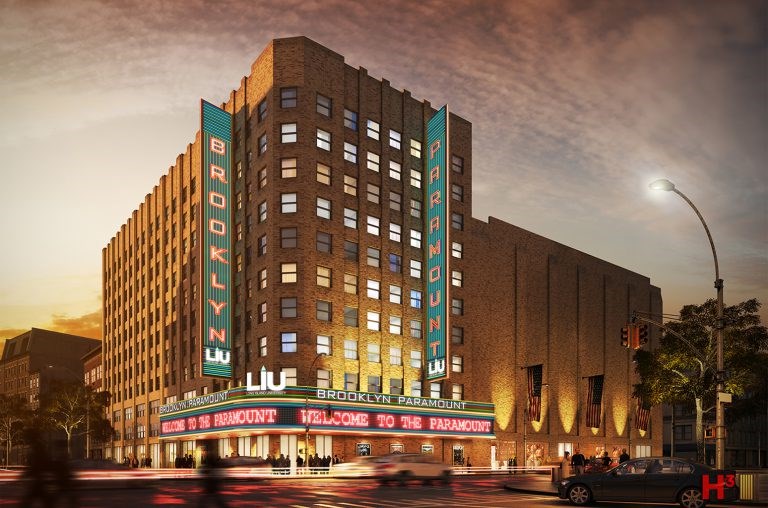 The long-awaited renovation for Fort Greene's historic Paramount Theatre is expected to begin this fall as Amplify reports.
The collaboration between Long Island University, owner of the Paramount Theatre, and Brooklyn Sports & Entertainment, the group managing and operating the Barclays Center, was announced earlier this week. The renovation is estimated to take two years, will restore original details, including its elaborate rococo ceiling and a Wurlitzer organ, and will have a capacity of up to 3,000 seats when it reopens.
Since its opening in 1928, the Paramount hosted legendary performances by Frank Sinatra, Dizzy Gillespie, Ella Fitzgerald, Bing Crosby, Buddy Holly and Chuck Berry; it was also the first theatre in the world to show talking motion pictures. In 1950, Long Island University purchased the Paramount and has since then used it as a multi-purpose athletic facility for its students, staff and guests, and as the home of the Brooklyn Blackbird basketball team.
During the restoration, the athletic facility will be moved to a different location on campus. Once the renovation is completed, BS&E plans to offer a varied program of music, comedy and boxing events. The project will also create new opportunities for the LIU student community, providing jobs and internships within the fields of arts, media, marketing and management on the venue's site.
"This project will provide LIU Brooklyn with a venue for its new School of the Arts and an additional opportunity for experiential learning," LIU President Dr. Kimberly R. Cline said. "LIU Brooklyn is proud to partner with Brooklyn Sports & Entertainment to restore the historic Paramount to its grandeur."