So indeed it is the weekend once again. The new healthcare bill has been passed by the House and now moves on to the Senate. Yet nobody has any idea what that means for the people, because Republicans, like the Democrats did with the AHA, didn't wait for the bill to be scored the the Congressional Budget Office, before introducing it. So if you have a preexisting health condition, perhaps you should hit the town this weekend, and give a long kiss goodnight to your healthcare coverage.
In fact, maybe do it on Friday, on Cinco De Mayo. Do it on a day that celebrates Mexico's unlikely victory against the French, while the unlikely president of America gloats over a healthcare plan that is unlikely to be better than the previous plan. Nothing says "uninsured" like a shot of tequila! This weekend is also the Kentucky Derby, if you're into making horses race for human entertainment.
Ok, ok, I'll stay on a happy note, as there's a lot of fun stuff to do this weekend. Here are some ideas to get you started.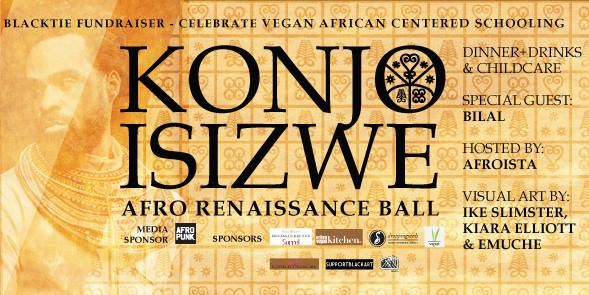 Konjo Isizwe Afro Renaissance Ball, 411 Willoughby Avenue, Friday, 7pm-10pm, $55-$65 (BedStuy)
This is a black tie fundraiser dinner for Konjo Isizwe Academy which features a headline performance by Grammy Award artist Bilal Oliver. The educational philosophy at Konjo Isizwe Academy is rooted in a profound respect for each child as a special individual with a unique form of intelligence. Konjo is an Amharic word for "Beautiful" and Isizwe is a Zulu word for "Nation", and Konjo Isizwe is building just that: a beautiful nation. Click here for more information and to purchase tickets.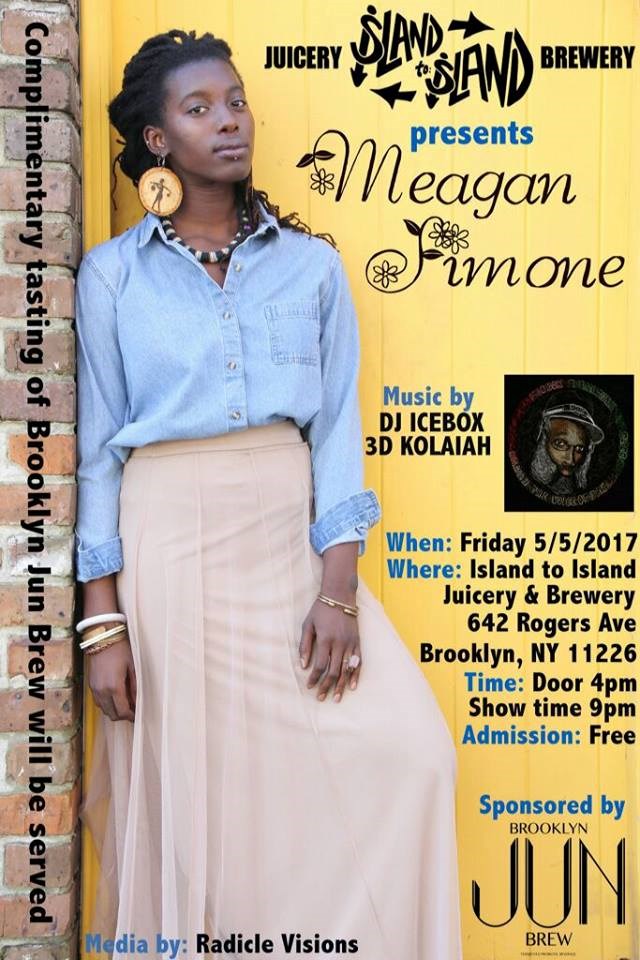 Meagan Simone Live, Island To Island Juicery & Brewery, 642 Rogers Avenue, Friday, 9pm, free (PLG)
Meagan Simone is a singer and songwriter with a lovely voice, who also happens to be a plant-based enthusiast. Having been called a maverick in the world of plants, she is manifesting word, sound, and power! She believes in the healing power of frequency and vibration, and sings chants, spits poems, talks about her healthily lifestyle, picks away at her guitar, strokes her piano keys, free-styles and spins vinyl. She's a natural fit to perform at Island To Island, which specializes in plant-based nutrition and healing. If it's not thunderstorming, make sure to check out the backyard.
CINCO DE MAYO Celebrations
Here are my picks to celebrate Cinco De Mayo. Celebrate responsibly, and remember, Cinco De Mayo doesn't celebrate Mexico's Independence, but celebrates the victory over France in 1862. Don't get twisted and talk like an idiot!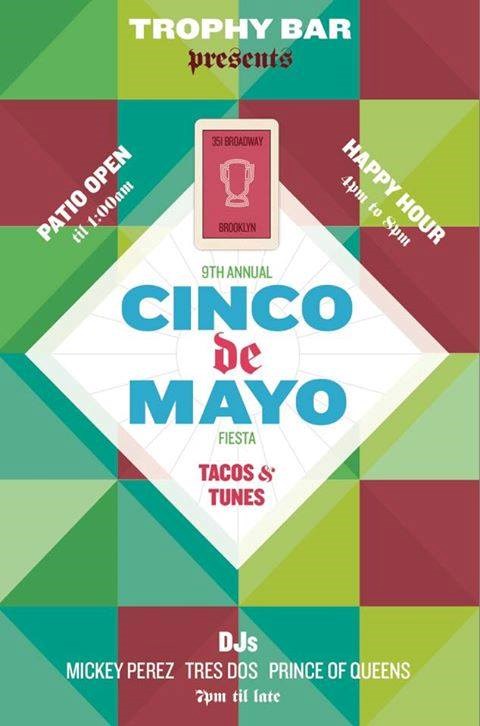 Trophy Bar, 351 Broadway, 5pm-4am
This is taken straight from their Facebook Event Page:
"Join us for our 9th Annual
"CINCO DE MAYO FIESTA"
Starting early, going ALL NIGHT.
PATIO IS OPEN TIL 1AM!
Every year, we celebrate the end of the cold winter by pimping out the patio, slinging fresh margaritas, tacos and excellent tunes!
We will be serving:
TACOS! Baja Fish, Veggie or Meat
Chips and Guacamole
Chips and (housemade) Salsa
Burrito Bowls

Cheeseburgers and Fried Chicken Sandwiches

HAPPY HOUR 4PM-8PM
$5 Wells, Draft
$6 Wine, Margs, Sangria
$6 Cheeseburger & Fries
$6 Veggie Buger & Fries
DJ's Mickey Perez, Tres Dos & Prince of Queens will be spinning Latin, Salsa, Disco, Cumbia, Afro, Tropical, World.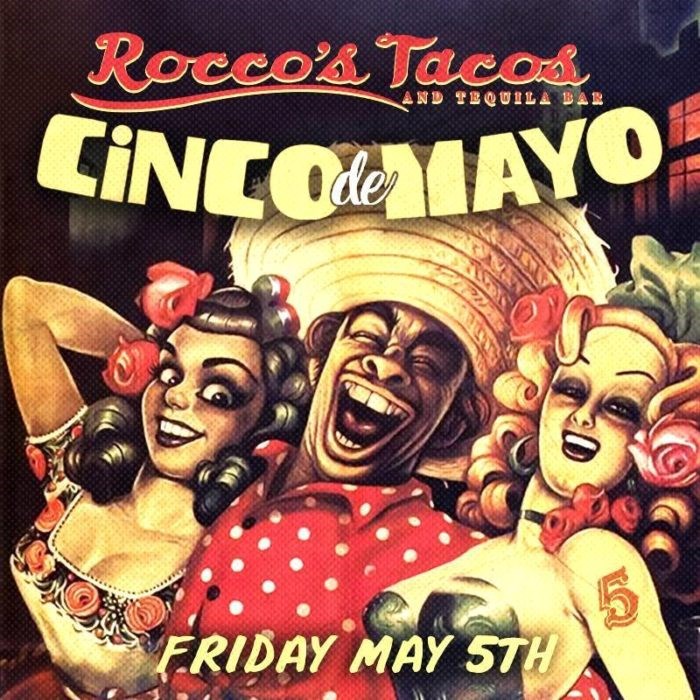 Rocco's Cinco De Mayo Block Party, Rocco's Taco & Tequila Bar, 339 Adams Street, Friday 11am-Saturday 2am, Free
This one spills all out into the street, but with the rain expected on Friday, I'm not sure how it's gonna work. BUT - it's gonna be run. They do it up big and it's a fun Mexican drink and culinary experience. Apparently they have 330 tequilas! They prepare guac right at your table! Click here for their Facebook page and figure it out. Maybe call them up and see what's the plan!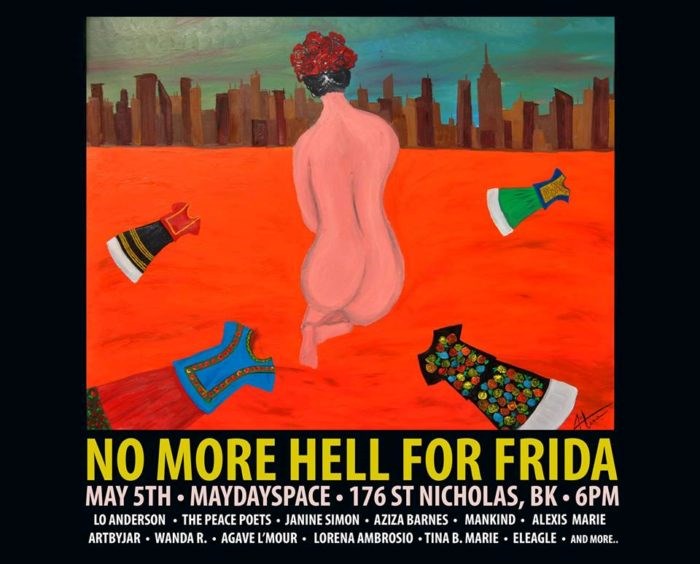 No More Hell For Friday, MayDay Space, 176 St. Nicholas St, 6pm, Free (Bushwick)
This celebration of Cinco De Mayo has more art to it. Frida Kahlo is the muse and inspiration for the artists and poets who are gathering to celebrate her. Expect an art exhibition, music and good food. Click here for the FB event page for more info.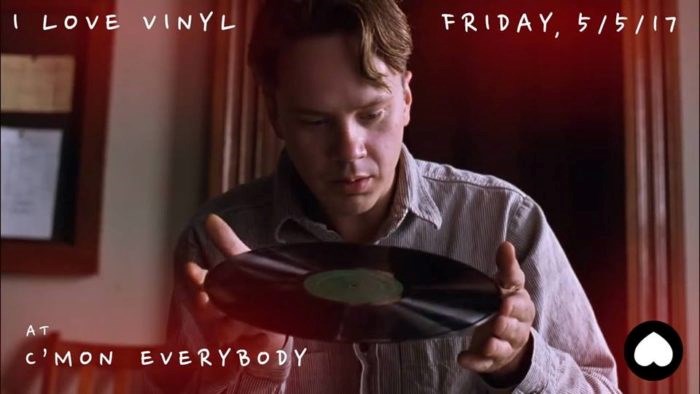 I Love Vinyl, C'mon Everybody, 325 Franklin Avenue, Friday, 11pm-4am,$5-$10 (BedStuy)
This one is simple: dope DJs play dope music on vinyl. DJ Scribe, OP!, Shawn Dub, Jon Oliver and Amir Abdullah been putting that wax in your ear since 2009. You won't need a cotton swab on Friday, but you should bring some dance shoes. Click here to go to their website and get on the reduced list.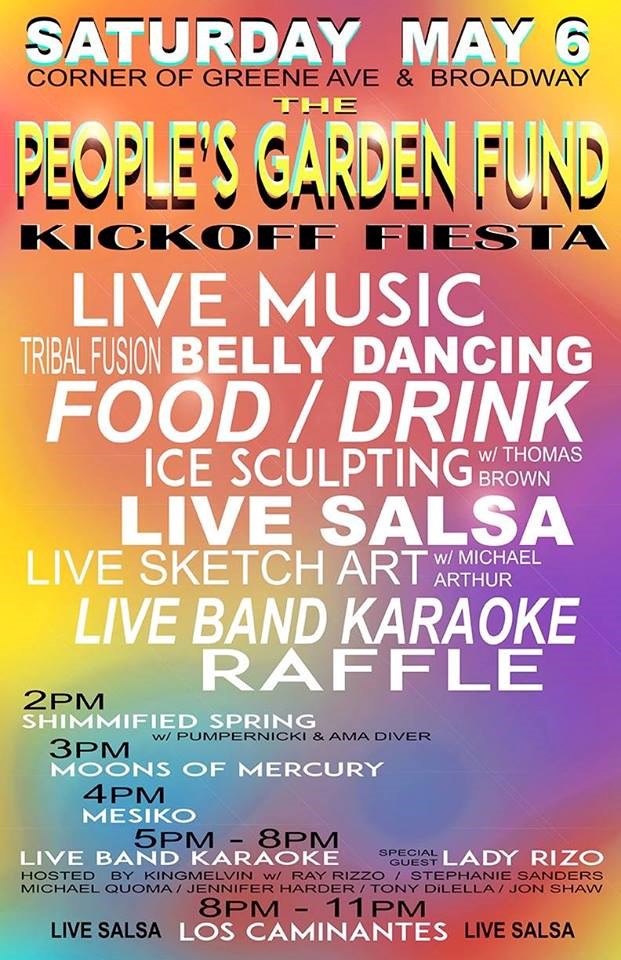 The People's Garden Fund Kickoff Fiesta, Corner of Greene Ave & Broadway, Saturday, 2pm-11pm, donations (BedStuy/ Bushwick border)
This is a really cool community garden on the border of two neighborhoods. The Brooklyn Queen Land Trust runs the thirty-two community gardens and they are always in need of support. The People's Garden Fund Kickoff Party will feature ice sculpting, food, refreshments, live music, face painting, sketch art and dance by friends and members of The People's Garden, as well as a "Split The Pot" raffle and a broadcast of the 2017 Kentucky Derby. DONATIONS WILL BE HAPPILY ACCEPTED ALL DAY AND NIGHT! Click here for the Facebook event page, and click here for the BQLT website to make donations anytime.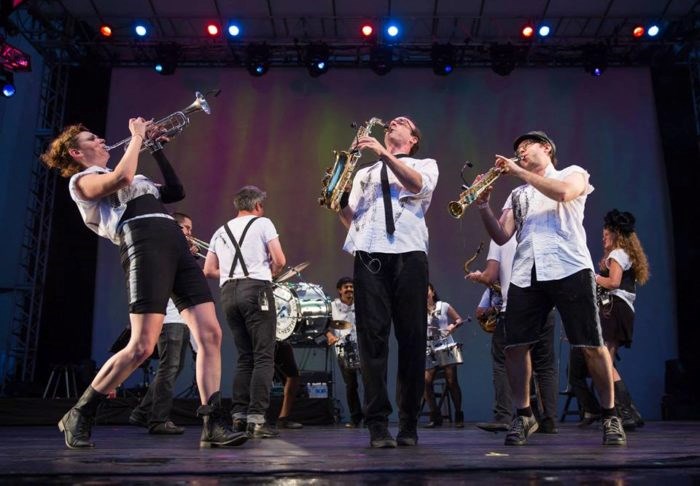 Target First Saturdays - Bang On A Can Marathon, Brooklyn Museum, 200 Eastern Parkway, 5pm-11pm, Free (Crown Heights)
It's a lot going on each month at Target First Saturdays, and this weekend it's all about Bang On A Can, which is celebrating its 30th anniversary, and for the first time at Brooklyn Museum. There will be a bunch of live music and dance performances from Bang On A Can, as well as workshops and classes on how to make your own instrument from found objects. Afterwards you can join an orchestra with the other people who also made their own instruments from found objects. You know what, just click here to get a rundown of all the happenings on Saturday. Sounds like fun on the parkway!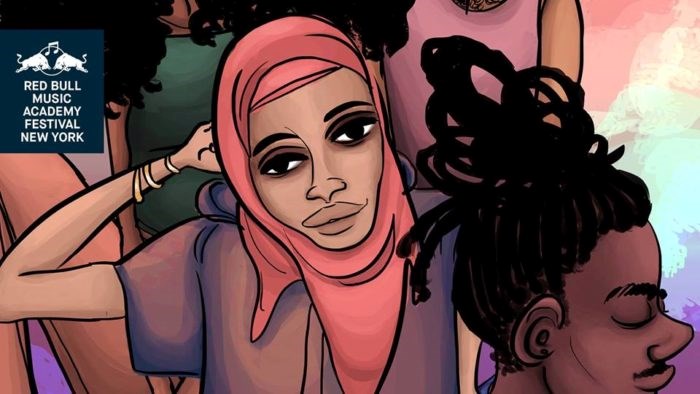 A Bed-Stuy Function, Sugar Hill Restaurant & Super Club, 564 DeKalb avenue, Sunday 2pm-10pm, $10
Sugar Hill has come a long way from being that old school, drabby spot on the corner of Dekalb and Nostrand. It's actually been gentrified, and I bet if you ask the owners, they couldn't be happier to get some new blood in there. Well, maybe gentrified is the wrong word, as the renewed interest in the place seems to be working out for everybody. This Sunday's day party is part of the Redbull Music Academy that's happening all over NYC 'til the end of May.
There's a great lineup of DJs on the bill, mostly from the LGBTQ community, who will take advantage of the multiple dancefloors, bars, lights and vibe of Sugar Hill. Click here for the Facebook event page for more information and a lineup of the DJs.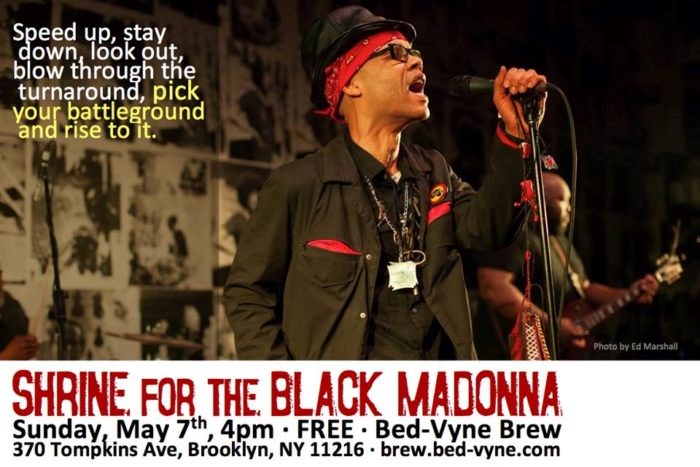 Shrine For The Black Madonna, Bed Vyne Brew, 370 Tompkins Avenue, Sunday, 4pm, Free (BedStuy)
A Sunday afternoon live performance by Shrine For The Black Madonna at Bed Vyne Brew. Rock and Funk at its best by a seasoned band of musicians. Wind down your weekend with guitar riffs and revolutionary lyrics at Bed Vyne Brew which has a great selection of craft beer.
So there you go Brooklyn, now go go go!