I'm just recovering from the July 4th weekend and here comes the next one already! I was disappointed about the lack of BBQ action on July 4th; there were cookouts on Saturday and Sunday, but not so much on actual Independence Day.
I went to a rooftop party to watch the fireworks which had lots of booze, yet little barbecued food. Maybe I expect too much. Or maybe all the new people moving to Brooklyn need to step their BBQ game up since the dearth of cookouts has mysteriously dovetailed with the gentrifying masses!
This weekend might not have bombs bursting in the air, or be rife with faux patriotism celebrating the more ironic holiday of our nation; but nevertheless, there are some fun events on deck. Check 'em out!
Afro-Latino Festival, Day 2, Restoration Plaza, 1368 Fulton Street, Saturday, 1:00pm-11:30pm, free (Bed Stuy)
Day one is at the Schomburg Center in Harlem, but the second day takes place at the Restoration Plaza in Bed Stuy. From their FB Event page:
"The Afro-Latino Festival of New York (www.afrolatinofestnyc.com) main objective is to serve as a platform that represents African descendants from Latin America and the Caribbean by sharing art, music, food and cultural education. We also serve as an open forum to all organizations and entreprenuers that work towards the visibility of Afro-Latinos in New York City and abroad.
It is important to create a space where children can learn about their heritage and be proud of who they are. In addition, we provide the cultural and educational background for those who do not know about the importance and the magnitude of the African presence in Latin America. This Festival showcases the beauty, richness history and cultural heritage of diaspora."
Click here to see the full lineup and to buy tickets. There's a lot going on, including my girl Santana Caress Benitez and her company "I'll Cook Like Your Mother", dishing out delicious food for the people. I just found out that Santana is one of Food Network's CHOPPED champions, so go taste the champ's food this Saturday!
SUPA DUPA FLY: A Missy Elliott Tribute Party, Our Wicked Lady, 153 Morgan Ave, Saturday, 4:00pm-10:00pm, $5 (East Williamsburg)
Missy Elliot is a definitive part of the sound that shaped Hip-Hop music in the '90s - not just as a rapper, but also as a producer, writer and personality. She's a staple in my DJ crates. Missy and Timbaland really cranked out some hits, especially for Aaliyah. This party celebrates the 20th anniversary of her platinum selling debut album, 'Supa Dupa Fly', which dropped in 1997. Enjoy this daytime rooftop party and if thunderstorms hit, you get a chance to sing "I can't stand the rain", when it's so apropros! Click here to buy tickets.
The Do Over, Brooklyn Mirage, 140 Stewart Street, Sunday, 2:00pm-10:00pm, free (East Williamsburg)
The Do Over is a known entity on the daytime summer party scene. It was started in L.A. by a few party people, including singer/ songwriter Aloe Black. There's not too much info available about who will be DJing, if anyone will be performing or if there will be food trucks. It's presented by Adidas Originals, so there's always the possibility that they have a trick up their sleeve, especially since the party travels around the world. Go to their FB page for more info.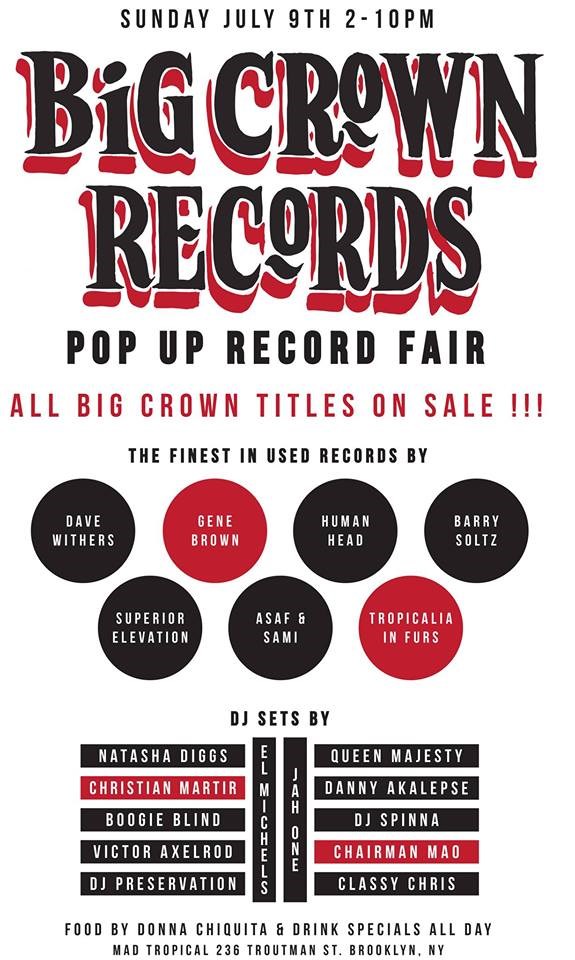 Big Crown Records - Pop-Up Record Fair, Mad Tropical, 236 Troutman St., Sunday, 2:00 pm-10:00 pm, free (Bushwick)
Vinyl records have been steadily making a comeback and hence there's been more record fairs. The resurgence is a bit kitschy and Williamsburg nostalgic, but the sound of vinyl can't be denied. This pop-up record fair, organized by Big Crown Records, home to a roster of quality new releases and reissues, is being held at Mad Tropical, the new bar in the space that was formerly Tandem.
Tandem ruled and hopefully Mad Tropical does as well, and having a pop up record fair with some of the best private and public record sellers such as Human Head and Superior Elevation, and vinyl DJs such as DJ Spinna and Natasha Diggs seems a step in the right direction.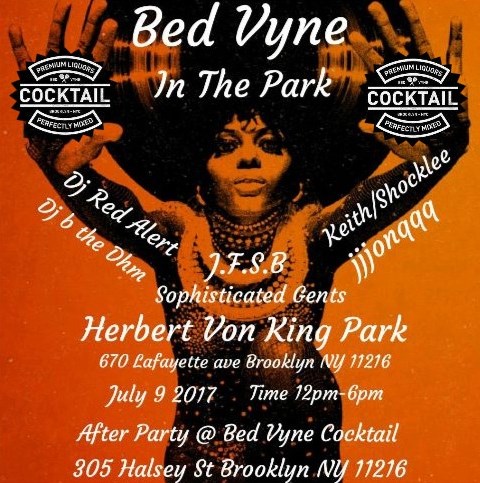 Bed Vyne In The Park, Von King Park, 670 Lafayette Avenue, Sunday, 12:00pm-6:00pm, free (Bed Stuy)
If you want to listen to some dope DJs while hanging out in Von King Park, then Sunday is your day! With a lineup that's headlined by DJ Red Alert, you can't go wrong. Bring a blanket, some food, some friends and enjoy. Lucky for you, Sunday is looking like the best day of the weekend, with temps in the low 80s and nothing but sunshine in the forecast. You're looking kinda pale, maybe you should work on your tan while you're there!
So there you have my event picks, enjoy your Brooklyn Weekend!