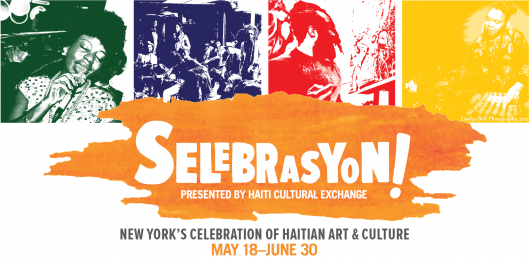 Haiti Cultural Exchange is a nonprofit organization established in 2009 by Regine Roumain as a way to develop, present and promote the cultural expressions of the Haitian community, one of the fastest-growing ethnic groups in the U.S.
Housed in the Five Myles Gallery, located at 558 St. Johns Place in Crown Heights, Haiti Cultural Exchange is the first and only existing organization of its kind in New York City.
Beginning on Haitian Flag Day, May 18, HCE will celebrate its five-year anniversary with an inaugural festival entitled, Selebrasyon! (Celebration).
For six weeks, this festival will bring Haitian, Caribbean and New York City residents of all backgrounds together to experience Haitian film, dance, music, literary and visual art in venues across the city!
Selebrasyon! will present events hosted in collaboration with different organizations, institutions and artists:
The Haitian Flag Day celebration will be a free outdoor festival of Haitian culture with live dance performances and workshops by CUMBE. Additionally artist talks, studio tours and more live performances will continue through the end of June.
Click here to download the official Selebrasyon! Calendar.
For more information on Haiti Cultural Exchange, visit their website here.