You want action this weekend, well this is it: the 13th Brooklyn Hip-Hop Festival hits town this week and brings us not just music, but also a slew of cultural, art, academic, community, film AND music events. The festival's highlight will be the final concert on Monday, headlined by The LOX. Hip-hop is a multifaceted culture that was birthed in the '70s in NYC and has since lept from a local response to poverty, injustice and racial discrimination to the most powerful cultural movement since rock 'n' roll. Hip-Hop is our generation's zeitgeist.
What this means for you grasshoppers: this is not the time to sit on your couch and run your air conditioning 24/7. Ok, sit on the couch on Sunday, when Game Of Thrones' new season starts because that's must-see TV. In fact, I don't have HBO, so get at me if you're hosting a GOT viewing party...I promise to not act like a wildling.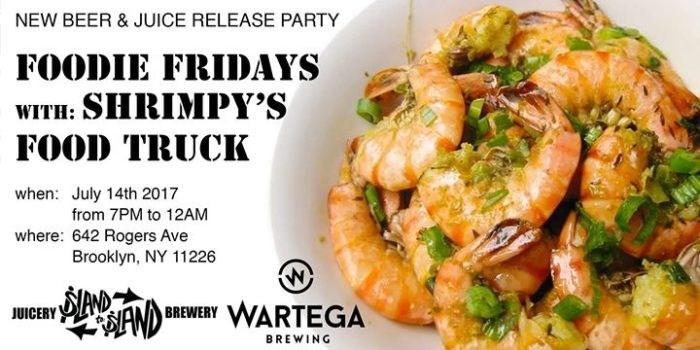 Foodie Fridays, Island To Island Brewery, 642 Rogers Avenue, Friday, $0-$26 (PLG)
The folks at Island To Island Brewery make their own everything: cold pressed juices, beer from fruit, cider from fruit - you name it. Their selection of beers and spirits, not made in house, is also top notch. This Friday, they're celebrating the release of their Summer beers, ciders and juices, and are also having Shrimpy's Food Truck on deck with the eats! Island To Island is a good looking venue with a splendid backyard.
If I was you, I would grab a Wartega's Trade Route #1, a Lychee-Sorrel-Saison collaboration with Wartega Brewing, get an order of pepper shrimp or crab cakes, and head to the backyard while muttering: "Thank God, it's Friday." Click here for the FB Event page to find out the brewery's other releases and get your mouth watering while thinking about what you can pair with an order of crab legs from Shrimpy's.
Auntie's House, The People's Garden, Green Avenue & Broadway, Saturday, 7:00pm-1:00am, $5 (Bed Stuy/Bushwick)
The People's Garden has got it poppin' this summer fo' sure - and this looks like another fun event on the cusp of Bed Stuy and Buswick (I refuse to call it Bed Wick). It's a party, a BBQ and a comedy show featuring the comedic DJ duo Thug Passion (Shalewa Sharpe and Courtney Fearrington). The theme is based around that cool Auntie many of us had...actually, this is what they say on the FB Event page:
"Y'all remember that cool Auntie who always had something cooking on the stove and let you take a sip of her wine cooler? This is her show! AUNTIE'S HOUSE!! Keep this night on your calendar clear, SHE GON' RAISE THE ROOF!"
Click here to get more info and to cop tickets.
13th Annual BK Hip-Hop Festival, (all over Brooklyn), Friday-Monday, $0-$180
From Stretch & Bobbito, to DMX and Rakim, to the Dummy Clap Film Festival to the Juice Hip-Hop Exhibition - it's going down this weekend! You can find out everything you need to know, and buy tickets or badges by visiting the website. Get your life in order and check it out!
TAMA Summerfest, Tompkins Avenue, (between Gates & Halsey), Saturday, 12:00pm-5:00pm, free (Bed Stuy)
Presented by Bridge Street Development Corporation and Tompkins Avenue Merchant Association, this has become a summer staple in Bed Stuy. It's a fun outdoor event that gets people out in the streets for a memorable Saturday. There are a bunch of cool businesses on the block: Khadijah's new Life Wellness Center Brooklyn, Eugene & Co., Lover's Rock bar and lounge, Peaches Hot House and many more. Bed Vyne Brew, one of the anchors of the TAMA Summerfest, will have its fine selection of craft beer for sale while Wonderground will be playing music outside on the corner of Tompkins and Putnam Avenue. It's an excellent opportunity to check out the local businesses in the area while getting your Fit Bit numbers up as you stroll the blocks.
Game Of Thrones Viewing Party, Gemini & Scorpio Loft, Douglas Street, 8:00pm, $10 suggested donation (Gowanus)
Gemini & Scorpio are putting everybody's favorite TV show for the season 7 premiere on the big screen at their loft on Douglas Street.
If like me, you don't have HBO (I call it HBNo) and you haven't sorted out a GOT boo, then you might have to break down and go watch it with a bunch of strangers. Actually, that may be a good idea: there will be a bar full of adult beverages and, hopefully, some hot adults dressed up like peasants from Westeros. Yet, make sure first that your potential GOT boo doesn't have any dragons because those things are super possessive and might ruin the night. Click here for the FB event page, to rsvp and to get the exact address.
Do you hear that? That's your life calling you, go and get it!