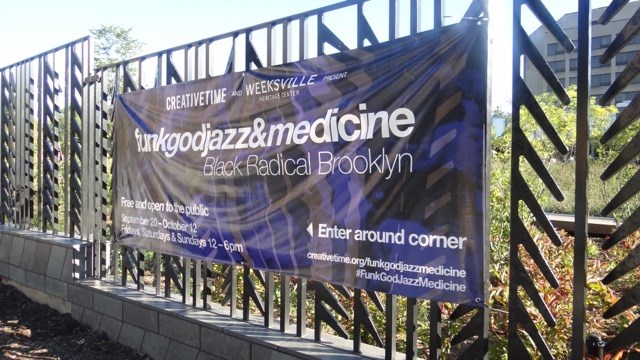 The exhibit, Funk, God, Jazz and Medicine, is headed into the third of its four-week installment.
If you've had a chance to catch any or all of the four exhibits, great! Continue coming, as there are new events taking place each weekend. If you have not had a chance, make this weekend the one! And check out the highlights for October 3 - October 5. All exhibits are open from 12:00noon - 6:00pm
Funk: Xenobia Bailey's Up-Cycled Urban Rhapsody
As a part of Xenobia Bailey's project, this week's workshops include Canning and Pickling (Saturday, 1-3pm) and Urban Beekeeping and Honey-spinning (Sunday, 2-5pm) at Weeksville. For more details, you can find the schedule here.
Jazz: OTABENGA JONES & ASSOCIATES: OJBK RADIO
Musician Kyp Malone of TV on the Radio (Saturday 5-6pm) and the legendary James Mtume of Mtume (Sunday, 4:30-6pm) will join OJBK Radio at Otabenga Jones & Associates' OJBK FM. See you on the corner of Malcolm X Blvd and Fulton Street!
Medicine: FREE PEOPLE'S MEDICAL CLINIC
In addition to all the blissful services provided at Simone Leigh's Free People's Medical Clinic, master herbalist Karen Rose will lead a special workshop (Saturday, 1:00-2:00pm). The clinic services are becoming so popular that the clinic couldn't see everyone who walked in last week!
Make sure to sign up for services online and take a look at the full range of services available this weekend on our website.
Other Events at Weeksville:
On Saturday, from 3:30-5:00pm, is a conversation about Funk and Jazz, a talk series with the Schomburg Center. Moderated by Una-Kariim A. Cross, speakers Willard Jenkins, Toshi Reagon, and Carl Hancock Rux, the discussion will reflect on music and activism, and it's all being kicked off with a performance by Martha Redbone! To attend, RSVP here.
Bread Love is hosting a pig roast supper at Weeksville on Sunday from 3:00-6:00pm. Not only is it delicious and affordable, but it's set on Weeksville's beautiful lawn.