It's the weekend before Halloween weekend, which traditionally, can be rather slow.
Halloween is typically the second busiest day for bars, clubs and lounges in NYC, second to only New Years Eve. But when Halloween falls on a Monday, the city becomes a madhouse, with an endless trail of dudes wearing dresses, naughty nurses and for this year, a near inexhaustible supply of Hilary Clintons and Donald Trumps, beginning on Thursday.
But it's no reason why you shouldn't have fun this weekend, since nothing is ever promised. Perhaps you break your leg in a freak accident and can't walk, let alone dress up like the Zika virus or a crying Jordan.
I think these four events are pretty much can't miss for some Brooklyn fun!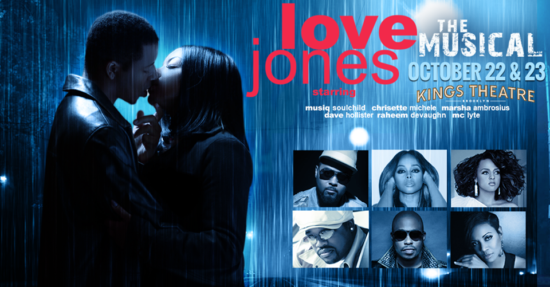 LOVE JONES THE MUSICAL, Kings Theatre, 1027 Flatbush Avenue (Flatbush), Octo 22-23rd, various times .
It's a stage adaptation of the movie "Love Jones', which is currently celebrating the 20th year anniversary of it's release. If you don't know what Love Jones is, you should totally find it Youtube or Hulu, as it's a classic love story and one with a cult following. Originally set in Chicago, amongst the spoken word scene, the movie starred Nia Long and Larenz Tate, but the stage adaptation starts Chrisette Michele, Dave Hollister, MC Light, Raheem DeVaughn, Marsha Ambrosius, and Musiq Soulchild . It's one of those touring productions and is hitting Brooklyn for the weekend, with two shows on Saturday and one on Sunday The traveling stage show is popular amongst black singers that are no longer chart toppers, but who have built a loyal following and made a mark as an artist.
Jump & Funk + Home, C'mon Everybody, 325 Franklin Avenue, Saturday Oct 22nd, 11pm $8-$10
Jump & Funk is the Fela dance party, started by Rich Medina back in 2001. It's become quite popular with Rich Jumping & Funking all across the country and overseas, for many years now. It's pretty legendary at this point, and sure to have you dancing up a storm. Mr. Medina is combining that with the party he recently started at C'mon Everybody, called "Home", which is all about House, Rare Grooves and Garage Classics. If you want to dance, there is no better party this weekend than this one! A good Sound System and good vibes are always in the house at the venue, which puts on a ton of live shows, allowing lots of up and coming artists to get on stage! If you go, dress to sweat! Hit the Event Page for more info.

Throwback Throwdown, Secret Location, Free with bottle of booze, Saturday Oct 22nd, 11pm-6am
This is one of those secret parties. It's a dress code-sweats and t-shirts...basically what clubs don't want you to wear. It' playing music from the 80's, 90's and 00's. It goes late and it's another catch-no cell phones allowed! I know, I know, it's gonna kill you selfie game, but the organizers want to create an organic event where it's purely people partying, without duck faces and pics of people sweating like animals. You have to rsvp, in which case you will get the secret address. Go for it and see if you can live without your smartphone. If you're that one friend that has an old school flip phone, that doesn't take pictures, you might be the one friend that can call a car service at the end of the night! But uhhhhh, no Uber or Lyft tho! Hit the Event Page for more info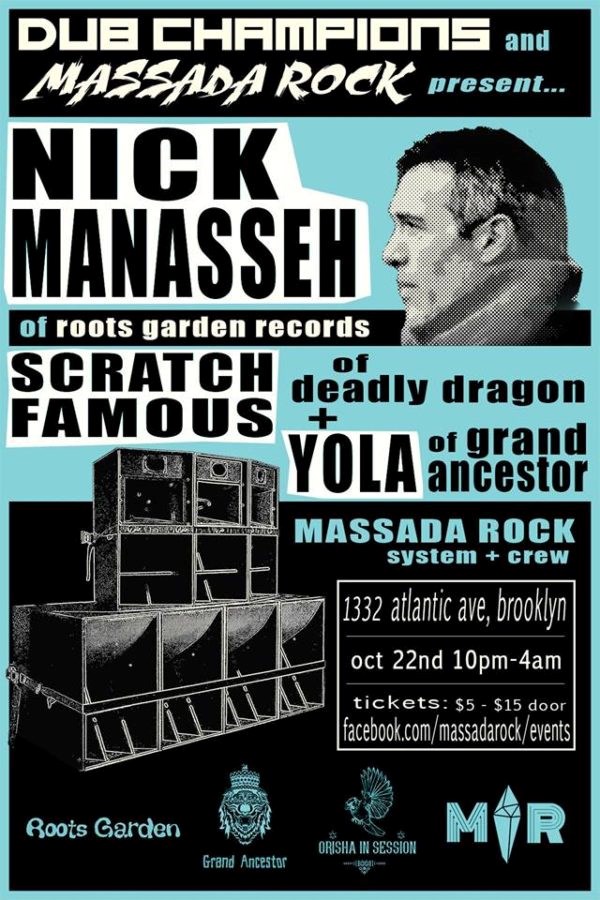 Dub Champions x Massada Rock, Kymberle Project, 1332 Atlantic Ave, Sat Oct 22nd, $5-$15, 9pm
Oh, if you like Dub Music and like your insides pulverized by humungous speaker systems, then you should check this one out. It's a full lineup for sure and they'll also have Ital drinks, food and records for sale. Check out the Event Page for more information, but with a bill featuring some wicked sound systems, you should def check it out!