"All our children want is to feel validated," said Dwana Smallwood. "Before you even realize what your purpose is in life, you ask yourself, 'Why am I here? Do I even matter? Would the world be different if I wasn't here? ... Would anyone miss me?'"
These are the questions Smallwood often asked herself as a little girl growing up in Bedford-Stuyvesant Brooklyn. Back then, not unlike many other young children raised in a concrete jungle and weaned on urban blight, she struggled with the way she looked; she struggled to find her relevance in the world.
She struggled to find her voice.
Today, as a married, 41-year-old woman, all of that has changed: Dwana's "voice" is now heard around the world.
From 1995 to 2007, Dwana served as a principal dancer with the world-famous Alvin Ailey American Dance Theater in New York City, during which time she was proclaimed "one of the greatest modern dancers" by Vogue Magazine. She also danced before millions as a guest on "The Oprah Winfrey Show" as a part of her "The Best…" series.
Dwana has graced the cover of Dance Magazine three times, was celebrated as one of the "50 Most Beautiful New Yorkers" of 2005 by New York Magazine, and New York Moves Magazine named her "2006 Power Woman."
In 2008, she decided to answer an exciting new calling and became director of student affairs at the Oprah Winfrey Leadership Academy for Girls in South Africa.
"I moved to South Africa, and I used dance to help young women find themselves, heal from trauma," said Dwana. "I used dance to help them find their true selves, their purpose."
Dwana lived in South Africa teaching dance for nearly 6 years before returning to Brooklyn in early 2014, with a brand-new mission: build a dance school for young children in Brooklyn.
"I knew I needed to do something for my own neighborhood of Bedford-Stuyvesant," said Dwana. "It is now my life's purpose to not just dance but to rescue and give voice to those young people who live in this neighborhood. It's time for us to take ownership. And how do we do that? We do that by by building people up. Giving them opportunities; giving them places and spaces to develop and flourish."
Dwana quickly secured the funding and found a location on the top floor of a building, located at 857 Lexington Avenue, between Patchen and Broadway avenues.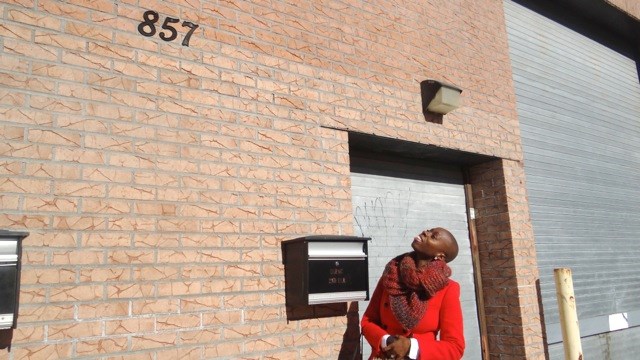 Currently under construction, the Dwana Smallwood Performing Arts Center is 4,000 square feet of loft space, soon-to-become two separate dance studios that can be converted into a performance space, equipped with a men's and women's locker room, a waiting area and library, and a reception area.
The space is about 60 days away from completion, scheduled to open in late February. And Dwana is so excited-- probably the most she's ever been in her entire life: "Hanging up the mailbox, bouncing on the floors, looking at my office, I'm like, is this really happening? It's like a dream come true!"
Registration opening soon. You can sign up by visiting the Dwana Smallwood Performing Arts Center website here.
"[Dance] is not just entertainment for me; it never was. It was my voice," said Dwana. "Therein lies the dream and passion for opening up the space. With this studio, I hope to change the neighborhood ... bridge the gap between what people are saying about us and the truth of what we have to offer society."