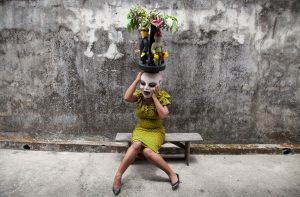 Twenty-five contemporary artists merge with historical African masquerades in order to bring you Disguise: Masks and Global African Art. The artists put on the masks, becoming someone else while also revealing hidden realities about society such as power, class, and gender. Through these spectacular masks, viewers are invited to think about the world in which they live.
"Masks have long been used by African artists to define relationships?between individuals, communities, the environment, or the cosmos?and, sometimes, to challenge the status quo. However, once masks were removed from their original performance context, they were transformed into museum objects, and their larger messages were often lost," says The Brooklyn Museum says.
The exhibition presents contemporary work in dialogue with historical objects from the collections of the Seattle Art Museum and the Brooklyn Museum within an immersive and lively installation of video, digital, sound, and installation art, as well as photography and sculpture.
You can visit the exhibit this weekend at The
Brooklyn Museum
from 11:00 a.m. to 6:00 p.m. with a $16 suggested donation.