The Comedy Get Down Tour is coming to the Barclays Center and the lineup is ridiculous!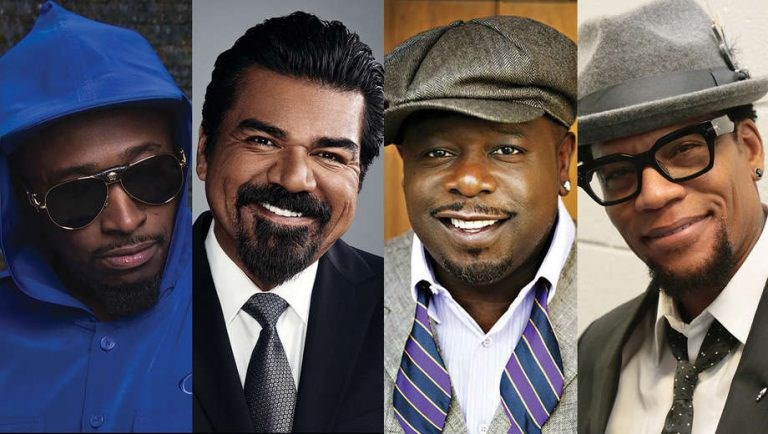 The Comedy Get Down Tour is coming with a ridiculous lineup of comedy royalty to Brooklyn. Get ready for a show that will have you in stitches with Cedric "The Entertainer," Eddie Griffin, D.L. Hughley and George Lopez at the Barclays Center on Friday, January 12. All four of these performers rank among the most experienced entertainers who have been breaking ground in the comedy business for decades with numerous motion picture appearances, television shows, standup specials, books, talk and radio shows.
D.L. Hughley is a jack of all trades. The star of his namesake TV show, "The Hughleys," and one of "The Original Kings of Comedy" also hosts the nationally syndicated radio show "The D.L. Hughley Show." He was honored with a prestigious Peabody Award for his satirical documentary special "DL Hughley: The Endangered List." And known for being astute and politically savvy in true comedian style, Hughley is a published author. He recently released his second book "Black Man, White House: An Oral History of the Obama Years," a satirical look at the Obama presidency - and a third one is already in the works.
Charismatic actor/ comedian Cedric "The Entertainer" is best known for his performances in hits such as "Barbershop," "Be Cool," "The Original Kings of Comedy" and "Madagascar." He also stars in the buzzed-about reality series "Cedric's Barber Battle" and the hit comedy series "The Soul Man," of which he is the executive producer. The beloved and multi-talented funny man received a record-breaking four consecutive NAACP Image Awards for "Outstanding Supporting Actor in a Comedy Series" for his portrayal of the lovable Coach Cedric Robinson on "The Steve Harvey Show."
Multi-talented entertainer George Lopez has built a career that encompasses television, film and standup comedy. Known for his late-night television talk show "Lopez Tonight," and his hit sitcom "George Lopez," Lopez has risen to one of the premier comedic talents in the entertainment industry. Time magazine named Lopez one of the "25 Most Influential Hispanics in America," and the Harris Poll named him one of the "Top Ten Favorite Television Personalities." He currently stars in the hit comedy "Lopez."
Eddie Griffin has received worldwide recognition not only for his acting, writing and producing of numerous standup comedy specials and movies, but also for his music and comedy albums. He has most notably been featured in "Def Comedy Jam," HBO's "One Night Stand," and "Malcom & Eddie," for which he won the NAACP Image Award for best actor in a comedy series. Comedy Central has honored Griffin as one of the top 100 greatest stand-up comedians of all time.
Prepare yourself for a high-energy and button-pushing show presented by the comedic masters of ceremony Cedric, Hughly, Griffin and Lopez.
The Comedy Get Down Tour
When: Friday, January 12, 8:00pm
Where: Barclays Center, 620 Atlantic Avenue, Brooklyn, New York 11217
How much: $29.75- S190.00 (For tickets, go here.)