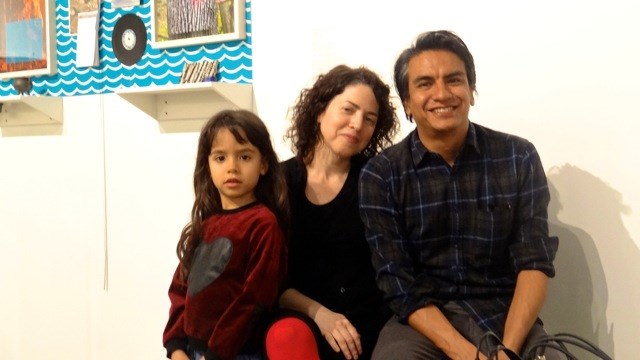 Inside of a work studio in Clinton Hill, a local couple has started a revolution.
They are Valerie Tevere and Angel Nevarez, visual artists and the founders of a project called Another Protest Song , which aims to engage the public to political action through music, song and lyrics.
"If you think about the 1960s and all of the songs that came out during the Vietnam era, we were asking, Where are today's protest songs, and why don't we hear them on the radio?" said Tevere. "We wondered, what do the 21st Century protest songs sound like?"
They decided to answer that question by letting the public weigh in, creating Another Protest Song, which has two parts:
The first is a website, anotherprotestsong.org, which invites artists, songwriters and musicians to either create and/or upload politically engaged music that is available as streaming audio on the site.
"The website is a way the user can upload their favorite protest songs and have it be a part of this growing archive," said Tevere.
The second part-- a live performance component-- is karaoke with a message, and it has been a huge hit and a favorite amongst audience of all ages.
With the protest karaoke, Nevarez and Tevere set up the karaoke station in the same way one would a temporary public art installation, inside galleries, museum or at parks. And whether you're inclined to activism or a comfortable conformist, for all those who participate, it's freeing and fun!
The project started in September of 2008, as part of the Creative Time project Democracy in America: The National Campaign. There, the couple set up a Karaoke station at two parks in New York City-- Prospect Park in Brooklyn and Corona Park/Flushing Meadows in Queens.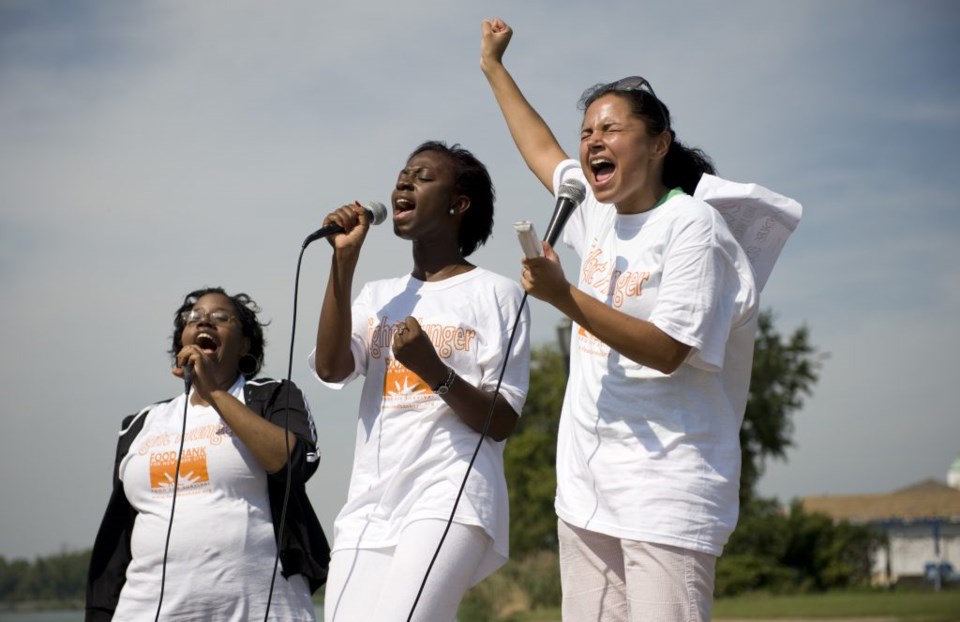 For six hours each day, pedestrians, park-goers, cyclists and the general public sang songs of protest under the warm sun. It was a hit.
Since then, they've been invited to bring their rebel-rousing rock opera to the Museum of Modern Art and, most recently, to BRIC Arts Media House, where they became the highlight during its Hip Hop House Party.
Children and adults lined up and traded places on the mic to perform their favorite protest music from the past and present, such as "What's Going On" by Marvin Gaye or Willow Smith's "Whip My Hair."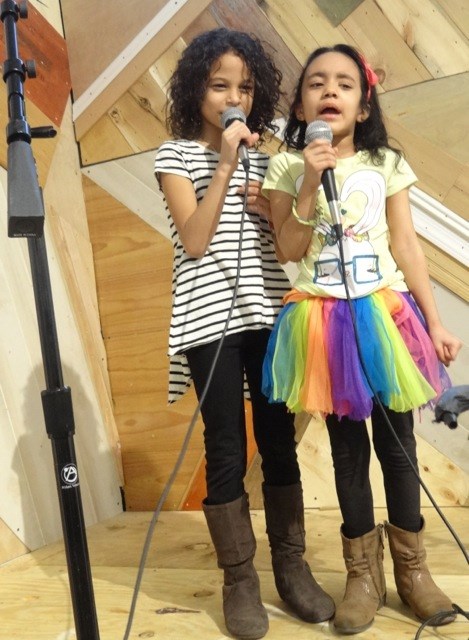 "BRIC wanted us to bring this message, considering we were already a part of the exhibition with another piece we did," said Nevarez. "So we see this platform of karaoke as being in dialogue with our practice."
When they map the project for the live installations, they build a different song book based around the audience.
What songs seems to be a favorite amongst their audiences?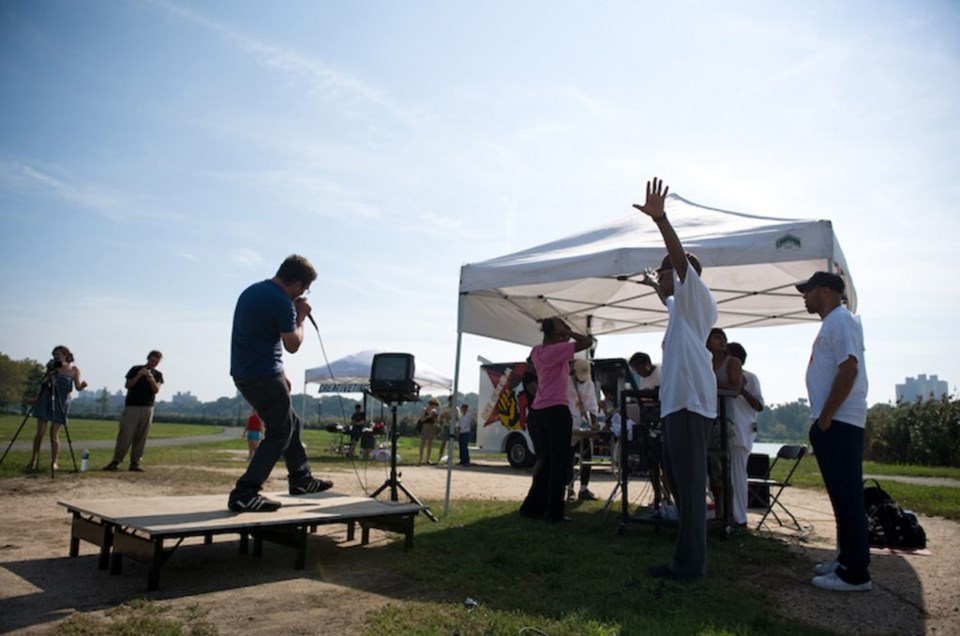 "The favorites depend upon the location and age," said Tevere. "In 2008, during the Bush era, there were a lot of songs that focused on war and change. In Toronto during the 12-hour song-fest, 'Beautiful' by Christina Aguillera was sung 4-5 times throughout the night. And at MOMA, it was a mishmash of protest songs and pop songs.
"And still, others say they have real political reasons for the songs they choose: 'I'm protesting gentrification,' or 'I'm looking at issues around the war.'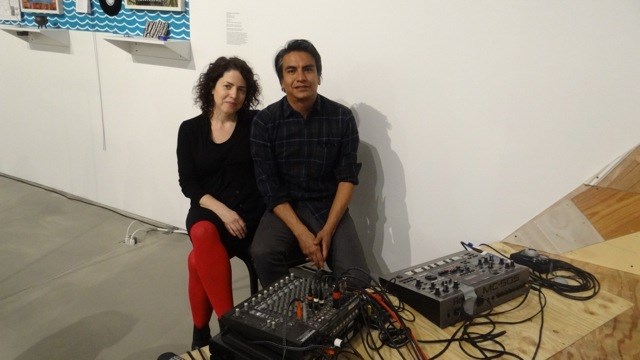 "In a sense, what we've done here is provide a framework that allows participants to do with the project what they want," said Tevere. "They get to use the project as a mediated soapbox."
Another Protest Song Karaoke with a Message will set up shop again on May 1, at The New Museum, located at 235 Bowery Street in Manhattan.
You can learn more about Nevarez and Tevere and their art at www.nevareztevere.info. To contact them about the Protest Song Karaoke project, email them here.
"We love taking the project to public exhibitions and open spaces," said Tevere. "But we're open to having this project work in various venues."
Any place there is art, unbridled voices or simply a will to be free, they'll go: It's one thing they will not protest.