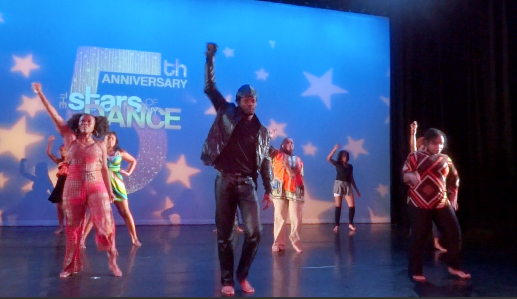 The stars were shining bright Friday night!
Community leaders, elected officials, local unsung heroes and other "stars" gathered at the Kumble Theatre on November 7, with their dancing shoes on, ready to compete in the 5th Annual "Stars of New York Dance!"
City Councilmember Laurie Cumbo and her dance partner and choreographer, Jamel Gaines, of Creative Outlet Dance Theatre of Brooklyn took home the win!
Founded and executive produced by Cheryl Todmann, "Stars of New York Dance" was modeled after the televised "Dancing with the Stars." The annual semi-black tie event pairs local "stars" in the community with trained dancers and local choreographers for a thrilling and fun dance-off and fundraiser for children in the arts.
Each couple was given only a few weeks to learn a routine and rehearse for the competition. Then they are put to the test.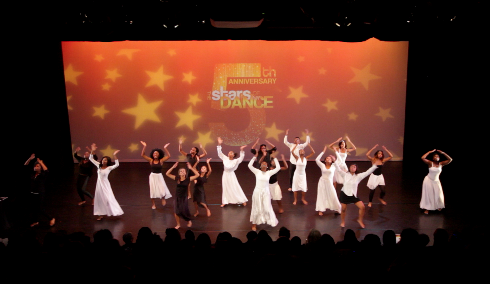 The winning couple donates their cash prize of $5,000 to the arts organization of their choice, while the other participants receive $1,000. Aside from Cumbo, this year's "dancing stars" included Rev. Lesley F. Shannon, associate pastor at St. Paul Community Baptist Church; Rev. Shaun J. Lee, pastor of Mt. Lebanon Baptist Church; John Wright, president of the Wright Group and Sheena Wright, CEO of United Way of New York.
Errol Louis, political anchor of "Inside City Hall" on NY 1 News, returned for a fourth year as the gracious host. This year's honoree was the Rev. Al Sharpton, founder and president of the National Action Network, who received the Stellar Humanitarian Award for his commitment to social justice. Unfortunately, Sharpton, was unable to make the event, but his daughter, Dominique received the award in his absence.
This year's judges were artist, author and philanthropist Danny Simmons; Obediah Wright, founder of Balance Dance Theatre; Melissa Vaughn, artistic director at the Professional Center for the Arts; Cynthia King, artistic director at the Cynthia King Dance Studio; and Walter Greene, editorial director of Profiles98 Magazine.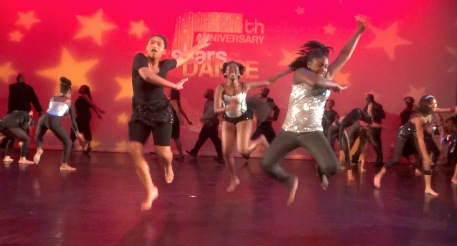 The show opened with a crowd-rousing dance number by the young dancers representing the event's participating companies, choreographed by Obediah Wright of Balance Dance Theatre. Kings County D.A. Kenneth Thompson, Author Terrie Williams, Rev. Dr. Johnny Ray Youngblood and Nicole Paultre Bell provided comments and words of devotion to Rev. Sharpton, followed by three dance tributes.
Then, the competition: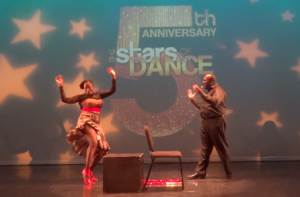 Dancing Star John Wright and his partner Jeannie Mitchell of Pure Onyx Movement kicked off the competition with a routine that went from playful sultry to playful Bollywood-- a waist-shaking routine where Wright had to channel his "inner belly dancer." The judges gave them 37/50.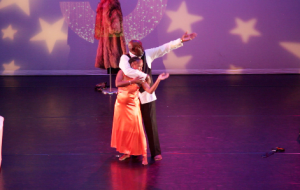 Next up was Dancing Star Rev. Lesley Shannon and his partner Naeemah Brown of Cradle-N-the-Rock Youth Dance Ensemble. Shannon stepped into the competition two days earlier, after the original local star, Tony Herbert, became injured. Shannon and Brown gave an amazing performance considering the abbreviated time frame Shannon had to rehearse. They performed a flirtatious dance where boy-meets-girl, boy-chases-girl, then boy learns to slow-down-and-respect-girl. Love followed. The judges gave their performance 42/50.
Dancing Star Sheena Wright with her partner Germaul Barnes of Bedford Stuyvesant Restoration Youth Arts Academy opened their number with a skit set inside a supermarket (Barnes stocking the shelves in nerdy glasses, and Wright in her robe and stocking cap). The two fall for each other and break out of their shells (and clothes), then proceed to shimmy across the stage to "Baby I'm a Star," by Prince. Together, their energy and smiles earned them a "10." The judges awarded them 48/50.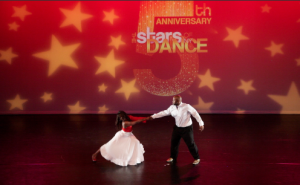 Next up was Dancing Star Shaun Lee with his partner Zakiya Harris of Asase Yaa African American Dance Theater. They performed the tango, beginning with a traditional rendition that Lee carried off well, followed by a jazzier, updated version of the Tango performed to Robin Thicke's "Blurred Lines." More clothes flying off of bodies and across the stage revealed creative and artistic versatility and how dance is about both discipline and fun! The judges gave them 48/50.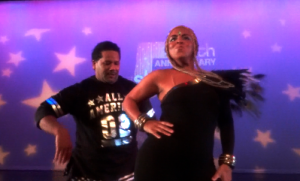 The last couple to compete was Dancing Star Laurie Cumbo with her partner Jamel Gaines of Creative Outlet Dance Theatre of Brooklyn. Whatever energy and fire that had been left on stage by the previous dancers that night so far, Cumbo and Gaines collected it for themselves and then added some more! They brought the fire and energy, dancing to "Live it up," by Jennifer Lopez (and Pitbull). Cumbo hammed it up, performing dance moves like she was 21-- instead of, well, her age-- giving audience members a dose of adrenaline and a few good chuckles to end the night. The judges handed them 49/50.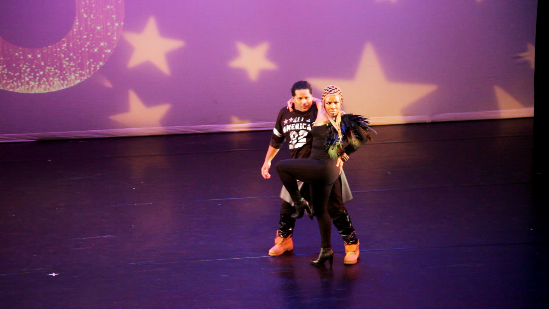 Cumbo and Gaines stole the show and took home the prize (see video of their winning performance below). They will be giving their $5,000 prize to Gaine's Creative Outlet Dance Theatre of Brooklyn.
"This is such an incredible opportunity for us to give scholarships to young people to do their passion and what they love," said Cumbo. "I so believe that we can't continue to say 'no' [to young people] and not give them positive alternatives to say 'yes.' So tonight is about giving our young people opportunities to say 'yes.'"
Will audience members ever be able to look at the City Councilmember the same now that they know she "has moves?" Of course! Hamming it up, playing to the audience, being quick on your feet (and winning) is the job of every elected official.
The 5th Anniversary of "Stars of New York Dance" was a great day for community, a great day for children and the arts and further proof that if there is one thing that binds us all across age, race, religion and political affiliation, it is the love of dance.
Check back in to The Brooklyn Reader for more exciting performance footage soon!