If the vandals who covered Bushwick's 'Wall of Lies' with 'Vote Trump or Die' and a Proud Boys call hoped to keep people's eyes off Trump's lies, they'll be sorely disappointed.
A new 'Wall of Lies' displaying more than 20,000 false or misleading claims made by the president over the past four years has been unveiled in Manhattan — and it is twice as long as the Grattan St original.
The mural's creators, Bushwick photographer Phil Buehler and Tom Tenney, the executive director of non-profit Internet radio station Radio Free Brooklyn, woke up on Oct. 8 to find the original 50-foot by 10-foot mural had been covered in pro-Trump graffiti and a call to far-right group the Proud Boys.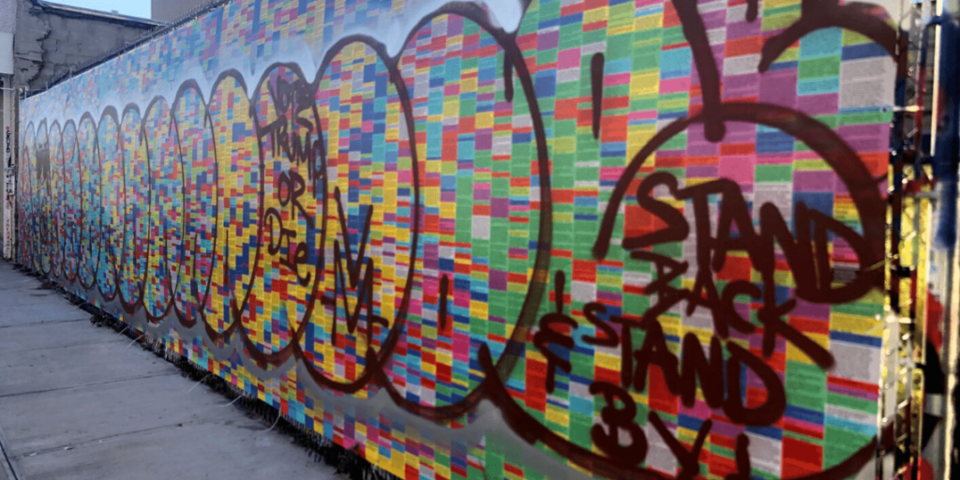 "When we saw that the wall had been vandalized, my first reaction was rage," Tenney said. "But that was soon replaced with determination to not let bullies win, and we decided that we'd build another one, and make it even bigger."
Tenney and Radio Free Brooklyn jumped into action, setting up a GoFundMe page to print another wall to replace the one that has been defaced. Within ten minutes it had raised more than $500.
Over the past two weeks, the GoFundMe raised more than $4,000 to get a new wall installed at Lafayette and Grand Streets, and it is twice as big as the original, spanning 100 feet and including Black Lives Matter artworks by local artists.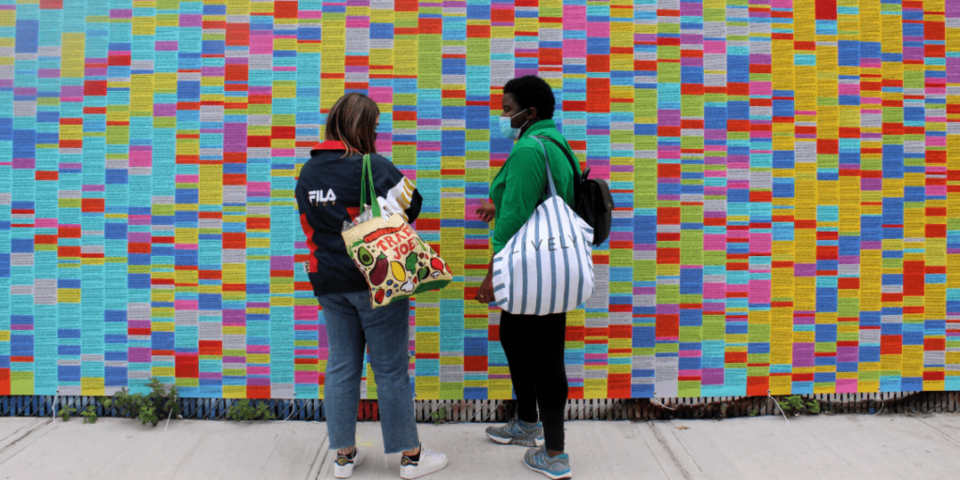 There will be a grand opening for the wall this Saturday, Oct. 24, with a performance by rapper Kosha Dillz.
Each of the false or misleading claims on display in the murals were recorded, fact-checked and categorized by The Washington Post during the president's term and are displayed in chronological order, color-coded by category (yellow for Russia, pink for Environment, green for coronavirus etc).
The original wall, next to Pine Box Rock Shop, was self-funded by Buehler and Tenney.
They initially planned to have it up for just two days, but after seeing the enthusiastic global response to the wall — which was even visited by United States Senator Chuck Schumer — they decided to keep it up until the election.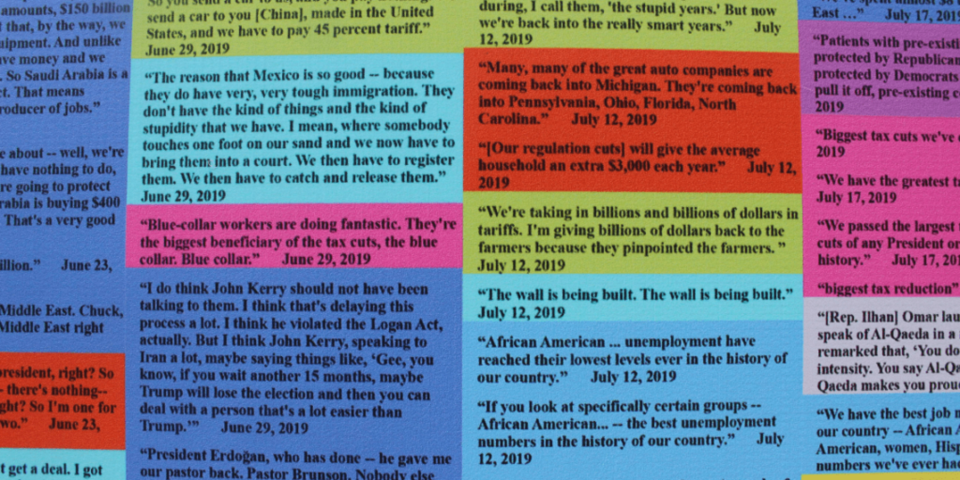 After the wall defaced, people in the community started spray painting their own comments, including 'Love Thy Neighbor' over 'Stand Back and Stand By,' and the wall became a place of conversation, Buehler said.
"We heard from several visitors to the site and followers on social media that we should leave the vandalized wall as is, as a reminder of the division many of these lies have led to."
The pair have decided to keep both walls up until the presidential election is decided.
The opening reception for the new wall will be held between 12-5 p.m. on Saturday, Oct. 24, at the northwestern corner of Lafayette and Grands Streets in Manhattan.