Brooklyn theater collective Piehole is examining identity and inviting us to fix our relationship with Iran in its new comedic whodunit play Disclaimer, produced for the Public Theater's winter festival Under the Radar.
Disclaimer is set up as an online Persian cooking class with a political agenda, writer Tara Ahmadinejad explains. As it turns out, the main character, played by Ahmadinejad, is not a very good chef and gets carried away with her imagination. Murder ensues...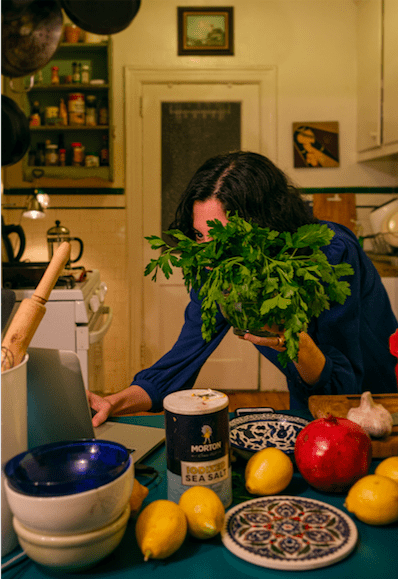 Ahmadinejad started writing the show in 2017, shortly after Trump was elected, partly in response to the Muslim Ban.
"It's been very moving to work on this project during the pandemic because everything is remote," Ahmadinejad said. "This play is about that same feeling of distance from my family in Iran."
Ahmadinejad hasn't seen her Iranian family since Trump's Muslim Ban took effect.
"There's a lot of that underlying anxiety and sense of loss in the play," Ahmadinejad said. "Working now on this show on Zoom is really highlighting that distance in a different way than when we were in person."

The show will be making its debut at the Under the Radar festival, which is running from Jan. 6 through Jan. 17. The festival has become a landmark of the New York theater scene, known as a launching pad for new and cutting-edge performances from the U.S. and abroad.
Now in its seventeenth year, the festival will be free and virtual this year -- holding both digital live-streams and streaming on-demand performances. As a collaborative performance, Disclaimer will be streamed live.
The company behind the show, Piehole, is a collaborative arts collective and has been operating out of Brooklyn since 2008. The team invites audiences "into an expanded sense of potential realities in pursuit of beauty and togetherness in unexpected places," according to its website. Ahmadinejad said members were locals in Bed-Stuy and Crown Heights.
"I would say that where I live in Bed-Stuy, there is a real sense of neighborhood," Ahmadinejad said. "It has felt grounding in the midst of all this remote creating. I can engage with people all over the world with this festival; the balance between both has been really inspiring."
The collective has received funding for Disclaimer from The Public, the Foundation for Contemporary Art and the NYSCA-A.R.T./New York Creative Opportunity Fund. It also received development space from Lower Manhattan Cultural Council, New York Theatre Workshop and Clubbed Thumb. Disclaimer was workshopped at the inaugural Emruz Festival in Spring 2019.
The play is directed by Ahmadinejad and Jeff Wood. Ahmadinejad is joined on the virtual stage by co-host Hassan Nazari-Robati.
Check out the calendar here for showtimes for Disclaimer and the many more scheduled shows.