The weekend has returned Brooklyn, and the weather might be a little weird. It's going to be quite windy and cold and it's even going to snow on Friday, so you can have the real possibility of wearing a pair of chancletas and a pair of Uggs all within a twenty four hour period.
I won't take this opportunity to talk about global warming. I mention it pretty often, mainly because the weather keeps wildly fluctuating. I'm also going to avoid talking about Donald Trump. The guy completely owns the news cycle, and I think I'll take a week off of working him into the column, even though I am talking about him by saying I won't talk about him... (Damn you, Trump!)
As we get through the doldrums of winter, here's a few Brooklyn events to check out this weekend. Though you can keep yourself warm with the thought that spring is coming in less than two weeks, there's also the disconcerting specter that you never kept the New Years workout resolution, so your mid-section is currently soft like democrats on crime... It's always something!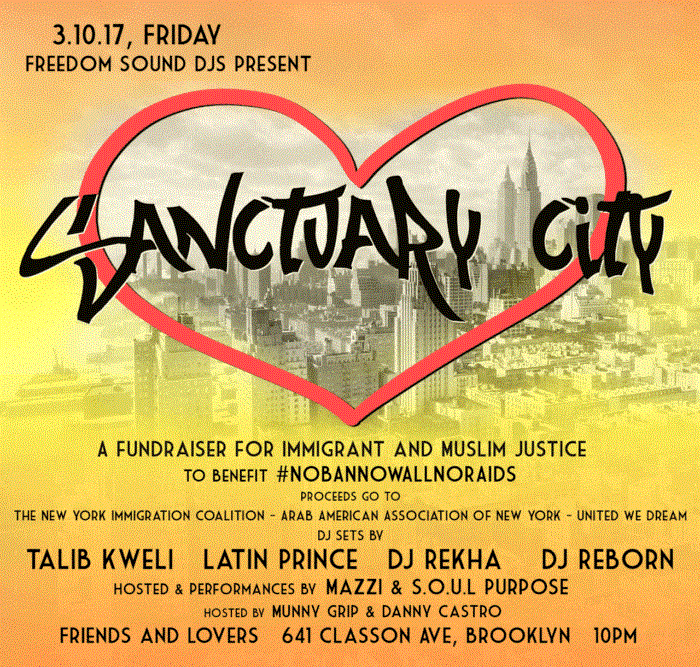 Sanctuary City, Friends & Lovers, 641 Classon Avenue, Friday March 10th, 10pm, $10-$20 (Prospect Heights)
This party is presented by Freedom DJs, which is a collective of DJs that formed after the 2016 election. It's DJs being activist in a way that is the most logical, with proceeds of the party going to support of three important organizations, while giving partygoers the chance to dance and enjoy their favorite jocks, for a good cause. Here's the details:
A Fundraiser for Immigrant and Muslim Justice
A benefit for #NoBanNoWallNoRaids
All proceeds go to:
The New York Immigration Coalition
Arab American Association of New York
United We Dream
Three community organizations doing vital, on-the-ground work to defend the rights of immigrants, Muslims and undocumented people in the face of Muslim/"travel" bans, ICE raids and the many threats of a rising xenophobic, islamophobic and anti-immigrant landscape.
With DJ sets by Freedom Sound DJ members:
Talib Kweli
DJ LATIN PRINCE
DJ Rekha
Deejay Reborn
Hosted & performances by Mazzi (S.O.U.L. Purpose)
Hosted by Munira Ahmed aka Munny Grip & Danny Castro.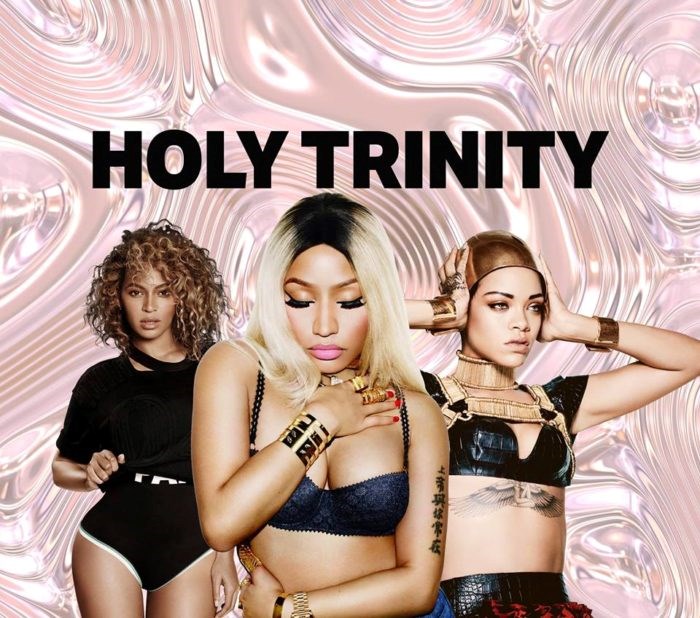 Holy Trinity: Bey x RiRi x Nicki Brooklyn Dance Party!, Baby's All Right, 146 Broadway, Saturday, March 11th, 11:30pm-4am, $10pm
Throwing a party with these three artists is smart. Playing their music ensures that you'll also get a bunch of rappers doing guest appearances, so you also get to get Kanye, and Drake and Lil Wayne, and a ton of other artists, into the mix. The residents DJs are from Philly. I think the monthly Holy Trinity party was started down there, and was then imported to Brooklyn. Go check it out, sing along to the songs with your friends and get weekend wasted with your friends. And if you actually see Nicki, don't ask about her a response to Remy Ma...she most likely ain't about that response life.
>>>>> BUY TICKETS HERE <<<<<
https://www.ticketfly.com/purchase/event/1378481
21+ || $10
DOORS OPEN @ 11:30 - 4AM
***SAFE(R) SPACE ENFORCED: NO RACISM, SEXISM, HOMOPHOBIA, TRANSPHOBIA, FATPHOBIA, NONCONSENTUAL TOUCHING OR HARASSMENT OF ANY KIND PLZ.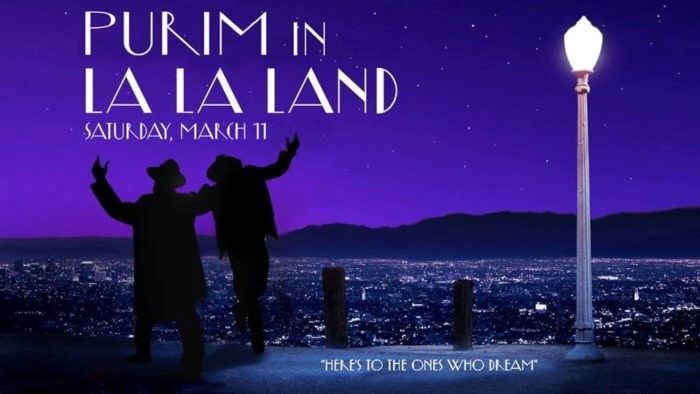 Purim in LaLa Land, Hadas Gallery, 5431 Myrtle Avenue, Saturday, March 11th, 9pm-1am (Clinton Hill)
I haven't seen the movie La La Land, or any other movie that was nominated for an Oscar. I'm also not Jewish nor celebrate Purim, but this event sounds like a bunch of fun. For the uninitiated, you can read about the origins of the holiday by clicking here, but know that it's a large celebration that includes a masquerade and dressing up.
This is some info about the event:
• EZZY GLUCK & YAPCHIK BAND. BEATS: DJ DAN ORDONEZ (Panela Records), Retro-obsessive Jazz & A-ha (80's)
• DRESS: Old Hollywood meets Jacques Demy meets postmodern indie Brooklyn back-lot passion
• ART RECEPTION: Li-Or Zaltzman & LIVE ART: Jessica Tamar Deutsch

• VIBE: Confectionary studio-system daydream aesthetic: think oversaturated color palettes, dreamlike fabrics, Rebel Without a Cause...
• PURIM FOOD TRUCK: artisanal, carefully-curated, deconstructed, farm to table, rustic ESSEN. BAR: Megillah Mojito's & PBR (21+)
• Dramatic retelling of the Purim mitzvoth
It's DJs and late night Jazz for your pleasure. Check out the FB Event by clicking here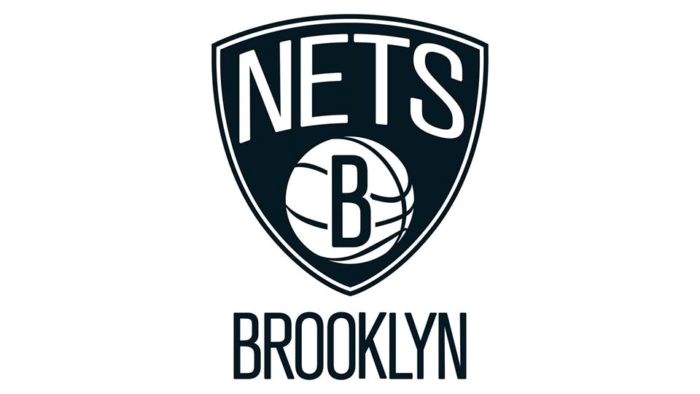 Brooklyn Nets vs New York Knicks, Barclays Center, Sunday March 12th, 6pm (Fort Green)
This is going to be a complete bumfest on Atlantic Avenue, with both teams putting their extreme ineptness on full display. It's not quite a battle for the basement, as the Knicks are a little better than Brooklyn, but New York is just a few losses away from being in the slot right above the basement. But another reason to go is the Biggie Tribute Night on March 12th. The Barclays will keep all his music in rotation for the evening, and his mom, Violetta Wallace, Diddy Combs, his kids and childhood friends will all be in attendance.
The Notorious B.I.G. Estate will also unveil Biggie's official "Hypnotize" designer label this week with a full-scale cross-continental joint launch, culminating at "Biggie Night." The collection will debut March 9-12 with a special pop-up shop at The Swag Shop at Barclays Center. Among the designer label's items are limited-edition t-shirts, hoodies, bomber jackets, snapbacks, bags and other accessories.
Although I don't think I can pick a Brooklyn Nets player out of a line-up, other than Brook Lopez and Jeremy Lin, the Nets have been playing slightly better since Lin's recent return from injury, but over all, they stink. But go anyway, you can still get nosebleed tickets for $45 and get really close for $145 and combined with #NetsBiggieNight, should be fun!
So get out there Brooklyn. Maybe wear a warm coat and boots, and put extra pins in your wig to protect against the wind. Enjoy the weekend!