The Brooklyn company behind the interactive escape room Beat The Bomb has launched a new online game Beat The Virus, where Dr. Anthony Fauci shoots lasers from his eyes to destroy the Coronavirus.
The single player, 19-level game (read COVID-19) that has players trying to slow the spread of the virus was created in a week by Beat The Bomb founder Alex Patterson and game developer Zach Chang, despite Beat The Bomb not having built an online game before.
Patterson said when Beat The Bomb had to close and lay off the location staff, those remaining tried to find some kind of silver lining.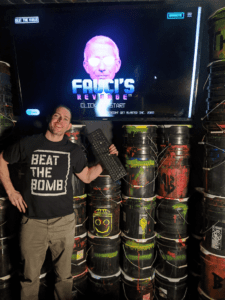 "I think a lot of people have that mentality, rather than just sit home and watch Netflix, what can I do to help the people that are out there, the doctors, nurses and medical staff," he said.
"Dr. Fauci has become a hero, so we thought it would be fun to get him involved and all of it would drive towards a page to raise funds for New York City Health and Hospitals."
Players take the form of a cyber punk Fauci face with a rocket booster underneath that launches him around the screen while he shoots laser beams out of his eyes at ominous Coronaviruses. On top of destroying the disease you have to avoid bad things like the club, the concert, touching, and hands on face; and find good things like meditation, Netflix, and washing hands.
President Trump even makes an appearance for his press conferences, but Patterson said no, they did not make the game so you could shoot Trump with laser beams.
Patterson said although he doesn't want to make too much of the game being a microcosm of the present moment, there is something comforting about starting off on the back foot, feeling attacked and then learning how to get into control.
"I found it was good to get out some anger at Coronavirus, it's something we can't see, we can't touch, we can't feel it, so it was good to be able to get out some of that latent anger by giving the virus a physical form and trying to destroy it."
Beat The Virus is free to play, with donations strongly encouraged. And the team is also selling t-shirts and gift cards with 100 percent of the proceeds going to New York's public hospitals.
Patterson said they have set the goal of raising $25,000 by April 10, and have already raised almost $4,000. On top of their fundraising, the team donated all of the equipment from Beat The Bomb, which included 6,150 protective suits, 4,500 gloves and 100 face shields, to medical facilities
The team is currently building a leaderboard for the game, and have a mobile version coming soon.