In the midst of the coronavirus quarantine, Harrison Sheckler, an accomplished pianist, has conducted a musical masterpiece. From his living room, Sheckler, a student from Brooklyn College's Conservatory of Music, brought together 300 musicians from 15 different countries for a virtual performance of Rodgers and Hammerstein's classic, "You'll Never Walk Alone."
Finding comfort in the musical "Carousel" that features the song, Sheckler wanted to share his talents and offer some peace and solace to online communities amid COVID-19 pandemic. Musical collaborations are a big aspect of Harrison's love for the arts, and he didn't want that aspect of college life to dissipate as campus closed.
"I was really missing the collaboration aspect of college with my fellow musicians and artists. So, I wanted that opportunity from the safety of my own home," said Sheckler. "So I started out contacting friends, and then thought maybe I could share this with the Brooklyn College Choir. And from there, it just passed on."
As a student of renowned pianist and composer Jeffrey Biegel, Sheckler is currently working on his master's degree in piano performance back home in Iowa. The transition from college residential life to being back home for him has been interesting, as the many aspects of his college community are no longer a walk away.
"It's something that takes a little while to adapt to, but the professors have been so supportive," he said. "We are trying to get together to go through it. But as you know, it's a learning process."
Working from his computer at home, Sheckler spent more than 200 hours collecting donations, promoting, organizing submissions and video editing the project. And with the help of Josh Meyer and Grant Bayer of Zated Records in Ohio, the project was professionally produced.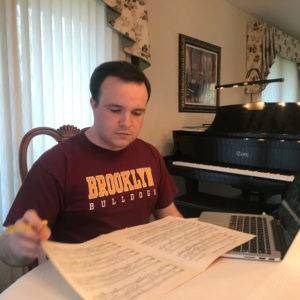 Artists hailed from all over the world, including Germany, Vietnam, Israel, Australia, South Africa, and many others. With so much content to sift through, audio engineers at Zated Records spent an additional 30 hours mixing and mastering the 300 tracks.
Anticipating a short absence from college Sheckler began this project to fill the void that in-person music collaboration provides. As the spring semester comes to an end, many students, like Sheckler, hope that remote teaching does not continue into the fall. However, if Brooklyn College does not reopen, he has been considering new plans for another collaborative project.
"I certainly hope campus reopens and considering the way things are going, there is definitely pressure to reopen," Sheckler said. "Either way, I would love to do another big collaboration. Because of the positive response now, I wouldn't be surprised if we begin an even bigger collaboration.
"It's certainly an option; we will just see as time goes on."
Watch this magnificent opus here: